Plantronics RIG 800HS Headphones Review
By
Plantronics RIG 800HS Headphones Review

Plantronics has been developing headsets for over 50 years and is considered one of the best headset manufacturers in the world. Recently, Plantronics sent us a pair of their RIG 800HS wireless headphones to take a look at. Plantronics says these headphones are designed to work with the Sony PlayStation 4, and utilize a USB dongle to transmit the audio signal from the source to the headphones. The headphones are designed with the gamer in mind, with 40mm audio drivers (with a frequency range of 20Hz-20kHz), unobtrusive flip up microphone, memory foam sound isolating ear cups and noise cancelling microphone.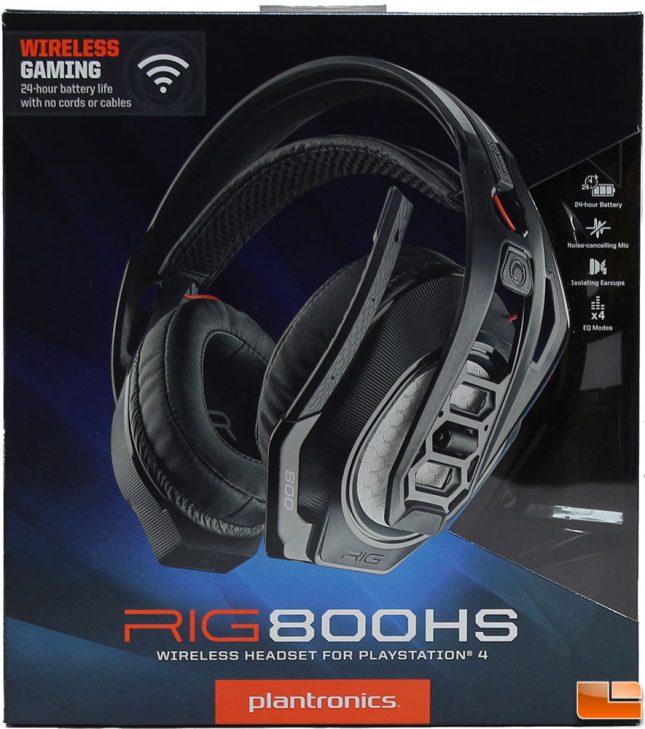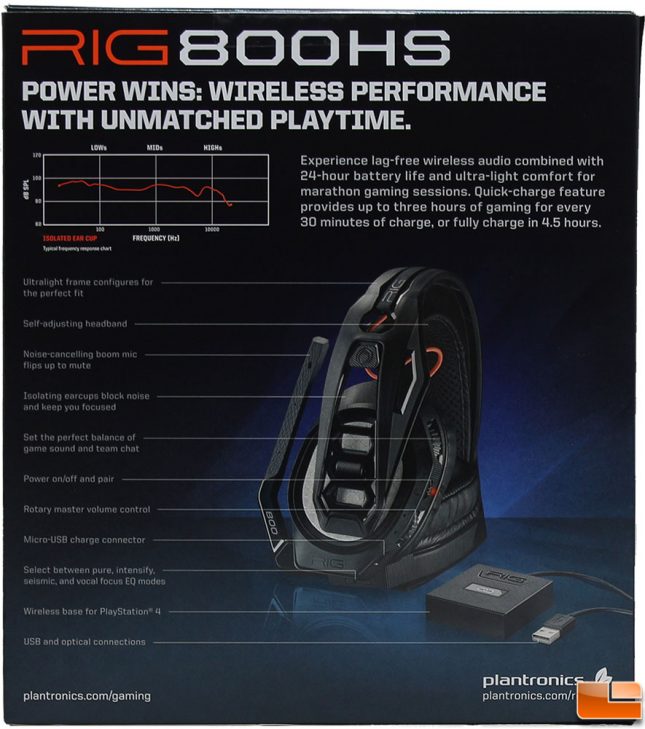 The packaging of the RIG 800HS would look right at home at your favorite electronics store or you can find it online for $179.41 with free shipping. If you don't know what you want, Plantronics has always done a good job at making sure you can tell what the headphone are capable of on their packaging. The front provides you with a quick view of the headset, along with a couple of key features. If you want more detailed features, you can flip the packaging around and take a look at the back. Here you find more features listed, as well as more information on the 24-hour battery life and quick charge capabilities.
Plantronics RIG 800HS Features:
Power Wins: Up to 24 hours of marathon gameplay from a single battery charge
Performance Audio: Matched 40mm drivers bring the soundstage to life with low frequency resonators that reinforce bass and limit distortion
Precise Controls: Wireless gaming requires split-second access to critical settings
Plantronics RIG 800HS Specifications:
MICROPHONE
Mic Signal to Noise: >42 dB
Mic Sensitivity: -45 dBV/Pa
Mic Pick Up Pattern: Uni-directional
Mic Freq Response: 100 Hz10 kHz
AUDIO
HP Sensitivity: 111 dBSPL/V
HP Max input power: 40 mW
HP Impedance: 32 ohms
HP Freq Response: 20 Hz20 kHz
HP Drivers: Dynamic 40 mm
Plantronics provides a standard 1 year warranty with their headsets. This isn't surprising, with flagship type headphones such as the RIG 800HS, I wish they would provide a longer warranty. Especially considering these are wireless and batteries tend to fail after a while.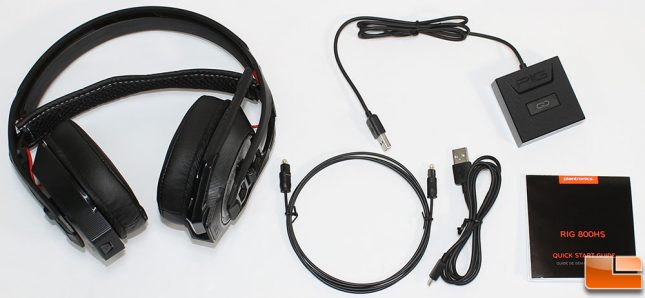 In addition to the headset itself, the Plantronics RIG 800HS includes a TOSLink Optical cable, the USB transceiver, a USB-A to Micro charging cable and a user guide. Pretty much nothing else is really needed to take full advantage of the headset. What I did find missing was a USB to AC charge cube. While it isn't absolutely necessary, it would be helpful to have one to making charging the headset more convenient.