Plantronics Discovery 640 Bluetooth Headset Review
By
Plantronics Discovery 640 Bluetooth Headset Review

You may not know it, but Plantronics has been around the headset game for as long as almost anyone. Their biggest and earliest claim to fame was in 1969 when Neil Armstrong of NASA broadcast from the moon: ?That?s one small step for man, one giant leap for mankind.? The headset that Neil was wearing? Yup, a Plantronics.
Today, we take a look at the Plantronics Discovery 640, which differs from some of the other headsets that we have reviewed in the past due to the innovative pocket charger. The pocket charger gives you up to 15 hours of additional talk time, which helps you stay talking when you are out on the road or have a delayed plane that you didn't expect. The pocket charger is powered by a single AAA battery for easy replacement while out and about. This headset features an in-ear design, which is something you either love or hate.
With a sleek, ultra-light design, the Discovery 640 stands out from the crowd, but how well does it work? Today we take our Discovery 640 out for a test drive to see how it does in the real world.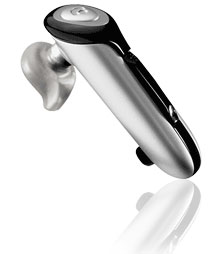 The first thing you notice about this set is its small size and its nice paint job. Plantronics calls this one of their ?ultra-light? models and one of their most comfortable sets available.
Discovery 640 Highlights:
Up to 15 hours of talk time. A unique, pen-size carrying case stores a AAA battery that charges the headset between calls?a Plantronics industry first
Less to carry?use your existing mobile phone charger1 for up to 5 hours of talk time between charges
Long-wearing comfort and ultra-light?weighs only 1/3 ounce
Personalized fit with three sizes of soft gel ear tips
Optional ?ear stabilizer? fits over the ear
Sleek, lightweight wireless design with chrome carrying case
Supports last number redial, and voice-activated dialing for easy mobile use
Pocket case vibrates with incoming calls
Works with multiple Bluetooth devices?phones, PDAs or laptops
Freedom to roam up to 33 feet from your Bluetooth device
Let's take a look at what you get!