Plantronics .Audio 476 DSP Foldable Headset Review
By
Plantronics .Audio 476 DSP Introduction
Plantronics is no stranger to LR given that we have reviewed many of their Bluetooth headsets over the years. This time around, we are taking a look at the Plantronics .Audio 476 DSP which is a USB 2.0 powered headset. The Plantronics .Audio 476 DSP headset is a foldable stereo headset just announced in January 2010 during CES, that offers digital signal processing to enhance the sound quality. The noise cancelling microphone uses a wideband acoustic echo cancellation to get natural sounding voice audio.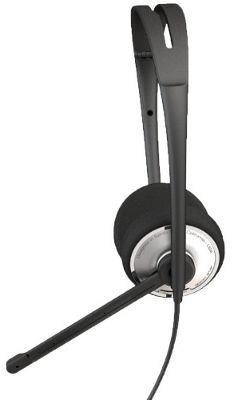 With Plantronics' DSP and acoustic tuning features, the .Audio 476 DSP promises to deliver and capture top-quality and crisp voice audio. Besides the use for Skype or other Voice over IP communications for online phone calls, the Plantronics .Audio 476 DSP is expected to work well with online game voice communication as well as exceptional voice track playback from your favorite musical artists. The Audio 476 DSP is especially certified for Skype 4.0 Super Wideband calls, however it should perform well with many of the VoIP clients.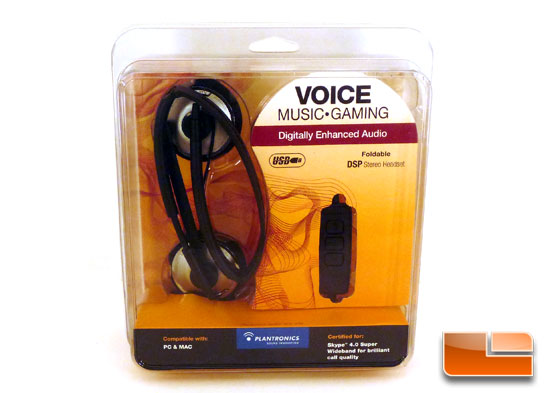 The Plantronics .Audio 476 DSP is packaged in the folded position so customers know exactly how it folds right out of the box. We also know it is compatible with PC or Mac systems allowing either market to take advantage of this product. As we like to see with any corded product, there are inline controls for volume and a microphone mute button so users can have easy access to the functions that are used the most.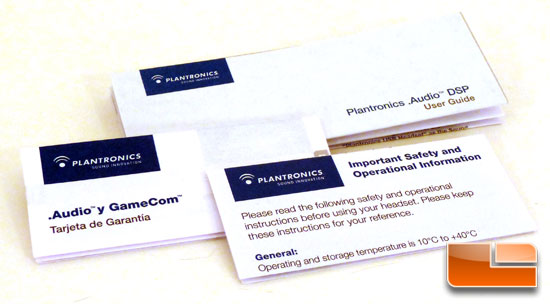 Included in the package is a series of instructional pamphlets for safety, Warranty and the User Guide. While the User Guide has useful information, it was definitely not required to use the .Audio 476 DSP to its fullest potential. Being a plug and play device, we were able to plug it in and go right out of the box. The only warning we will give though is some VoIP applications may need to you configure which audio device it should use for the mic and sound if your system has these devices already integrated.
Specifications
Speaker Driver Size: 32mm diameter
Speaker Frequency Response: 20Hz-20kHz
Microphone Frequency Response: 100Hz-10kHz
High Fidelity 24-bit stereo: 48kHz sampling rate
Acoustically tuned EQ
Wideband Acoustic Echo Cancellation
Cable Length: 6.5 feet (2 meters)
Compatibility: Mac, Windows – USB Plug and Play
Standard 1 Year Plantronics Limited Warranty
Now that we see the specifications, let's move on to a closer look at the headset.