Phison PS5016-E16 PCIe Gen 4.0 x4 Demo at CES 2019
By
One of the more interesting demos at CES 2019 is being done by Phison Electronics. What makes it so interesting is that Phison is showing off their next generation PS5016-E16 SSD controller that uses the PCI Express Gen 4 interface. No consumer motherboard has PCIe Gen 4 just yet, so Phison is using PLDA's Gen4HOST add-in-card. This AIC is PCI-SIG compliant for PCIe 4.0 technology and uses a PCIe 3.0 x16 (upstream) to PCIe 4.0 x8 (downstream) integration backplane for development and validation of PCIe 4.0 endpoints.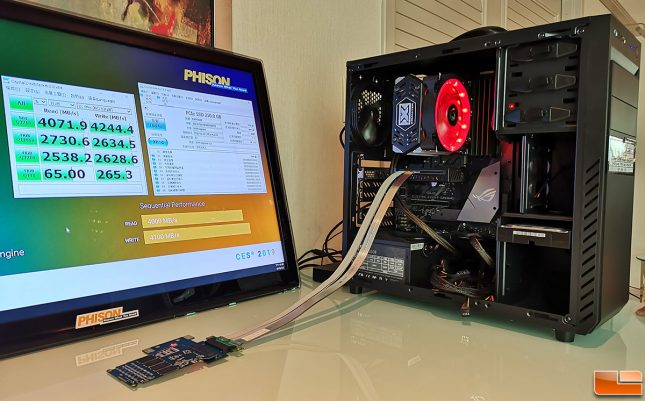 By using that card Phison has been able to test out their new E16 SSD controller and the results are most impressive. On the 2TB demo drive with BiCS3 TLC NAND Flash memory they were getting 4071.9 MB/s sequential read and 4,244.4 MB/s sequential write on CrystalDiskMark 6.0.0. Phison told us that they are currently getting around 600,000 to 700,000 IOPS from this early prototype for Radom 4K performance.
The Windows 10 test system consisted of an Intel Core i7-8700K processor running on an ASUS ROG STRIX Z370-F Gaming motherboard.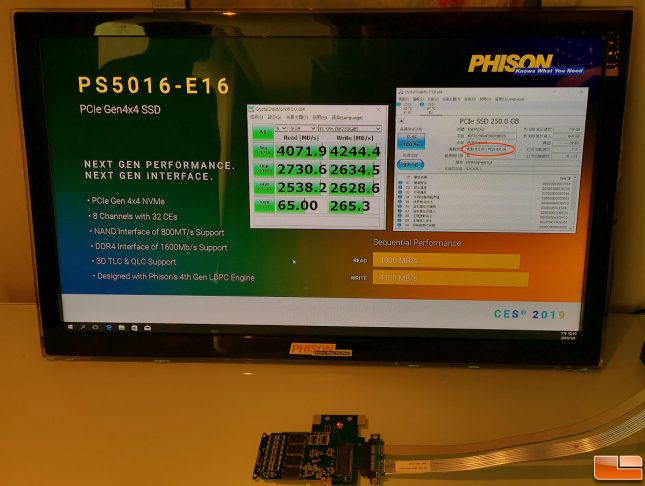 As impressive as these results are from a 2TB SSD (CrystalDiskInfo was reading the capacity incorrectly), we were told it is just the beginning. Phison believes that they are going to be able to get up to around 4800 MB/s for sequential and 900,000 IOPS for Random 4K performance before this drive is ready for consumer use. Moving over to BiCS4 NAND Flash will help improve performance by 10% over BiCS3. Phison believes they can get about another 10% through firmware optimizations.
Phison PS5016-E16 Controller Specifications:
PCIe Gen 4×4 NVMe
8 Channels with 32 CEs
NAND Interface of 800MT/s Support
DDR4 Interface of 1600Mb/s Support
3D TLC & QLC NAND Flash Support
Designed with Phison's 4th Gen LDPC Engine
Phison also had a 2TB prototype drive on display with Micron memory, but it was not being benchmarked.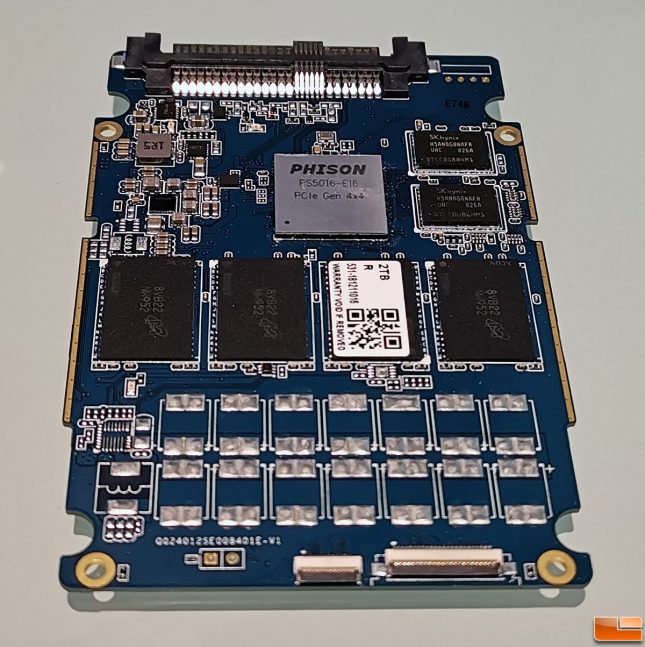 Phison plans on releasing the PS5016-E16 controller in Q3 2019, but hopes to bring that in to around the Computex time frame if all goes well. PCI Express 4.0 will likely start appearing on motherboards at that time as well since new platforms are on the way. We also found out from Phison that there will not be a enterprise version of this controller as the E16 SSD controller is solely aimed at enthusiasts and gamers.