PCIe 4.0 Specifications Finalized and PCIe 5.0 Pushes Ahead
By
We were told a few months back that PCI Express 4.0 standards would be ratified this year and our friends over at PCI-SIG was easily able to meet that deadline as they have finalized and published the PCIe 4.0 Specification Version 1.0! The new PCIe 4.0 standard will increase the interconnect bandwidth from 8 GT/s to 16T/s while remaining backward compatible with PCIe 3.0 devices. Additional functional enhancements include:
Extended tags and credits for service devices
Reduced system latency
Lane margining
Superior RAS capabilities
Scalability for added lanes and bandwidth
Improved I/O virtualization and platform integration
PCIe 4.0 is a significant milestone, but the group is already actively working on PCI Express 5.0! Right now they are currently working on version 0.3 of the forthcoming PCIe 5.0 specification, targeted for Q2 2019. Right now PCIe 5.0 is expected to increase speeds to 32GT/s, yielding 128 GB/s of bandwidth in full duplex networking situations!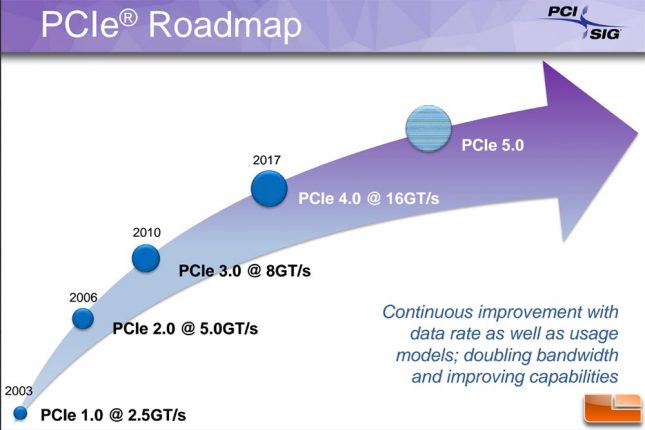 PCI-SIG members are welcome to access the PCIe 4.0 spec online at no cost through the PCI-SIG Specification Library. Non-members may purchase the specification here.