OWC Mercury EXTREME Pro 6G 120GB SSD Review
By
OWC does SSD's 6Gbps Style
It wasn't that long ago we had a look at the beta OCZ Vertex 3 drives with the next generation SandForce controller on board. Those are just now hitting the shelves and it's been a bit surprising that no other SandForce 6Gbps drives have made their way into the market (although Corsair just announced their new Force Series 3 lineup). Finally, someone else has stepped up. Other World Computing (OWC), most notably known as a retailer and manufacturer of Mac related hardware and software including memory, hard drives, accessories, etc. has the Mercury brand which is uniquely theirs and used across an array of products. Their latest offering is the Mercury EXTREME Pro 6G line of solid state drives featuring the SF-2200 controller and a 6Gbps interface.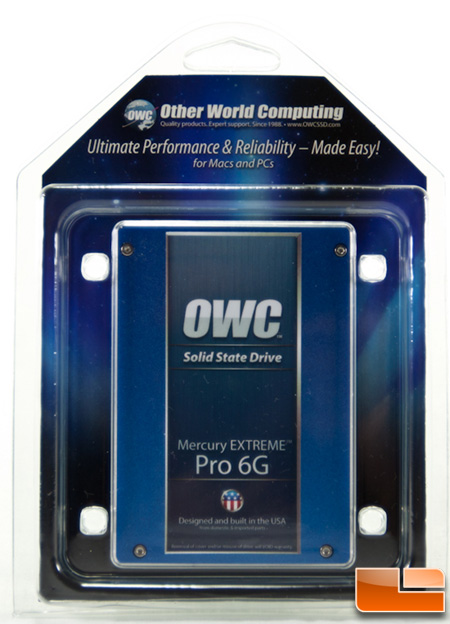 Available in 120 GB, 240 GB and 480 GB capacities, they are priced at $319.99, $579.99 and $1799.99 respectively. As with the all other SandForce controlled drives, they support TRIM and idle garbage collection and don't rely on a cache for data buffering as you'll see when we take a look inside the case. Speaking of TRIM, since OWC caters to the Mac crowd, OS X Lion is rumored to support TRIM although there is conflicting reports on whether or not this will work with drives outside of Apple's build offerings. I can say that for the current OS X version (10.xxx) there is a way to enable TRIM by running this free app and I can confirm that this works admirably as I have been using it on a SandForce based SSD with a unibody MacBook Pro. Obviously, this is not sanctioned by Apple so use at your own risk.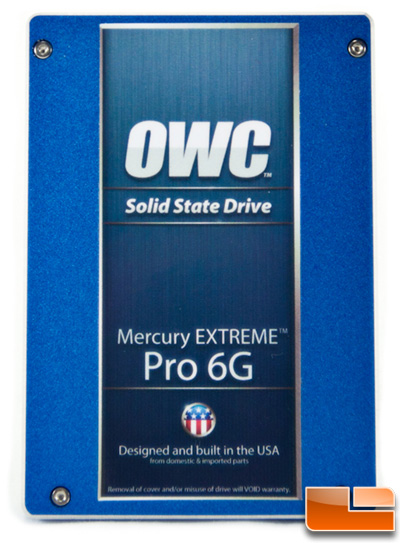 OWC Mercury EXTREME Pro 6G Features and Specifications:
SandForce Processor with full SF2281 Series 7% Over Provisioning firmware set
NAND Flash Components:
Synchronous Tier 1/Grade A 2X-nm NAND Flash Storage
Interface:
SATA 6Gb/s, 3Gb/s & 1.5Gb/s supported, SATA 3.0 Compliant
Native Command Queuing up to 32 commands
SMART Command Transport
Bandwidth:
6Gb/s – Sustained Sequential Read:
6Gb/s – Sustained Sequential Write:
3Gb/s – Sustained Sequential Read:
3Gb/s – Sustained Sequential Write:
I/O Per Second (IOPS):
Random 4KB: Up to 60,000 IOPS
Protection:
ECC Recovery: Up to 55 bytes correctable per 512-byte sector
Nonrecoverable Read Errors: Less than 1 sector per 1016 bits read
Security:
Chip Based Data Encryption: 256-bit & 128-bit AES-compliant
TRIM Support:
SMART attributes:
Read Latency:
Write Latency:
Acoustics:
Idle (Typical): 0.0 bels
Seek (Typical): 0.0 bels
Size and Weight:
0.372″(H) x 2.758″(W) x 3.941″(D)
(9.45mm x 70.06mm x 100.12mm)
80 grams +/- 2 grams
0.176 lbs +/- 2.82 oz
RoHS Compliant:
Format:
Operating Environment Temperature:
Non-Operating Environment Temperature:
Power Consumption:
Active: less than 3000mW (3.0W) expected maximum draw
Idle: less than 1200mW (1.2W)
Warranty:
Built In The USA:
Designed and built in the U.S. from domestic and imported parts
Recommended Applications:
Qualified for single drive and multiple drive usage.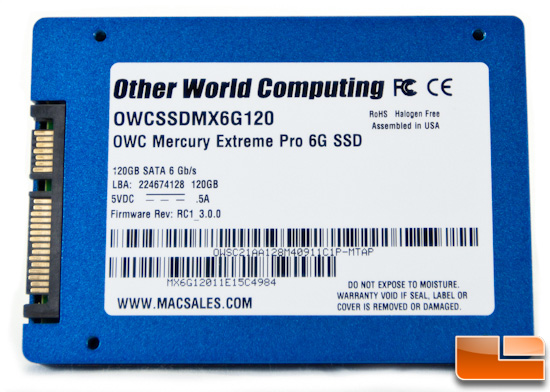 The drive we received was a pre-production model and the sticker shows that it has RC1_3.0.0 firmware which is not the final version. The exterior and branding should not change and is composed of an attractive blue aluminum case which might pair up nicely with other blue components like our ASUS P8P67 Deluxe board.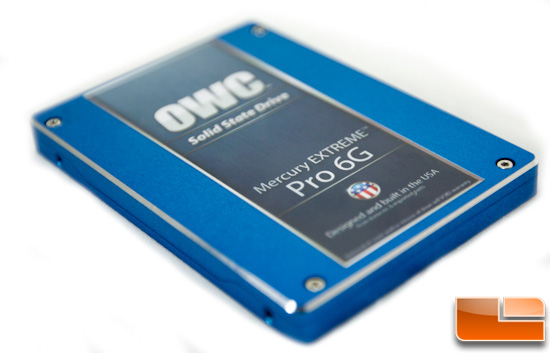 The front sticker sports a small American flag icon that signifies that the drives are designed and assembled in the USA albeit with a mix of domestic and imported parts. For more on these parts, let's have a look inside.