Overclocker's Lack Of Choices: cooling the LGA775
By
Intel Socket 775 + ? = Lower Than Expected Sales
Recently many in the media have been writing articles pointing out the low sales of Intel's socket 775 processor. These articles touch on how Intel has many "small" issues going on internally right now. I'm sure you've heard about the lack of the high end processors being on the open market, the chipset manufacturing issues, the delay of the 4GHz CPU, and the recent delay of Intel's low end TV chips, but for today we will leave those areas alone. As always we like to think out of the box and give you a look at the issues from a new and different angle and that is exactly what we are going to do today.
We recently went out and built a gaming system to take along with us for Quakecon 2004. We could build anything we wanted to put in our system, but we figured that the 5,000+ gamers/guests that will be in Dallas for Quakecon would like to see the latest and greatest technology on the market. Since the event is sponsored by AMD we figured that AMD would have their own hardware covered and on display so we went with building an Intel Socket 775 system with all the bells and whistles.
With our platform selected we could begin picking out parts right away. Since the socket 775 platform has been launched for over a month now one would think that getting parts for the system would be easy, but we found that the parts are still far and few. We wanted to overclock our system and for that we knew that we needed good cooling. As everyone should know by now the Intel Prescott CPU's run a tad warm so cooling is important on these processors. We also knew that since our system would be our carry on item for the airlines that we didn't want to mess with watercooling. With water cooling given the thumbs down we knew that we were looking for a heatsink that would perform better than the stock design. Once we started looking for high performance heat sinks it was clear that our search would not be an easy one.
Lack Of Socket "T" HSF's
The socket 775 Prescott comes with a different heat sink mounting system than the previous generation socket 478 Prescotts and therefore it comes with a new heat sink design. Intel teamed up with Chaun Choung Technology Corp. (CCI), to help develop a cooling solution to handle the heat and new socket design. They came up with the Intel Radial Curved Bifurcated Fin Heat sink (or RCBFH-3 Reference Design) that is shown below. While the heat sink does the job of cooling the processor it is not designed for overclocking applications like what we wanted to do.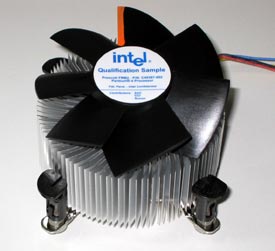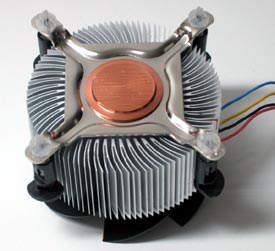 It is no secret that on the Intel Socket 478 CPU's Thermalright has been a leading company in producing high performance cooling solutions. We stopped by their web site to see what cooling solutions they had for socket 775 processors and were shocked that they had none! We sent Thermalright an e-mail and got the following response as to why they do not have a single heat sink for sale on the Socket 775 platform.
Thermalright: "As you probably noticed on many 915/925 chipset motherboards, motherboard manufactures use various height button capacitors around the CPU socket and some makers had very crazy setups. This practice prohibits high performance HSF makers like Thermalright to quickly design a RM (Retention Mechanism) for these motherboards without worrying about mechanical interference. We are experimenting with several unorthodox RM designs in attempt to overcome this hurdle at the moment. After all, we know that users and other HSF manufactures are waiting for Thermalright to bring a spit-fire dragon tamer to the table so Prescott users can have a relatively cool summer! "
So Thermalright has a heatsink being designed, but it is not on the market yet. We next looked at some of the cooling solutions from Thermaltake, which we knew offered heat sinks for the newer socket 775 processors. Of the two retail solutions that they carry one is the Jungle512, which happens to be based off the reference design with a massive fan attached to it. When on high this fan puts out
a full 47 dB of noise and this was not something we wanted for a system we had to sit next to and game all day on. The next option was the Tower 112 from Thermaltake and while the heat sink is a high performance solution is weighs in at a whopping 3 pounds. When we got in the Tower 112 and mounted it on our system it became clear that the system could not be moved. The board was warping and since our system was a LAN Party system there was no way this heat sink would work for our application.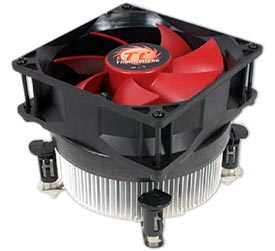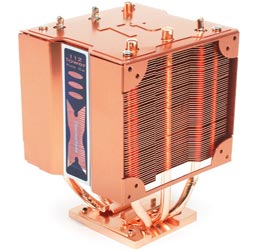 We contacted Thermaltake and asked about the lack of heat sink choices and this is what they had to say.
Thermaltake: "Yet, it is true that there are considerably less variations when compared to AMD K7, K8 and Intel P4 solutions. Market demand is very hard to predict. It has various factors such as price / performance ratio, cost of upgrade, performance gain.etc. But from our extensive channel outreach and with 20+ people R&D team, we are able to roll out new products for each specific demand in very short time."
At this point in time we started looking at other companies like Cooler Master and Spire for high performance cooling solutions. But we kept running into the same issue. They are all designs based off the reference design! Copper core with radial curved cooling fins — actually most aren't even bifurcated like the reference design is. Below are the socket 775 cooling solutions from Cooler Master and Spire.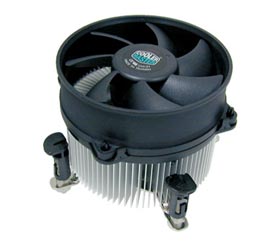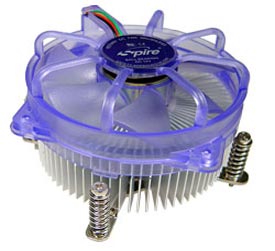 Conclusions:
Nathan Kirsch's Thoughts:
From an enthusiast stand point there are not many air cooling solutions for the Intel Socket 775 processors. You are stuck with heat sink designs that are based on the reference design or a 3lb monster that once installed you aren't recommended to move your system around. I find it very shocking that Intel has a product on the market that doesn't have a larger number of cooling solutions available! It's almost as if the heatsink companies forgot about the enthusiast users when it comes to the Socket 775 processors and after bringing this up to several people many feel this way. Intel has the Socket 775 platform on internal roadmaps through 2005 and beyond, so the lack of cooling solutions for a platform that will eventually use multi-core processors is shocking.
How many sales has Intel lost to the boys in green (AMD) due to their processors running hot and a lack of cooling solutions to cool the Prescotts for overclockers? No one can answer that for sure, but it is pretty obvious that AMD's recent Socket 939 processors have many more high performance cooling options available than the latest processors from Intel. When it comes to the heat sink options between the Intel socket 775 and AMD socket 939, AMD clearly has the lead in cooling options not to mention they have a cooler processor to begin with.
Update: Although we didn't cover water cooling in this article, many companies are just now starting to bring water blocks out. High Performance water block companies like Danger Den, D-Tek and Swiftech have yet to release any Socket 775 water blocks. Just last week on 8-12-2004 PolarFLO launched a mounting kit for one of their water blocks to be attached to the new Socket T boards. As you can see this is not just an air cooling issue as some contacted me and asked about.