ORICO NVMe M.2 SSD Enclosure Review
By
SSD prices are quickly falling, but we've noticed that portable SSD prices aren't dropping nearly as quickly. That means you can build your own wicked fast portable SSD enclosure for less than buying an actual portable SSD. The review that we have for you today is on a pair of ORICO NVMe M.2 SSD enclosures. Internally the enclosures share the same hardware as they use the same PCB with the JMicron JMS583 USB 3.1 Gen 2 to PCIe Gen 32 Bridge Controller that is capable of delivering speeds of up to 950 MB/s. They also both support NVMe SSDs up to 2TB in capacity. On the outside you have a transparent tool-free design that runs $39.99 shipped and then an aluminum model that is held together with a screw for $42.99 shipped.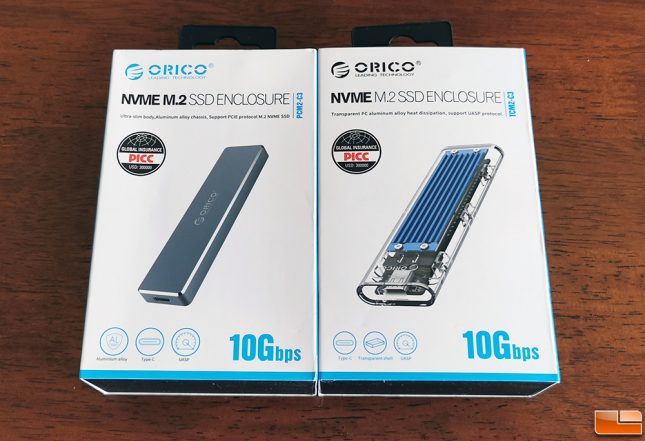 Forty bucks for a portable NVMe SSD enclosure won't make these two drives the cheapest around, but they have great build quality and include everything you'll need to get up and running. You get not only the enclosure, but also one USB 3.1 to Type-C cable and one Type-C to Type-C cable to ensure you'll be able to transfer files to any PC you run across. You also get a screwdriver and screw kit, instructions, a thank you note from Orico.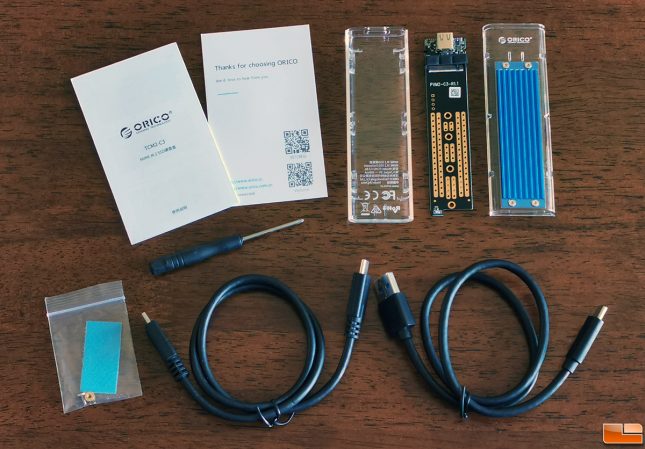 Inside both drive use the same black PCB with the JMicron JMS583 located on the back. ORICO ran a series of exposed 'copper' bars with holes all the way through the PCB to help keep M.2 NVMe drives cool. They also include conductive thermal pads to help dissipate the heat to either the aluminum enclosure or heat sink depending on the model that you are using.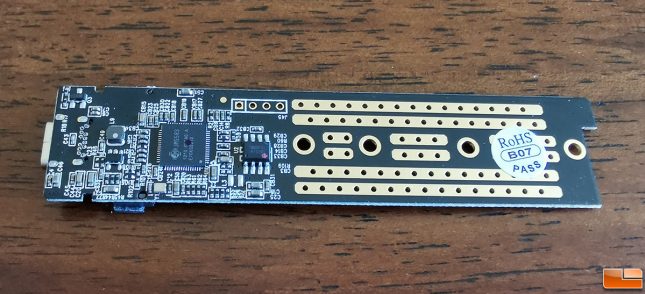 The PCB features a single USB 3.1 Gen 2 Type-C port and a slot for only NVMe M-Key M.2 SSDs that are up to 2TB in side. There are four holes in the middle of the PCB that allow you to fasten down M.2 2230, 2242, 2260 and 2280 drives.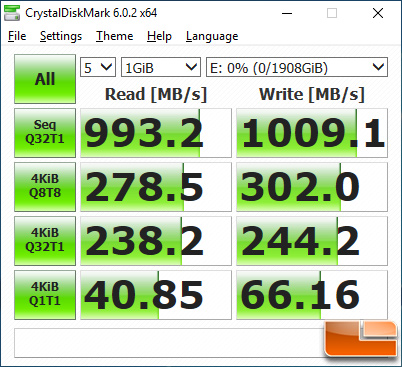 When it comes to performance the ORICO M.2 SSD Enclosure (10Gbps) exceed our expectations and surpassed the drives rated speeds of 950 MB/s. We were able to reach 993 MB/s sequential read and 1009 MB/s sequential write a 2TB drive using an SMI SM2262EN controller. We also were able to reach these speeds on drives using Samsung and Phison controllers and ran into no compatibility issues with any of the dozen or so drives we tried on this enclosure with a Windows 10 v1903 PC.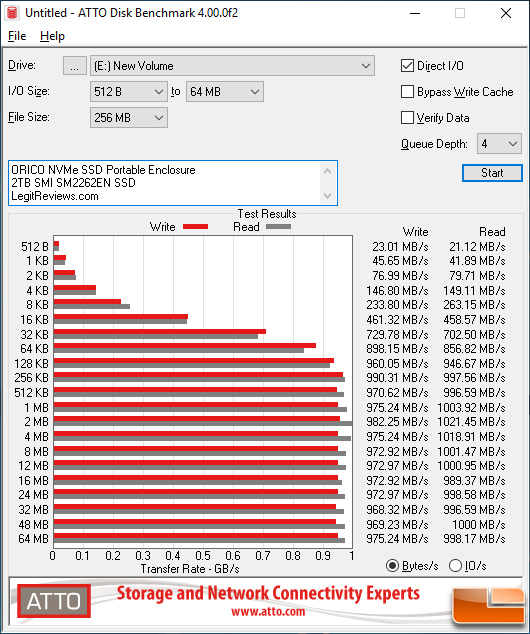 Running ATTO showed that we were able to reach 1021 MB/s read and 990 MB/s write with the ORICO M.2 SSD Enclosure.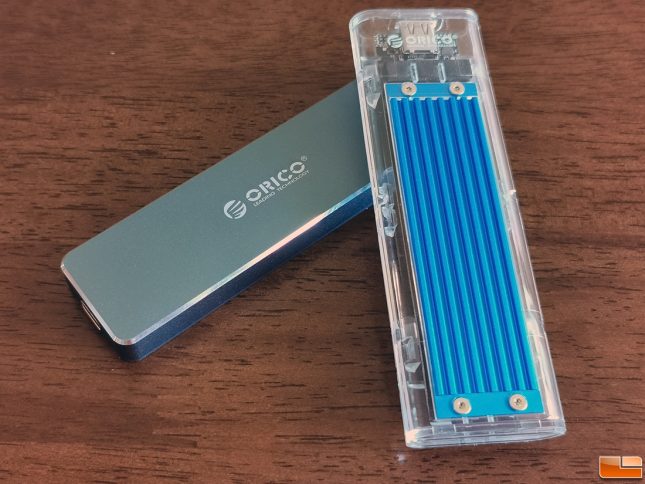 After using both NVMe M.2 enclosures for a bit we've really come to like them. The performance is outstanding as they are capable of delivering up to 1 GB/s sequential read/write speeds without breaking the bank.
The ORICO Transparent NVMe M.2 enclosure is actually the model we use the most. The tool-free design basically means just the cover slides off as the drive still can be screwed down to the board. We actually end up leaving the cover off most of the time since we have so many M.2 drives in use and some drives like the WD SN750 with the heatsink won't fit with the cover on. The plastic cover and sliding cover do give this model a 'cheap' feel though, so be warned.
The ORICO aluminum M.2 NVMe SSD enclosure has a more solid feel and has a single screw that holds the enclosure together. If you aren't changing out M.2 drives daily or weekly this is the model that we'd suggest. It costs a few bucks more, but the enclosure will certainly last longer and never risk cracking or yellowing with sunlight (good old UV rays).
When it comes to pricing the transparent model is $39.99 shipped and the aluminum model is $42.99 shipped. Right now there is a 15% off coupon on Amazon.com for each of these drives and that brings the price down to $33.99 and $36.54, respectively. You can pick up a low-cost NVMe SSD like the Sabrent 1TB Rocket for $109.98 and have a 1TB portable SSD for under $150.
That should be about $15 less than other 1TB portable SSDs like the SanDisk Extreme Portable ($166.50) or Samsung T5 ($163.95) that use SATA III drives and top out at 550 MB/s.
ORICO has an 18-month warranty on their enclosures and the drive inside would be covered under its own factory warranty period.
Building your on portable SSD enclosure with an NVMe SSD is super simple and the performance is impressive.