OCZ Vertex EX Series 120GB SLC SSD Review
By
The OCZ Vertex EX SLC Solid State Drive
6/17/2009 Update: The OCZ Vertex EX series has received a firmware update since this article was posted. To read more about firmware update 1.20 please refer to this small update after reading the full review below.
Today, we have a special treat for our readers. Our very first SLC NAND Flash based Solid State Drive review! The recently released OCZ Vertex EX is designed to deliver unparalleled performance and reliability, featuring the latest-generation architecture and SATA interface utilizing single-level cell NAND flash memory for unmatched overall system responsiveness and stability for enterprise grade server solutions. With speeds up to a 260MB/s read and 210MB/s write, the Vertex EX series is clearly one of the fastest drives that money can buy today.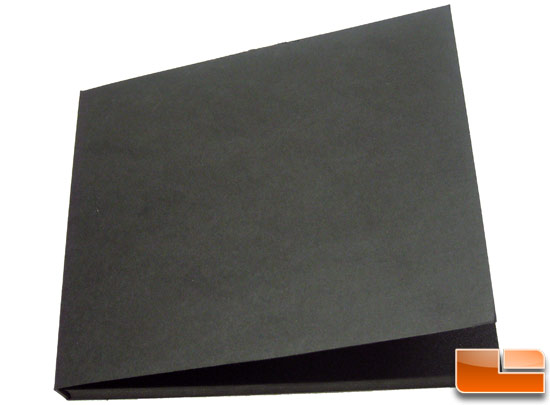 The OCZ Vertex EX series drive came in a plain black box that contained the 120GB version! Before we go any further let's take a look to see what OCZ has to say about this series of SSDs.
"OCZ Vertex EX 2.5 Solid State Drives are designed to meet the stringent demands of server environments and enterprise applications. These new premium offerings are the pinnacle storage option excelling in performance, reliability, and power consumption that offer professionals and enthusiasts an unparalleled computing experience. Offering a server-class storage upgrade from traditional hard disc drives, OCZ Vertex EX SSDs have a compact form factor and no moving parts resulting in a quiet storage solution with significantly higher performance. For crowded server environments, the OCZ Vertex EX SSDs offer space and cost-savings with a compact form factor that use significantly less power thanks to the benefits of high-quality flash-based storage." – OCZ PR
Looks like we have a screamer on our hands for sure, so without further ado…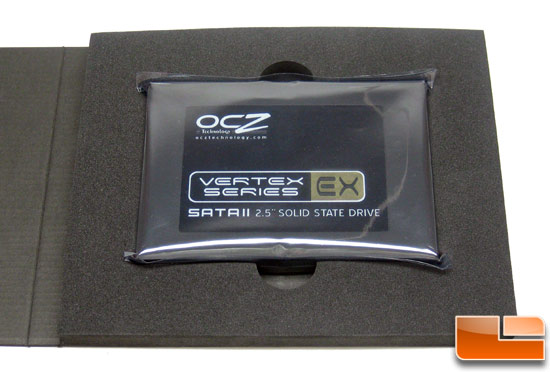 The OCZ Vertex EX series 120GB SATA II 2.5″ Solid State
Drive comes in a small box that lists all the key features of the
drive. OCZ also has 60GB versions of the Vertex EX on the
market in case you were wanting a different size. It should be noted that all capacities have the same controller and 64MB of cache, but they do differ in write speeds due to the density of the SLC NAND Flash. As a result the 120GB model has a write speed of up to 210MB/s, while the 60GB model has a write speed of up to 200MB/s. So, a 10MB/s difference is seen on the write speeds and the read speed is identical at 260MB/s. The pricing on the other hand is not identical between the two models.
Vertex EX 120GB SSD Features:
64MB Onboard Cache
SLC NAND
Seek Time: <0.1ms
Slim 2.5″ Design
99.8 x 69.63 x 9.3mm
Lightweight 77g
Operating Temp: 0C ~ +70C
Storage Temp: -45C ~ +85C
Low Power Consumption: 2W in operation, 0.5W in standby
Shock Resistant 1500G
RAID Support
MTBF 1.5 million hours
3 year warranty
Read: Up to 260 MB/s
Write: Up to 210MB/s
Sustained Write: Up to 100MB/s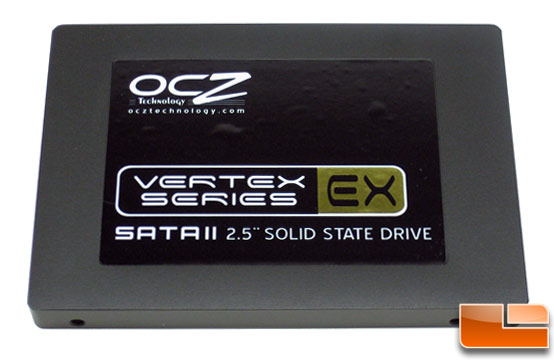 The Vertex EX uses the 2.5″ form factor used in notebooks, so this
drive will work in any notebook. If you wanted to be able to mount it
in a desktop chassis with 3.5″ bays you'll be forced to use something
like the OCZ Solid State Drive 3.5″ Adaptor Bracket in order to get it bolted up in the system properly. You'll need to
secure it as the 120GB version of the Vertex can read up to 260 MB/s
and write up to 210MB/s. Actually, a little double sided tape will work
and you can stick it any place your heart desires as these drives have
no moving parts and don't make any noise.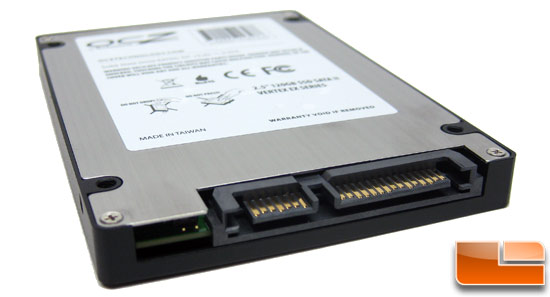 Flipping the Vertex EX SSD over you get a better look at the
SATA II header and the SATA power connector. OCZ states that the Vertex
series has a MTBF (Mean Time Before Failure) of 1.5 million hours and
can tolerate a force of 1500G, so this is one tough drive. OCZ backs the
Vertex EX series with a three year warranty as well, so you are covered if
something happens to go wrong. This warranty period is one year longer than the Vertex MLC drives, so the Vertex EX SLC drives do have a better warranty period.