OCZ Vertex 460 240GB SSD Review
By
The Last Vertex SSD Ever?

This is the first new drive we've received from OCZ since they filed for bankruptcy and were subsequently bought by Toshiba. It carries the storied Vertex name but given the company transition, does this mean that this will be the last Vertex drive ever? Not according to our friends at OCZ who say that this isn't necessarily the last and they'll be "keeping around the current series branding so Vertex/Vector/Revo for the foreseeable future". OCZ was honoring all of their old product warranties during the transition period (as OCZ Technology), but they are still working out the post transition details with Toshiba. In addition, mere hours before this article was set to go live, Toshiba announced the final acquisition of OCZ and rolled out a new logo that incorporates the Toshiba name. Per the press release:
The acquisition of OCZ further expands our solid-state storage capabilities and represents Toshibas commitment to this high-growth area, said Mr. Seiichi Mori, Vice President of Toshibas Semiconductor and Storage Company and Corporate Vice President of Toshiba. Our goal is to offer a leading edge portfolio of solid state solutions to address the storage challenges faced by both client and enterprise customers, and the acquisition of OCZ is an ideal addition to our team in realizing this strategy.
So now it's OCZ Storage Solutions – A Toshiba Group Company, which is a mouthful. We'll still refer to them as OCZ informally for the sake of brevity and it will take a while for the new branding to make it to the products. Toshiba is a huge and well respected company so we expect great things to come, especially if the OCZ team gets R&D money to spend as they've shown to be very resourceful and innovative in the past.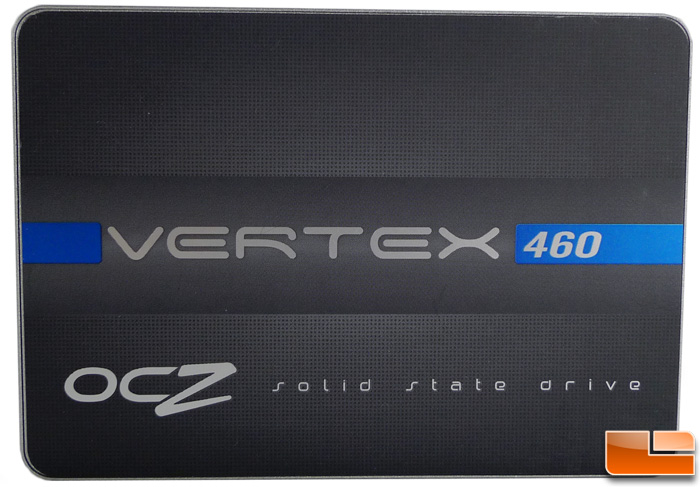 So, with that out of the way, let's get busy with the task at hand – checking out the new Vertex 460! We received a 240GB version this time around for evaluation which is pretty much the typical size of a review sample anymore. The Vertex 460 carries the same Barefoot 3 M10 controller we saw in the Vertex 450 and is now paired with 19nm Toshiba (go figure) MLC NAND. As far as features are concerned, not much has changed. It still carries the 2.5″, 7mm form factor and SATA III interface with S.M.A.R.T. and 256-bit AES-compliant encryption supported by the controller/firmware. The warranty is three years which is two years less than the Flagship Vector drive. The performance specifications are impressive for what is essentially an entry-level 'performance' drive with reads hitting 545MB/s max and 525MB/s writes max. These numbers aren't far off what we saw with the Vertex 450 as we'll discuss. The exterior gets a bit of a makeover which a cleaner look and a splash of blue. I personally like the new look better but aesthetics aren't really a selling point for most. Like the Vertex 450, the 460 comes with a 2.3″ to 3.5″ adapter plate as well as a serial key for Acronis True Image HD 2013 drive imaging software which we use all of the time to clone and backup our SSDs.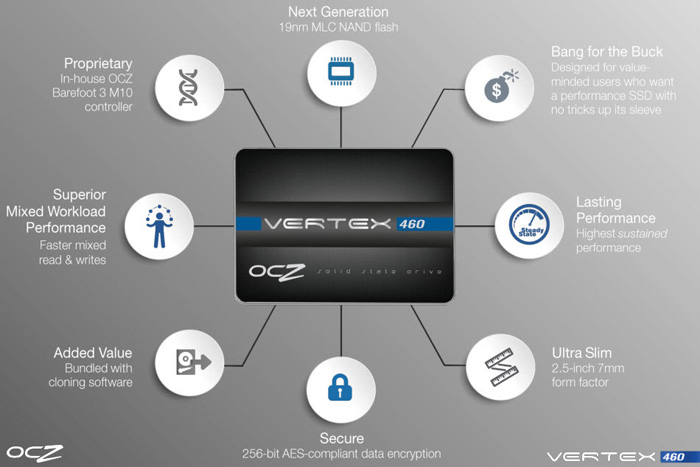 OCZ Storage Solutions Vertex 460 Features and Specifications:
| | | | |
| --- | --- | --- | --- |
| Performance | 120GB | 240GB | 480GB |
| MSRP: | $99.00 USD | $189.00 USD | $359.00 USD |
| Max Read: | 530MB/s | 540MB/s | 545MB/s |
| Max Write: | 420MB/s | 525MB/s | 525MB/s |
| Max Rdm Read IOPS (4K QD32) | 80,000 | 85,000 | 95,000 |
| Max Rdm WriteIOPS (4K QD32) | 90,000 | 90,000 | 90,000 |
| Steady-State Rdm Write IOPS (4K QD32) | 12,000 | 21,000 | 23,000 |
Controller: Barefoot 3 M10
NAND Components: 19nm Toshiba MLC Flash
Interface: SATA III 6Gb/s
Form Factor: 2.5″, ultra-slim 7mm
Data Path Encryption: BCH ECC corrects up to 44 random bits/1KB
Encryption: 256-bit AES-compliant
Product Health Monitoring: S.M.A.R.T
Endurance: Rated for 20GB/day host writes for 3 yrs under typical client workloads
Power Consumption: Idle: .06W Active 2.70W
Operating Temp: 0C ~ 70C
Shock Resistance: 1500G/0.5ms
Vibration (Operational): 2.17Grms (7-800Hz)
Vibration (Non-Operational): 16.3Grms (20-2000Hz)
As compared to the enthusiast Vector drive, the Vertex 460 performance is very comparable and the biggest difference is the rated driver endurance and related warranty. There are incremental improvements over the Vertex 450, especially with the smaller 120GB and in the sustained IOPS performance. Let's a have a closer look at the components.