Oakley Thump 2 512MB Sunglasses Review
By
Audio Level and Final Thoughts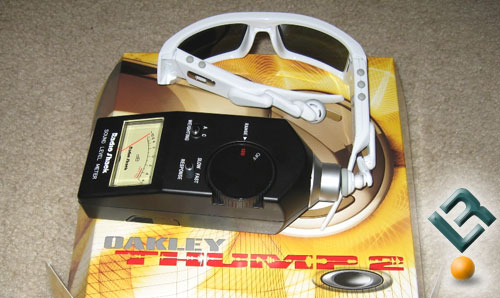 How Loud is Loud?
Sound quality while working out with the Thump 2s was very, very good. As with all MP3 players, the higher the quality of your sound file, the better the reproduced sound. We tried mostly MP3s and AAC and the reproduced audio that was ripped in 128kbps to 256kbps. These tracks sounded as good as my iPod.
We conducted some volume tests with our trusty Radio Shack sound meter at the typical listening distance for ear buds. For our tests, we use used Pink Noise in phase to measure sound output over all octaves. We wanted a consistent sound while doing our measurements. Amazingly, the Thump 2s measured an average 115 dB at maximum volume. This is one loud audio player! Depending on how you create or rip your MP3s or other sound files, you should really have no problem hearing any of your music when using the Thump 2s.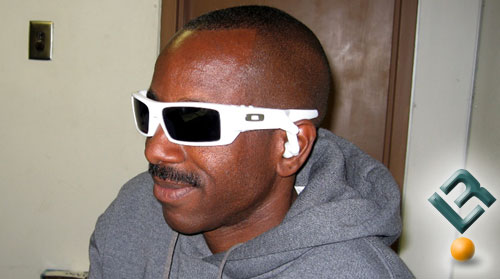 Thumping in Public
Using the Thump 2s was a very interesting experiment. We took them on a 20-mile bike ride bike in Santa Monica and Venice Beach where we could test their coolness factor as well as the functionality of wearable electronics. As strange and as big as they look, these glasses are quite comfortable. With the bright California sunshine, the Iridium PLUTONITE glass was greatly appreciated. (Editors note: Ken's buddy Ivan almost looks like Wesley Snipes in Blade doesn't he?)
These lenses and frames are exactly like the non-MP3 player glasses Oakley makes called the GASCAN. I normally use polarized lenses when outdoors, but the Oakleys did very good job in protecting my eyes. After being in the sun and wind for hours, my eyes were not fatigued at all. Before spending time with the Thumps, I was concerned that frames like this were way too big and heavy to be used during activities on a consistent basis. They actually fit really well and long-term use wasn?t an issue at all. Granted, they are heavier than your lightest wire-frame glasses, it is by no means like trying to wear a brick on your nose.
Because these glasses are classic Oakley, people either love the look or hate them totally. At first glance, I wasn?t too sure I was going to like wearing them, but after putting them on, my attitude changed: I was that bad-ass biker/runner/skier/insert-your-outdoor-activity-here and I had my music with me in my own world. As big and gaudy as they are, they were not out of place at all on our ride up and down the boardwalk.
The fit of the frames to my face was very good and snug ? no danger of this piece of hardware falling of while traveling 25 miles per hour on a bike or even in your convertible. Adjustments of the ear bud speakers for optimal placement in my ear was also not a problem. I?m used to cruising and working out with earbuds from an iPod or CD player, so this was nothing new. Well, actually it was. I didn?t have to worry about extra gear like the iPod belt clip or arm-strap, and no more worries about the wire from the player to my ear. I also didn?t have to worry about carrying extra stuff to protect the player. It was quite liberating.
Ken?s Final Thoughts
Based on the $180 Oakley Gascan sunglasses, the $350 Oakley Thump 2s make for an intriguing ? and expensive ? package. With the Oakley Thump 2s, you either love the look or hate them. Initially, I really wasn?t that impressed with them when seeing their ads and looking at Oakley?s website. I figured they were overpriced glasses with a cheapo MP3 player tacked on to inflate the price. I am proud to admit that my initial impressions were wrong when using these bad boys out in the real world.
No matter what you might think of the look (or the cost for that matter), these glasses are perfect for activities in sunny and bright areas. The looks that I received along my workout proved to me that people were indeed trying to check out what it was that I was wearing?although, it could have been that I was swerving to the beat, but I want to believe that it was because the glasses were garnering attention. Like I said before, these things are classic Oakley and the white frames just made them stand out even more.
Legit Bottom Line
By charging $350 for the Thump 2s, Oakley is essentially charging $170 for a 512MB MP3 player. Granted, these glasses are extremely comfortable and have a unique and unparalleled styling with an audio player that is more than functional, but at this price point they are definitely a luxury item that few of us could afford.