NZXT IU01 USB 2.0 Internal Expansion Hub Review
By
NZXT IU01 Internal USB 2.0 Hub
Have you ever found yourself needing more USB ports than your computer has to offer? If this sounds familiar you more than likely need a USB hub that adds additional USB ports to your PC. These USB expansion hubs are nothing new, but most are external hubs. Today, we take a look at an internal USB expansion hub made by NZXT that adds six additional USB 2.0 headers inside your PC. The best part of the NZXT IU01 USB expansion device is that is only costs $23.99 plus $2.99 shipping. Not a huge price to pay if you need to run additional USB devices. Is the cost worth it? Let's take a closer look at the product and see what you get for the price.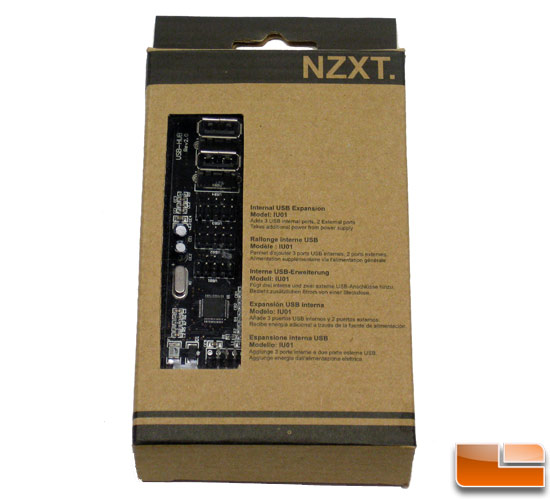 The retail box is rather plain and while the NZXT brand name is displayed in a large font, the rest of the text and the product name is rather hard to see. Not the best packaging for the retail shelf, but for online orders it should do okay. The back of the retail box has this paragraph about the device.
"The IU01 addresses an issue common to most gaming PCs that is a lack of substantial power and expandability from the front-panel USBs. The IU01 enhances control and boosts power for front-panel USB devices by connecting them directly to the power supply as opposed to the motherboard, ensuring that there is always enough power to control your accessories and peripherals. The IU01 also adds six internal USB ports that are great for powering items that you don't need constant access too like a Bluetooth module or USB wireless router allowing you to free up the external ports for additional accessories." – NZXT
NZXT IU01 USB Expansion Features:
6 Internal USB expansion
2 External USB expansion
Dedicated power from power supply
Plug and use, no drivers needed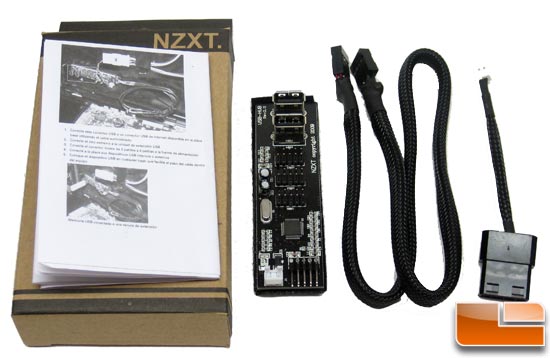 Since this is just an internal USB hub, we will jump right to it as USB technology needs no introduction to our audience. Inside the NZXT IU01 USB Expansion retail box you'll find the expansion board itself, a basic multi-lingual instruction manual, 4-pin molex power cable and a USB 2.0 9-pin internal header cable. The 4-pin molex power cable is required as the NZXT hub plugs into a standard two port heard, yet powers an additional controller chip and up to eight devices! That will obviously draw more power and as a result the power plug is required. NZXT included a pass-through 4-pin molex connector, which is nice as you can run other devices off the power header. This is a big issue on older systems where the power supply might not have any available power connectors. Notice that the cables are sleeved (wrapped), which makes the installation look cleaner and for a $25 product it was nice to see NZXT still do nice finishing touches like this. Everything you need is included and to be honest you don't even have to power down your system to install this since USB is plug-in-play technology!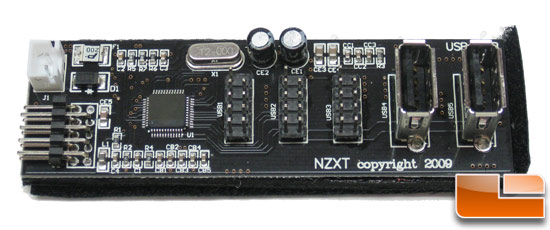 The USB expander itself is rather simple and is basically just a small PCB with a USB controller on it and the extra USB headers. The NZXT IU01 layout has a white 2-pin power connector, a 9-pin header for USB data connection between your motherboard and the IU01, three 9-pin USB headers and two typical USB Type A (male) ports.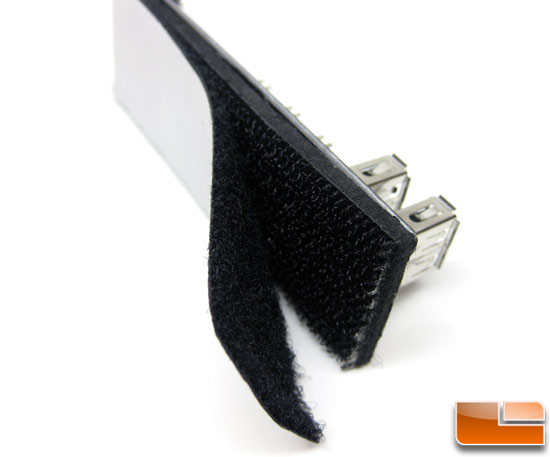 The NZXT IU01 internal USB expansion device comes with 3M Velcro installed on the back of it, so to install it all you need to do is remove the paper backing and stick it inside your case. NZXT placed a small piece of Neoprene padding on the back of the PCB first, so you shouldn't have to worry about anything shorting out when you stick it on metal case housing.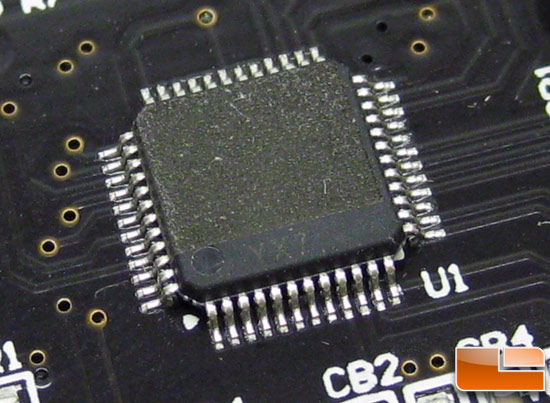 Our NZXT IU01 internal USB expansion hub was labeled USB-HUB Rev2.0 with a copyright date of 2009. This just means that it is the second generation design for this product. One thing that stood out to us as being odd was the fact that the USB controller being used was kept secret. NZXT laser etched off the branding on the controller and all that was left was the letters 'YX7' on the bottom of the package. Strange why NZXT would do this, but it is likely that they change the controller and use the one that is most cost effective at the time a production run is being made.

Here is a show of the NZXT IU01 prior to installing it into our test machine for testing. The only 'assembly' required it plugging in the USB 2.0 header that then connects to an open internal 9-pin USB 2.0 high-speed header and then the 2-pin power connector that now needs the other end plugged into a 4-pin molex connector on your power supply. Make certain that you plug it into a USB header and not a 1394 header though as you risk hardware destruction.
Let's take a look at the performance numbers and see how the NZXT IU01 performs versus straight USB 2.0 motherboard headers and see if it can really handle eight USB 2.0 devices at once.