NXZT Panzerbox Aluminum Mid Tower PC Case Review
By
The Panzerbox Mid Tower Chassis
Over the years as PC components have gotten faster, they have also gotten hotter. These days, nearly every component generates some sort of heat and has gotten to the point where air may no longer alleviate some of it as airflow is sometimes restricted in some form. Enter the NZXT Panzerbox. With 190mm fans in a meshed front and on the meshed top with a 120mm at the rear boasting over 300 CFM of airflow, along with an option to install a dual 120mm Radiator inside, the Panzerbox is armed to combat the heat generated by your PC.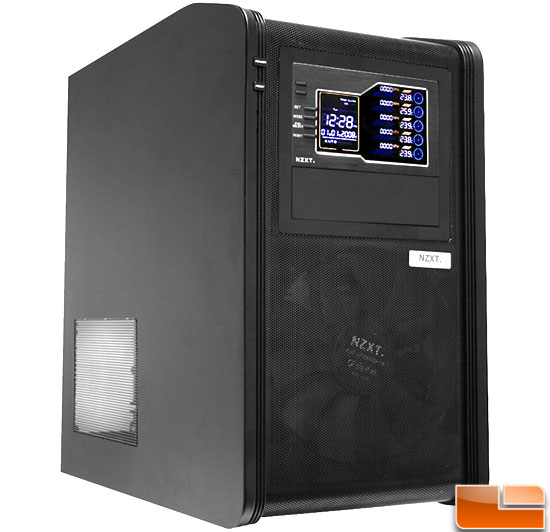 FEATURES:
Mid Sized, Extreme Performance: 150CFM and 190mm controllable fans and a dual radiator bracket to provide the best performance, the Panzerbox offers high performance for a midsized case due to its unique layout.
Removable Motherboard Tray
Pure Aluminum: Build in all aluminum, the Panzerbox is light and luxurious, perfect for traveling and showing off at LAN parties
Full Expandability: Room for high performance 10.5″ cards, over sized heatsinks, even larger dual radiator solutions.
Top mounted USB/Audio/ESATA Ports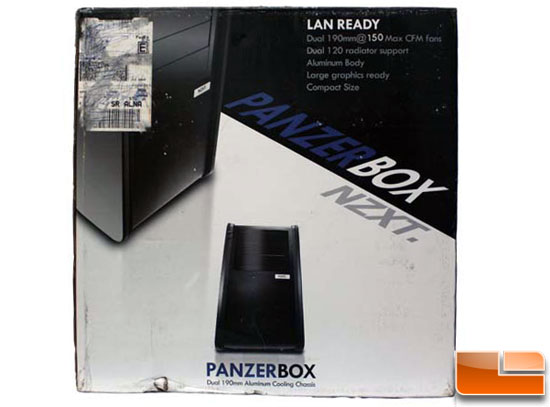 The Panzerbox comes in a nice sturdy box that shows pictures of the case along with its Specs.
Getting the case out of the box was fun. It was more or less User Error on my part. But, once I got it out I saw that it was nicely packed inside a bag to keep it nice and clean. I feel the padding was adequate if not better.