NVIDIA's GeForce Experience 10,000 User Closed Beta Released
By
Back in April, we reported on NVIDIA's new GeFoce Experience initiative. This is a cloud based service that does the thinking for you by automatically creating the optimal graphics settings for individual games based on various factors such as GPU power, CPU power and target game, among others. Installing the GeForce Experience software will also automatically check for the latest drivers and download them, with an option to install with one click – all very convenient, especially for those who want to improve their visuals and update their drivers with the minimum of effort.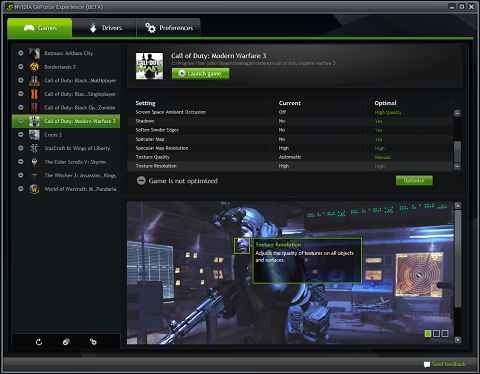 This service, has now finally gone live in the form of a closed beta, limited to 10,000 users, with an open beta to come later:
"Today marks the first beta release of GeForce Experience. For the initial release, NVIDIA will be limiting the app to 10,000 users. An open beta is planned for the future that will allow everyone to try it out.
GeForce Experience initially supports 32 games and all Kepler and Fermi GPUs. We plan to add more games in the coming weeks and these will automatically be pushed to the app requiring no user updates. For details on systems requirements and game support, visit the GeForce Experience page."
The GeForce Experience information page is here and the sign-up page is here. Finally, NVIDIA explain how the service works, below.