NVIDIA Takes E3 2014 To A New Level with NVIDIA Gaming Expo
By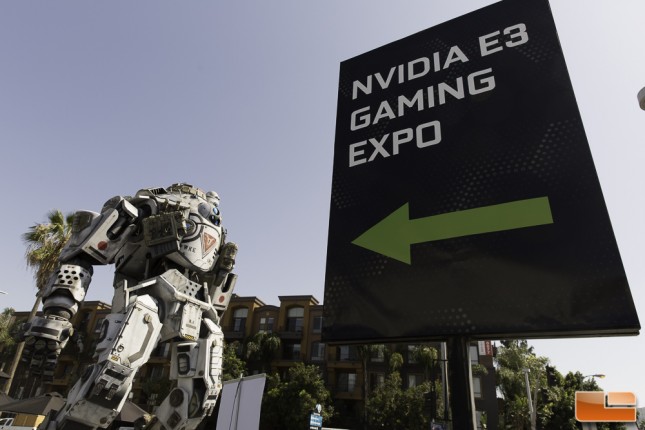 In what has to be one of the riskiest moves by any company here at E3, NVIDIA decided not to have an official presence in the halls of the Los Angeles Convention Center during this E3 week, but rather set up, right across the street to host their own NVIDIA E3 Gaming Expo.
By no means is this a competition to E3 where more than 30,000 visitors are expected to attend. The NVIDIA Gaming Expo does what many inside E3 attempt to do: have a fun and cool environment for gamers to experience your products. Bryan Del Rizzo, NVIDIA's Senior PR Manager was kind enough to meet up and give us a tour. We found that the NVIDIA's GamingExpo had everything a PC gamer was looking for at E3:
Looking like one of LAs hottest downtown clubs, the has been a constant line outside of the NVIDIA setup as E3 event goers wait for those on the inside to leave before gaining access. Once you get inside you see just how massive an effort it was for NVIDIA to pull this off. We arrived around 4pm and the place was already packed with people.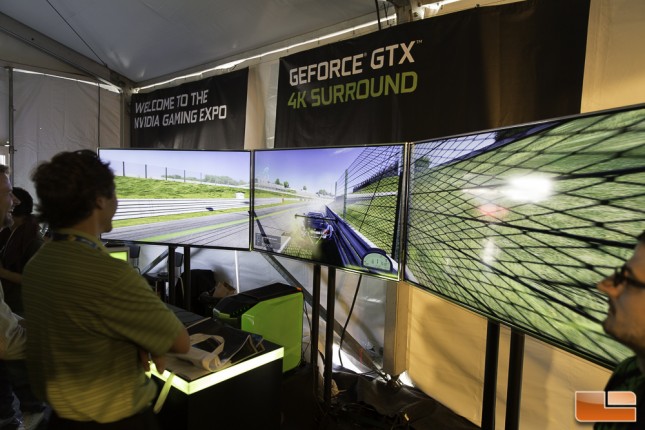 We obtained a wristband that gets you two drinks and a meal from the food truck that is set up next to the tent near the Titanfall mech. There is an indoor bar and an exterior bar and if you dont drink, you could always grab a free Red Bull energy drink.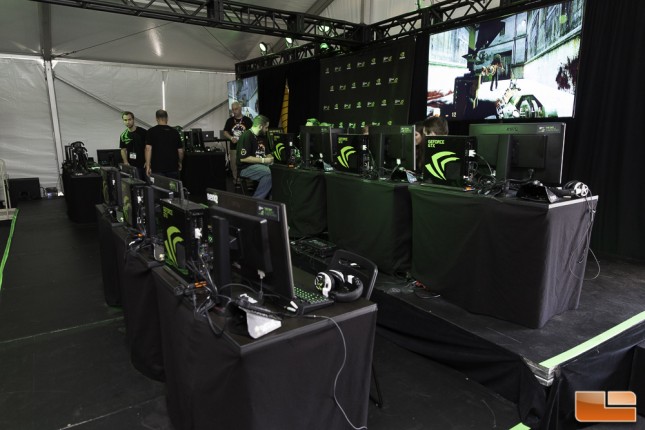 On the stage indoors, NVIDIA was running a Titanfall tournament every hour with amateurs versus the pros. Participants could win a variety of prizes from NVIDIA GTX cards, NVIDIA Shield units, T-shirts, and even the new Titan Z video card.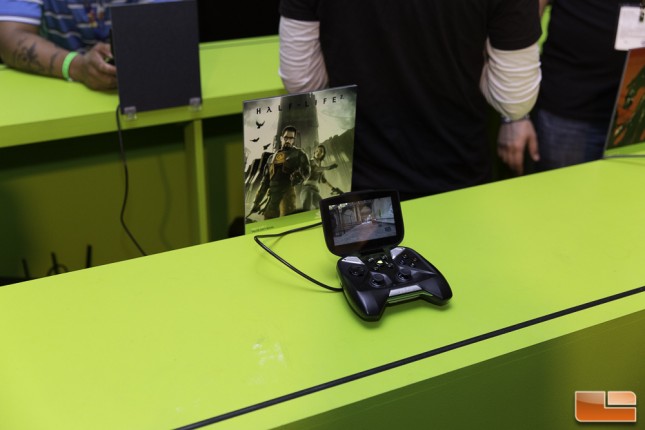 In the middle of the tent, there is an area where the NVIDA Shield units were set up for players to play. At this station you can use the Shield for android gaming, PC streaming, and cloud gaming using NVIDIA Grid technology. Over on the wall, gamers were gaming on a big screen TV using a Bluetooth controller to control their Shield connected to the TVs via HDMI.
NVIDIA had a gigantic 4K Surround multiple monitor rig setup playing Project Cars (a game being released later on this year). Behind this, there was a slew of NVIDIA GTX desktops and GTX notebooks running the latest content from software developers and producers (Gauntlet, The Crew, Warframe, Strife, etc.). All of PC were running on G-Sync panels from Acer, ASUS, Benq, and others. Most of these G-Sync panels will be available over the next month or so. I must admit, seeing a G-Sync panel run next to a normal panel made you appreciate this new technology.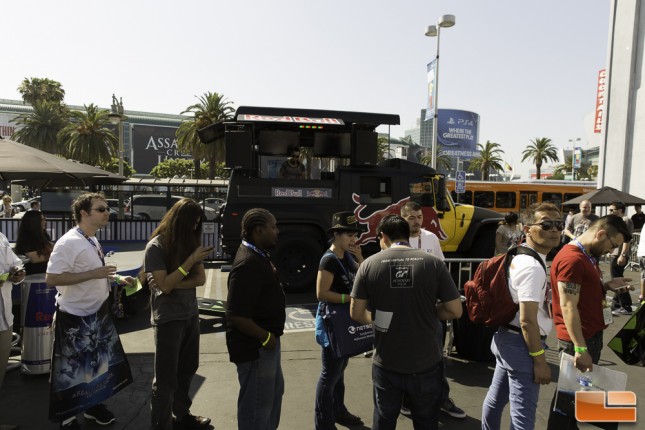 Outside in the shadow of a Titanfall mech, people packed the patio-like setting with music turned up as a DJ was hanging out in a Red Bull tricked-out RV. Even if you used your free-drink coupons, you could grab a cold Red Bull and goody bag as you left.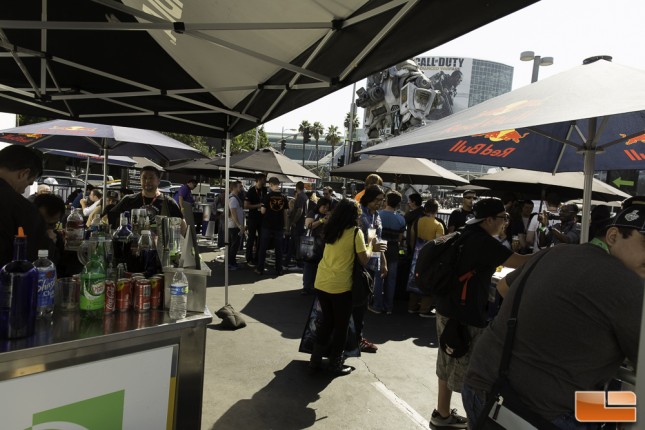 All in all, we have to say this was probably the best E3 presentation that we have seen this year. NVIDIA were able to effectively show off all their products and future products, give E3 participants the chance to work hands on with the NVIDIA devices. NVIDIA partners were able to showcase their products as well. While we hated that they werent inside the convention hall, NVIDIAs presence was felt throughout E3 already. Putting on a Gaming Expo outside was a real shot in the arm as E3 is all about making a splash and having customers remember your brand. The formula was an excellent one and we take our hats off to NVIDIA and their management.