NVIDIA SHIELD Tablet Getting Android 5.0 and GRID Gaming Services on Nov 18th
By
The SHIELD tablet will be getting the Android 5.0 Lollipop operating system on November 18th, 2014! NVIDIA has finally announced the date that they will be releasing the Lollipop OTA update and it is less than a week away. NVIDIA will also be including the new Dabbler 2.0 art studio and a refreshed SHIELD Hub experience that looks more like Lollipop. What about Android 5.0 Lollipop for the original SHIELD Portable owners? We were told that "the OTA will be coming to SHIELD portable" at a later time and that more information will be announced in the weeks ahead.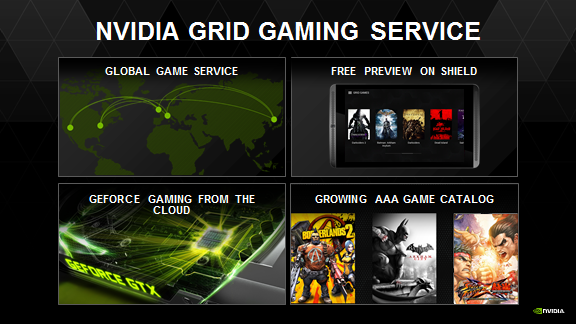 One of the largest announcements being made today is that NVIDIA's GRID Gaming Service for on-demand PC gaming is here. NVIDIA has setup GPU Servers around the world and soon we can enjoy cloud gaming just like we can enjoy movies and music with other services. With the GRID Gaming Service you can play PC Games on the SHIELD Tablet and the SHIELD Portable with GeForce GTX-quality graphics thanks to the server farm of GPUs owned by NVIDIA that is doing all the rendering for you.Think of the service as Netflix for gamers.
The service will be absolutely free when it lauches on November 18th, but on June 30th, 2015 there will be a fee for the service. That fee has not yet been announced, but we are hopeful that it is better than what Sony priced the PlayStation Now Service at. When the Sony PlayStation Now cloud gaming service started they charged up to $4.99 for a four-hour rental and up to $29.99 for 90-day game rental. Those prices are insane, so we don't think we'll see something like that from NVIDIA. Sony now allows gamers to rent game titles for a week for about $1 per day. Sony set a goal of being able to offer over 3,000 game titles with their service, but launched the service to beta users with under 15 game titles on day one. How many game titles will NVIDIA launch with?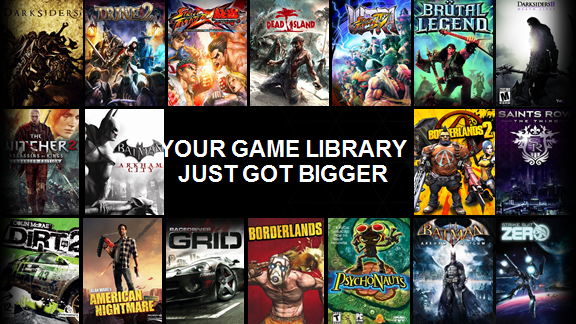 When the NVIDIA GRID Gaming Service begins on November 18th there will be 20 game titles to play that day and NVIDIA plans on adding at least one game title to the service each and every week. These are full PC game titles and not android versions. If you have a SHIELD Tablet you just need to download and launch the app, select the GRID Games menu, and launch a game to start playing from the cloud. The GRID Gaming Service can stream games at up to 720p resolution at 60 FPS, but it is dependent on the quality of your Internet service. That said, you'll need at least a 10 Mbps internet connection with less than a 60ms ping time to the NVIDIA GRID Servers that are located in Oregon and Virginia for the service to work optimally. The GRID Gaming Service will be available to North America on day one and then Western Europe in December 2014 and the Asia Pacific region sometime in 2015. NVIDIA says that 90% of SHIELD Tablet owners should be able to access the GRID by the end of the year.
The NVIDIA GRID Gaming Service PC Games library at launch includes:
Astebreed
Alan Wake American Nightmare
Batman: Arkham Asylum
Batman: Arkham City
Borderlands
Borderlands 2
Brutal Legend
Darksiders
Darksiders 2
Dead Island
Dirt 2
Naild
Psychonauts
Race Driver Grid
Saints Row: The Third
Street Fighter X Tekken
Strike Suit Zero
Trine 2
The Witcher 2: Assassins of Kings
Ultra Street Fighter 4
Not a bad list of game titles and we see a number of AAA titles on that list!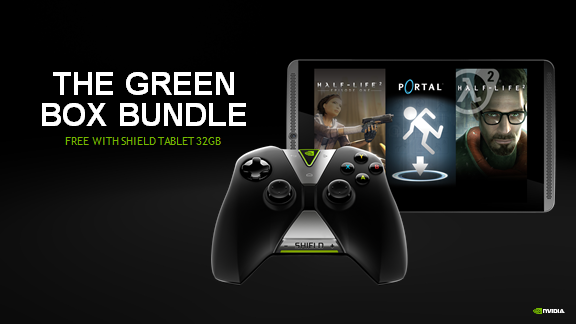 Half-Life 2: Episode One has been ported over to Android and is coming out exclusively on the NVIDIA SHIELD Tablet! To celebrate NVIDIA announced the Green Box bundle today. What is the Green Box Bundle? If you buy the 32GB/LTE version of the SHIELD Tablet you get Half-Life 2: Episode One, Portal and Half-Life 2 for free. Not a bad way to pick up some classic Valve titles for nothing more than buying this particular gaming tablet.
NVIDIA invited Legit Reviews up to New York to see a demo of all this in person, but the flights were over $800 and we couldn't justify the expense to get up there for a day. We wished that we could have gotten some hands-on experience before this service rolls out to the public, but we'll have to wait until next week like all of you. NVIDIA told us over the phone that on a good internet connection that the service should be like playing games on a desktop GeForce GTX 760 video card with 720p graphics. The only downside that we can see from the NVIDIA GRID cloud based gaming service is that it doesn't support multiplayer, which is something that NVIDIA is looking at adding in future updates. This is just the start of cloud gaming and we can't wait to try it out in person!