NVIDIA Posts GeForce GTX 760 Ti Video Card Details
By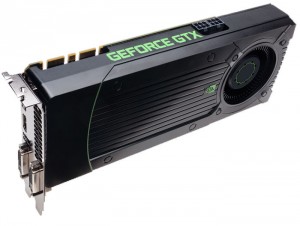 NVIDIA has listed the upcoming GeForce GTX 760 Ti (OEM) video card on the GeForce.com website! Could this be NVIDIA's answer to AMD's Radeon R9 270x or even the Radeon R9 280x? Many wondered why NVIDIA didn't change any of the prices on the GeForce 700 Series earlier this month and this is likely the reason why.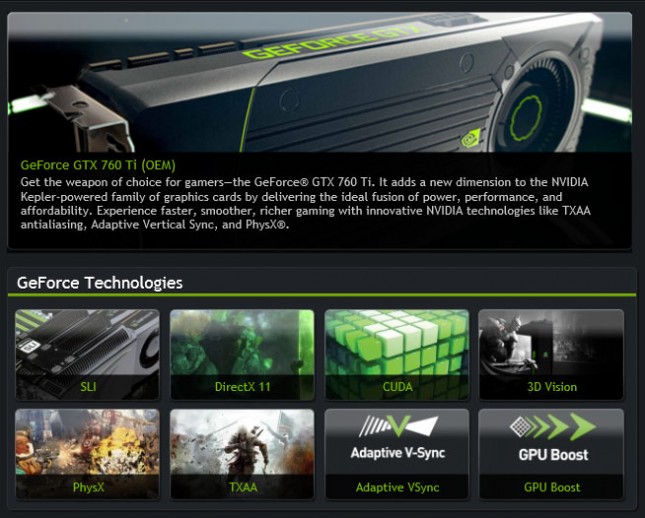 From the information on the GeForce GTX 760 TI landing page we see how this card differs from the standard NVIDIA GeForce GTX 760. For example the original NVIDIA GeForce GTX 760 has 1152 CUDA cores and the new GeForce GTX 760 TI has 1344 CUDA cores. This is a 16.6% boost in cores, which should give a nice performance boost across the board. The base clock was decreased as it went from 980MHz to 915MHz, a 7% decrease in speed. There are few other differences, hopefully the increase in CUDA cores will provide a nice boost in performance. No word on pricing or if this card will every make it to the retail market as right now it is listed as an OEM card.
10/17/13 10PM ET UPDATE: AMD said this card is obviously OEM only (think Dell) and that it is nothing to get worked up about. While they didn't say it, they made it sounds like it could be a re-badged NVIDIA GeForce GTX 670. Guess we have to wait for the GeForce GTX 760 LE or something! ð
Specifications:
Note: The below specifications represent this GPU as incorporated into NVIDIA's reference graphics card design. Graphics card specifications may vary by Add-in-card manufacturer. Please refer to the Add-in-card manufacturers' website for actual shipping specifications.
GPU Engine Specs:
CUDA Cores
1344
Graphics Clock (MHz)
915
Processor Clock (MHz)
980
Texture Fill Rate (billion/sec)
102.5
Memory Specs:
Memory Clock
6.0 Gbps
Memory Interface
GDDR5
Standard Memory Config
2 GB
Memory Interface Width
256-bit GDDR5
Memory Bandwidth (GB/sec)
192.2
Feature Support:
OpenGL
4.2
Bus Support
PCI Express 3.0
Certified for Windows 7, Windows 8
Yes
Supported Technologies
3D Vision, CUDA, DirectX 11, PhysX, SLI, TXAA, FXAA, Adaptive VSync, GPU Boost
SLI Options
3-Way
3D Vision Ready
Yes
Display Support:
Multi Monitor
4 displays
Maximum Digital Resolution
4096×2160
Maximum VGA Resolution
2048×1536
HDCP
Yes
HDMI
Yes
Standard Display Connectors
One Dual Link DVI-I, One Dual Link DVI-D, One HDMI, One DisplayPort
Audio Input for HDMI
Internal
Standard Graphics Card Dimensions:
Length
9.5 inches
Height
4.376 inches
Width
Dual-slot
Thermal and Power Specs:
Maximum GPU Temperature (in C)
97
Maximum Graphics Card Power (W)
170
Minimum System Power Requirement (W)
500
Supplementary Power Connectors
Two 6-pin
3D Vision Ready:
3D Blu-Ray
Yes
3D Gaming
Yes
3D Photos
Yes
More information to come as we find out what is going on with this new card!