NVIDIA Launches GeForce 8800M SLI Notebook Graphics
By
Introducing The GeForce 8800M GTX/GTS
NVIDIA has launched their new flagship video processor for mobile computers, the GeForce 8800M GTX and 8800M GTX. NVIDIA wants to power your DX10 notebook and took a huge leap forward in technology by introducing this new hardware architecture. Already, Dell, Alienware, and Sager are offering the new 8800M in one of their many notebook configurations. Let's take a closer look what NVIDIA is serving up.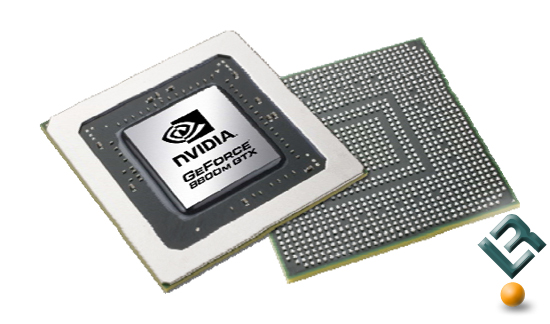 Along with bringing DX10 to the notebook world, NVIDIA has made several other improvements over the previous generation chips resulting in a dramatic leap forward in terms of raw performance with more than double the memory bandwidth and texture fill rate of the "old" GeForce 8700M GT. This translates into blistering framerates and a more immersive overall gaming experience.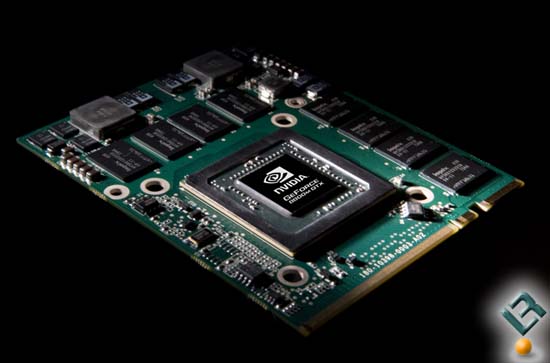 As most of our readers should know by now, NVIDIA's SLI Technology allows users to combine the horsepower of two GPUs resulting in a stunning increase in graphics performance. Notebook users powered by NVIDIA can now experience high frame rates at widescreen XHD (Extreme High Definition) resolutions such as 1680×1050 or 1920×1200, depending on which manufacturer you go with.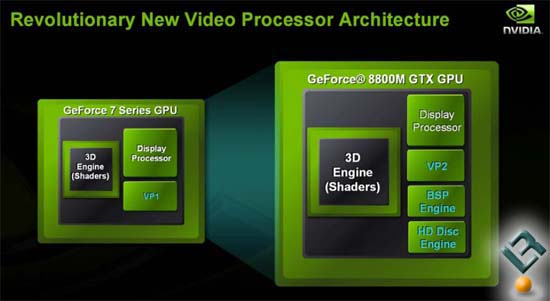 GeForce 8M series GPUs feature NVIDIAs PureVideo HD video processing solution. Building on the GeForce 7 solution that combines video decode acceleration and advanced postprocessing, GeForce 8M series GPUs drastically reduce CPU utilization for H.264 movies, empowering even low end PCs to play back high definition Blu-ray and HD DVD movies.
The GeForce 8M series GPUs is the worlds first mobile PC video solution to offload 100% of H.264 decoding. GeForce 8M series GPUs accelerate all four key blocks of the H.264 decode process, which is a major improvement over the CPU only and the previous?generation GeForce 7 series implementation which addressed only two of the four key processing blocks.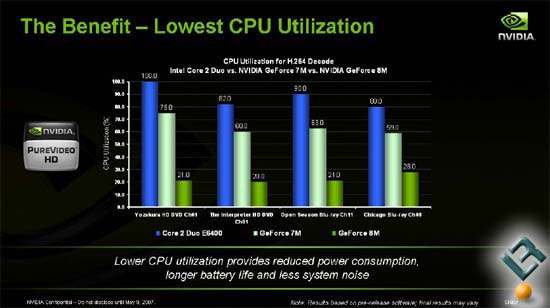 The end result of the new video engine is dramatically reduced CPU utilization. This chart compares H.264 decoding with actual Blu-ray and HD DVD movies on an Intel Core 2 Duo E6400 without PureVideo HD, the same CPU with GeForce Go 7 series PureVideo HD technology and the GeForce 8M series with the second generation PureVideo HD Engine.
Let's look at some of the initial notebooks to be powered by the 8800M GTX & 8800M GTS.