NVIDIA Highlights DirectX 12 Strengths Over AMD
By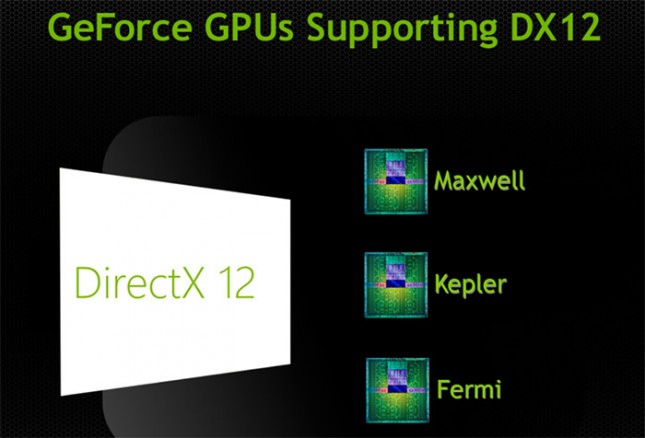 NVIDIA today confirmed with Legit Reviews that they will be supporting the DirectX 12 API on all the DX11-class GPUs it has shipped. This means that all cards using Fermi, Kepler and Maxwell GPU cores will be supported along with all future GPUs.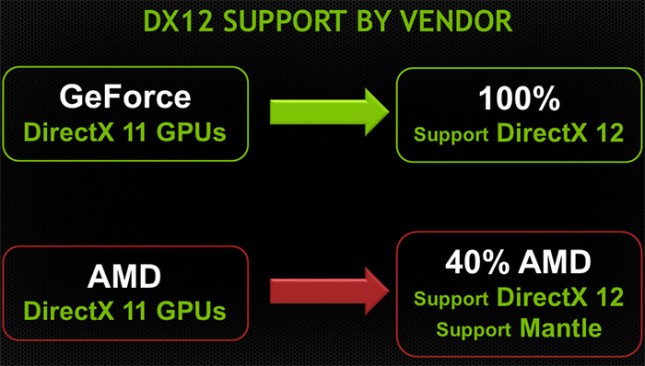 NVIDIA was quick to point out that only 40% of AMD Radeon video cards will support either DirectX 12 or their own Mantle API. This is because AMD has announced that for the time being, only Graphics Core Next (GCN) enabled products will support either. This means that many of AMD's DirectX 11 cards will not be supporting either. Legit Reviews spoke with AMD at GDC last week and they said they aren't sure exactly what will or won't support DirectX 12 as they haven't fully made up their minds yet. It will be interesting to see how this plays out!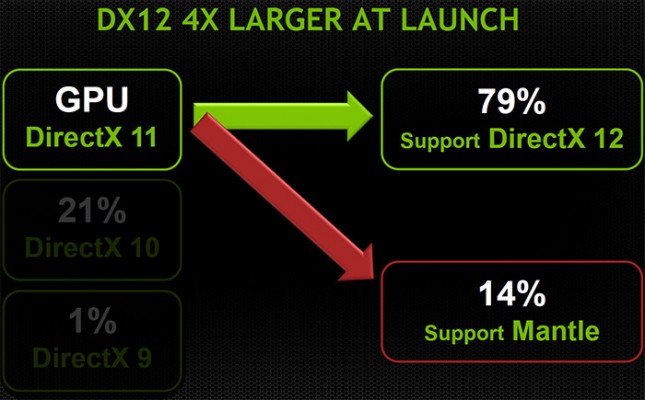 NVIDIA says that over 70% of gaming PCs are now DX11 based. NVIDIA has more than 50% market share for DX11-based gaming systems in general and an impressive 65% on systems with discrete graphics on systems. Using data derived from the latest
Steam Hardware Survey
, NVIDIA discovered just 14% of the DirectX 11 cards on the AMD Radeon side will be able to support Mantle whereas 79% of the cards in general are ready to support DirectX 12. It looks like NVIDIA is hinting that Mantle is on the way out, but they need to also keep in mind that the final release of DirectX 12 will be coming during the Holiday 2015 time frame. That gives AMD about 1.5 years of time to tout Mantle support!