NVIDIA GeForce RTX 2080 Ti, RTX 2080 and RTX 2070 Cards Announced – Start At $499
By
NVIDIA CEO Jensen Huang revealed a new family of Turing-based Geforce RTX graphics cards during an event today at Gamescon 2018 in Cologne, Germany. The new cards announced are part of the RTX 20-series and consist right now of the NVIDIA GeForce RTX 2080 Ti, RTX 2080 and the RTX 2070. We can't remember a time that NVIDIA launched so many high-end cards on a brand new architecture, so this is a first. The move from GTX to RTX branding is also significant as NVIDIA sees ray tracing as being where gaming is headed.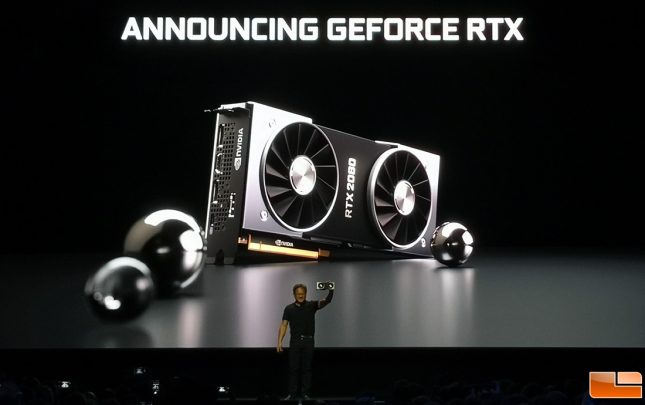 NVIDIA Turing Streaming Multiprocessors (SM) have very little in common with respects to Pascall and Maxwell series cards from years past. The Turing architecture has dedicated Ray Tracing (RT) cores as well as what is called Tensor cores for AI-powered denoising. This is what makes the 'RTX' series cards different from the 'GTX' series cards. The RTX GPUs are designed to bring real-time ray tracing to games.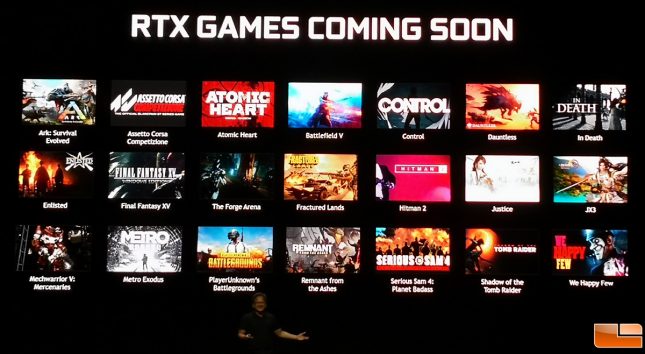 NVIDIA listed 21 game titles that will be supporting RTX features as coming shown and had live demos of titles of Battlefield V, Shadow of the Tomb Raider, and Metro: Exodus and the reveal event.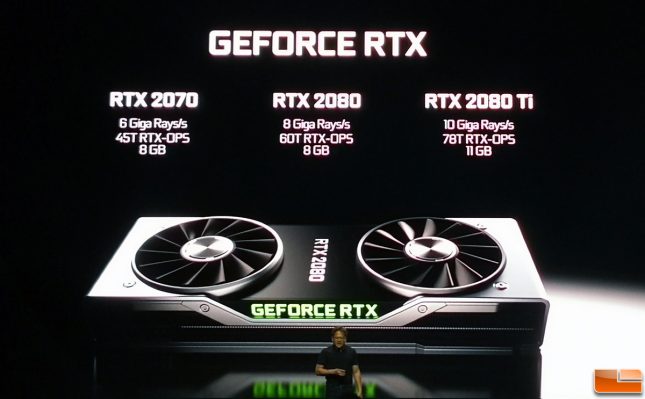 The pricing of NVIDIA's new GeForce RTX-20 series lineup starts at $499 for the RTX 2070 and then moves up to $699 for the RTX 2080 and finally the flagship RTX 2080Ti model is priced at $999. Those prices are for what we believe to be where pricing will start for the custom add-in cards. The NVIDIA GeForce RTX Founders Edition cards were made available today and have higher clock speeds than the base cards from the AIB's. The prices on NVIDIA's Founders Edition cards are higher partly due to this and the GeForce RTX 2080 Ti FE runs $1,199, the RTX 2080 FE is $799 and the RTX 2070 FE is $599.
| | | | | | | | |
| --- | --- | --- | --- | --- | --- | --- | --- |
| Model | Cores | Frequency | RT | Memory | Mem Bus | Mem Bandwidth | SRP |
| GeForce RTX 2080 Ti | 4352 | 1545 (1635 FE) MHz | 10.0 GR/s | 11GB @14Gbps | 352-bit GDDR6 | 616 GB/s | $999 |
| GeForce GTX 1080 Ti | 3584 | 1582 MHz | 1.21 GR/s | 11GB @ 11Gbps | 352-bit GDDR5X | 484 GB/s | $699 |
| GeForce RTX 2080 | 2944 | 1710 (1800 FE) MHz | 8 GR/s | 8GB @ 14Gbps | 256-bit GDDR6 | 448 GB/s | $699 |
| GeForce GTX 1080 | 2560 | 1733 MHz | <1GR/s | 8GB @ 10Gbps | 256-bit GDDR5X | 352 GB/s | $599 |
| GeForce RTX 2070 | 2304 | 1620 MHz | 6 GR/s | 8GB @ 10Gbps | 256-bit GDDR6 | 448 GB/s | $499 |
| GeForce GTX 1070 | 2560 | 1683 MHz | <1 GR/s | 8GB @ 10Gbps | 256-bit GDDR5 | 352 GB/s | $379 |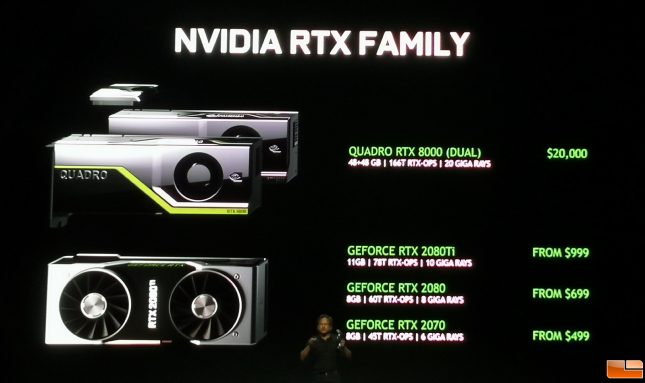 One the biggest changes to NVIDIA's Founders Edition cards for the new RTX-20 series is that NVIDIA appears to have completely redesigned their GPU cooler. The blower-style cooler that we've seen for years on NVIDIA Founder's Edition cards has been replaced with a dual-axial fan GPU cooler. The look of the GeForce RTX series cards is very different, but it looks super clean as you can see in the image of a GeForce RTX 2080 Ti in a system.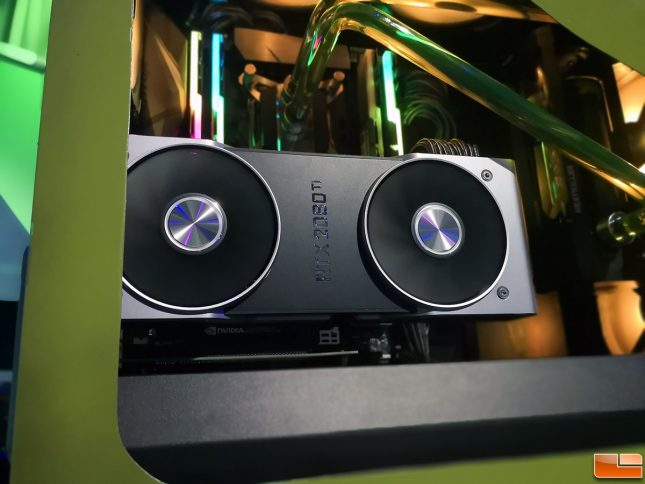 All the hot exhaust air isn't blown out of the system with this design, but NVIDIA said that noise levels are way down and temperatures are solid.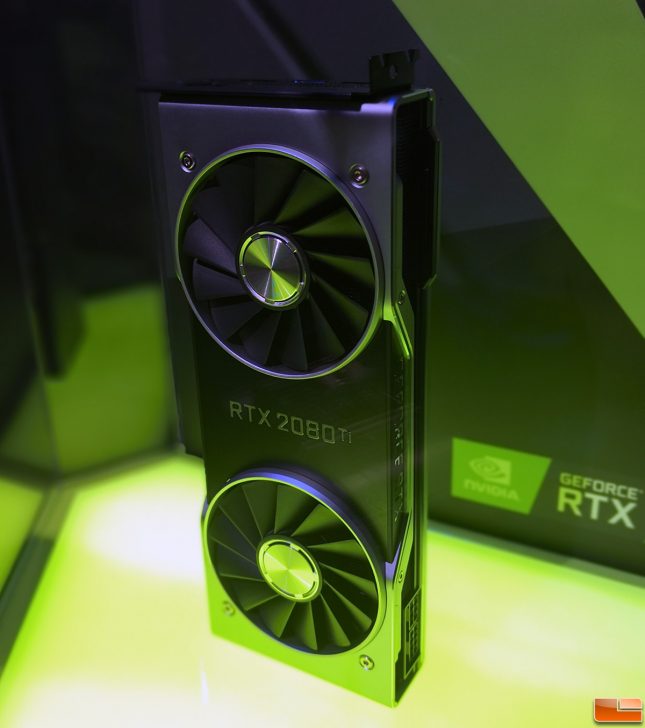 NVIDIA's GeForce RTX 2080 Ti graphics card has two 8-pin PCIe power connectors. The RTX 2080 Ti reference design has a 250W TDP and the RTX 2080 Ti FE has a 260W TDP due to the higher clock speeds.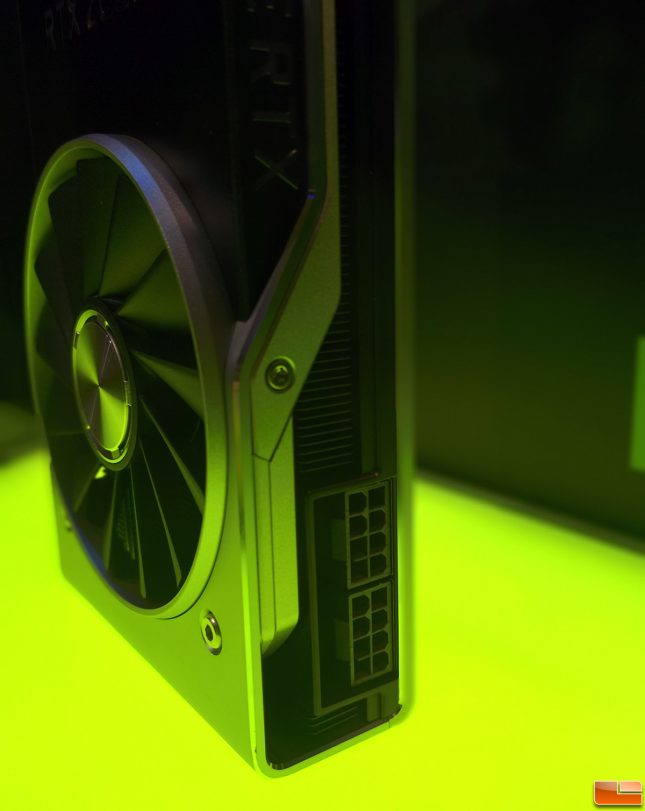 When it comes to video outputs there are three DisplayPort 2.2, one HDMI and VirtualLink, the new USB-C alternate mode that was just recently announced. The max resolution is 7680×4320 and four monitors are supported.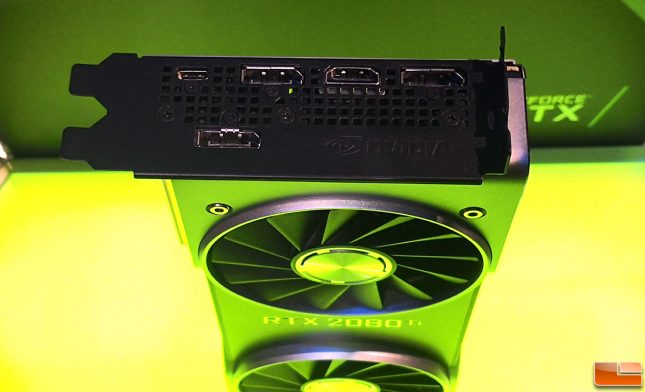 The new GeForce RTX 2080 Ti looks pretty sharp!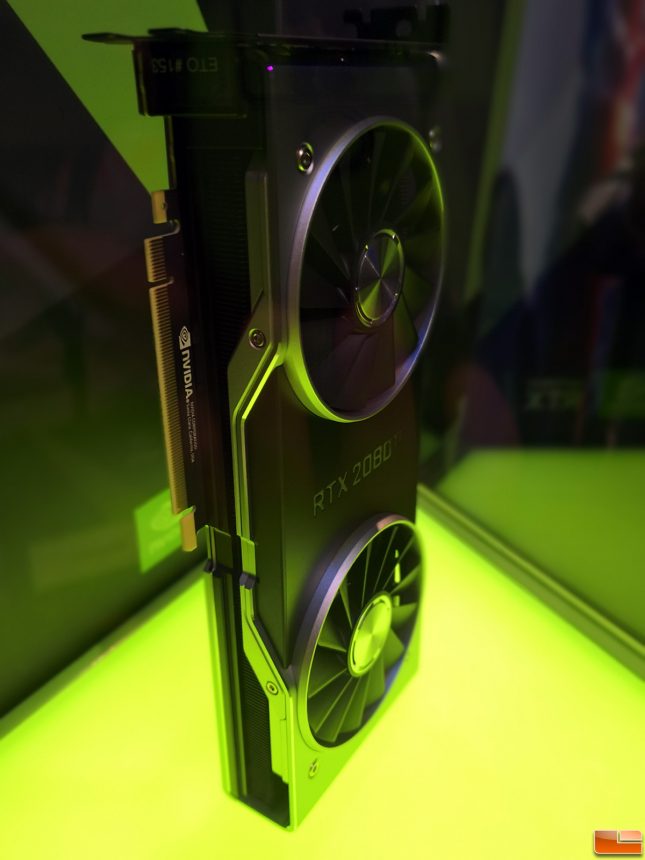 The blackplate on the GeForce RTX 2080 Ti looks to be a 1-piece design finished in silver that that has the model name properly displayed on it.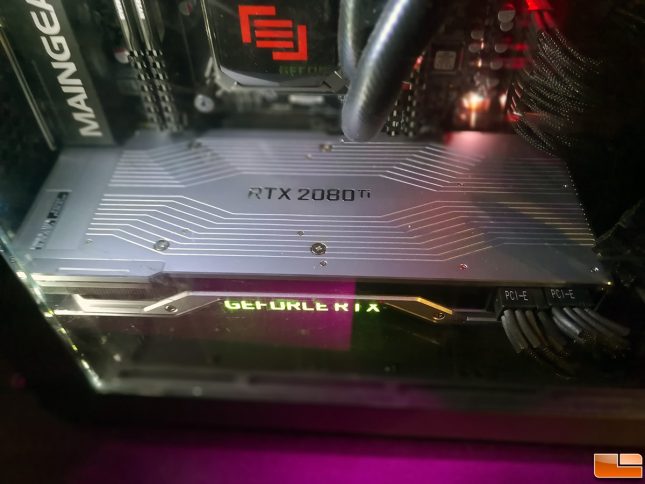 We'll conclude with a look at some of the custom built demo systems that were being shown off at the event!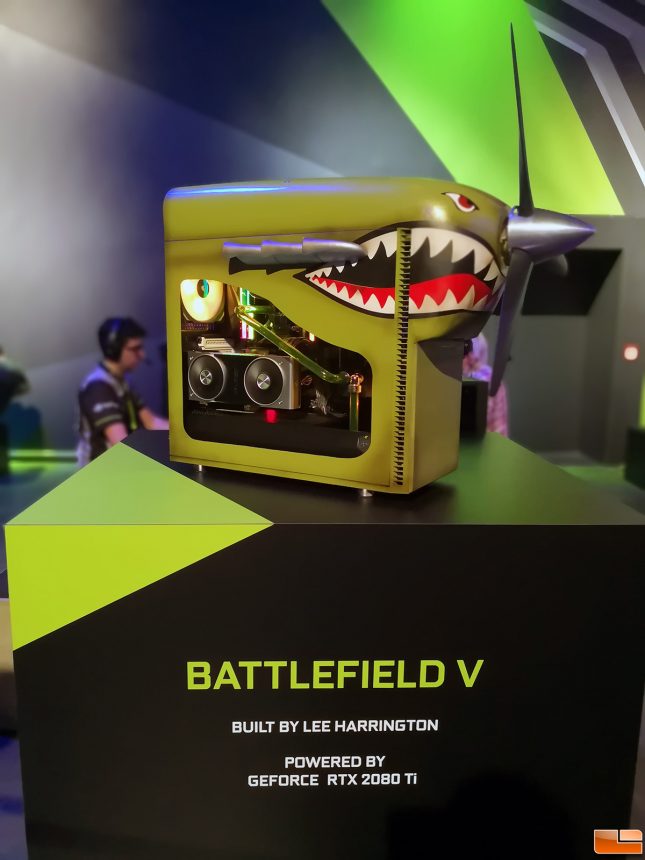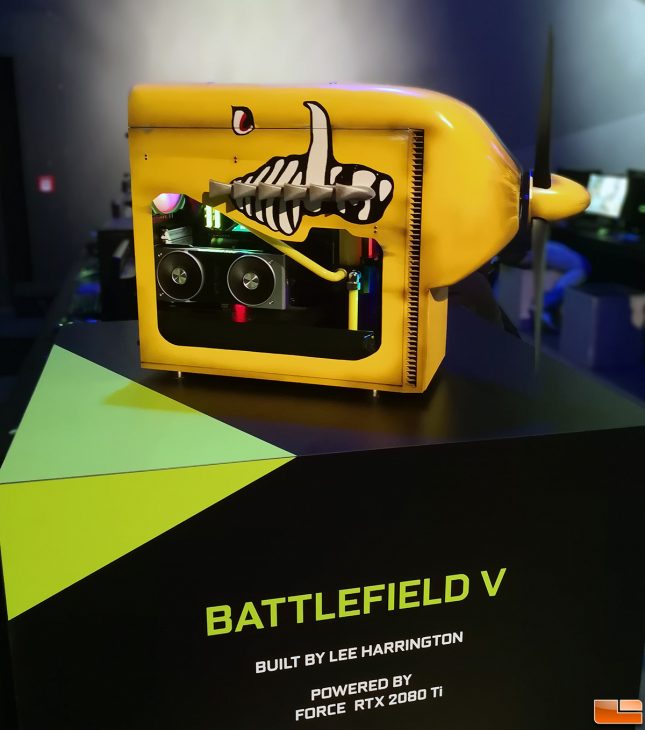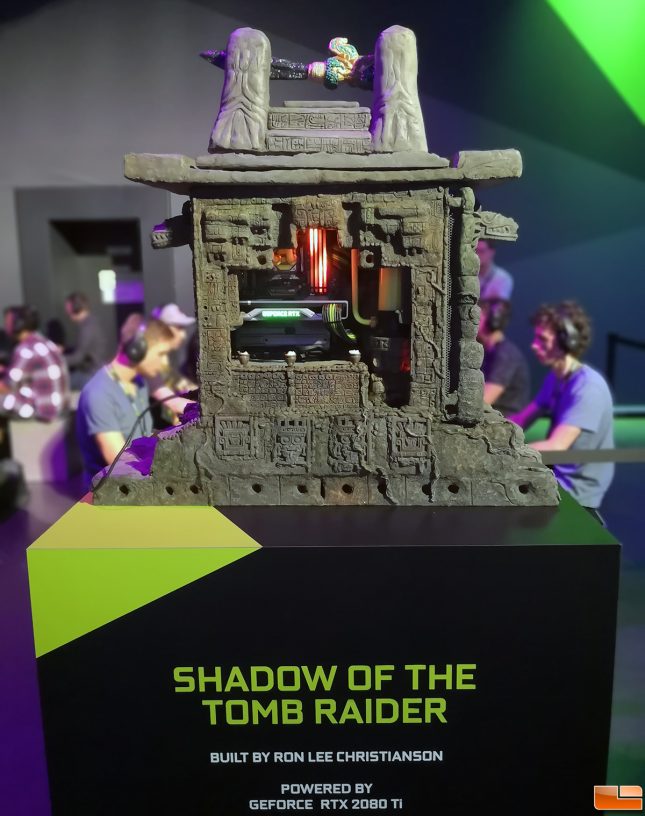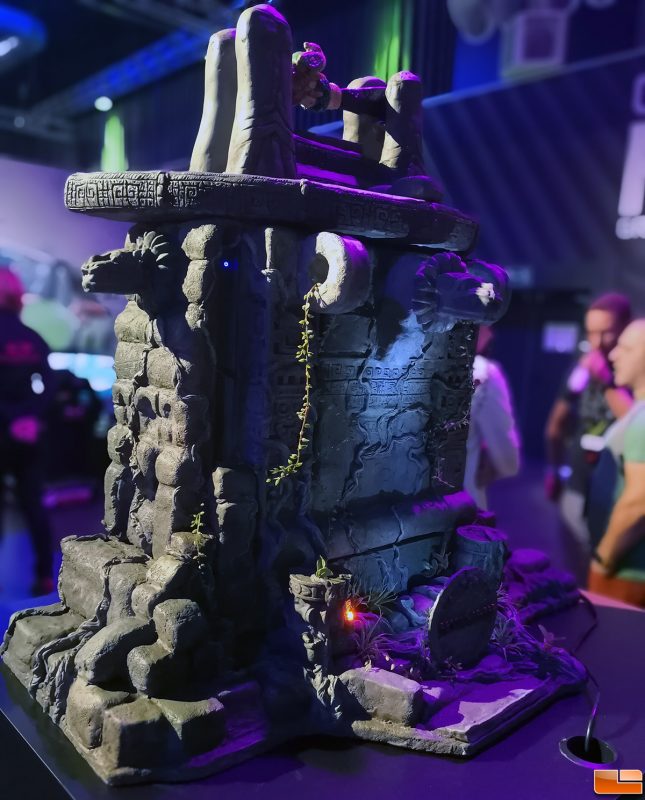 This demo system was NVIDIA NVLink (SLI-Ready) with two cards linked together with the new connector.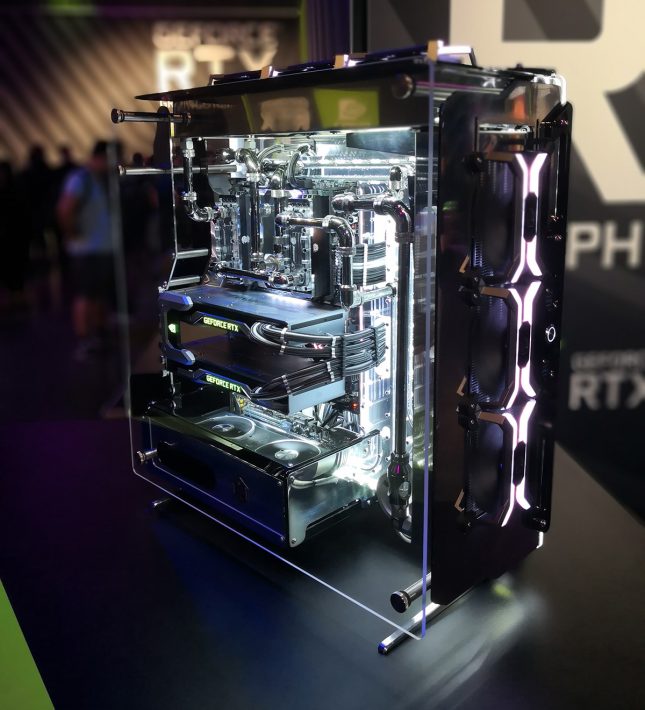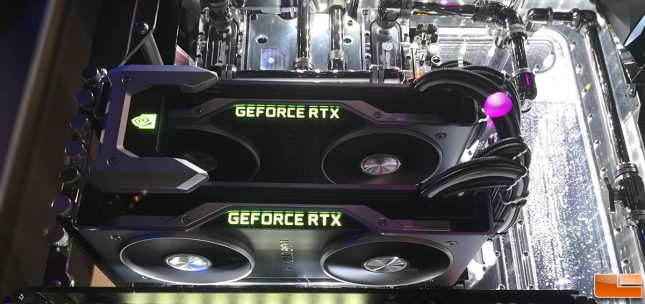 All of the systems were beautiful and we really liked the fact that everyone that attended the event got a change to try out an RTX 2080 Ti graphics card on an RTX supported game title. The event was a blast and we can't wait to learn more about the architecture and bring you our independent review on the cards in time for the 9/20/2018 retail availability. NVIDIA already has the FE versions available for pre-order and Newegg has already listed a good number of third-party GeForce GTX 2080 Ti and GeForce GTX 2080 graphics cards for sale that you can look at here.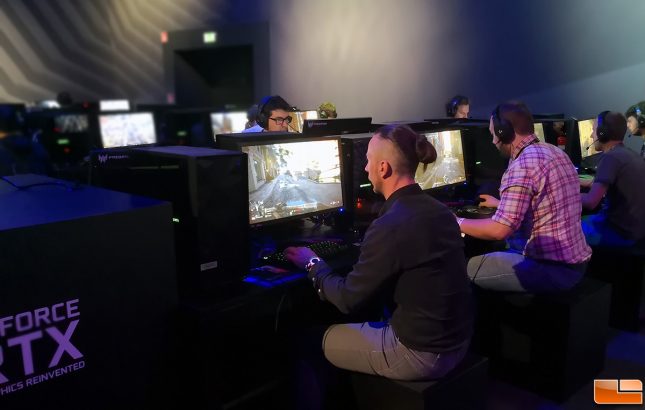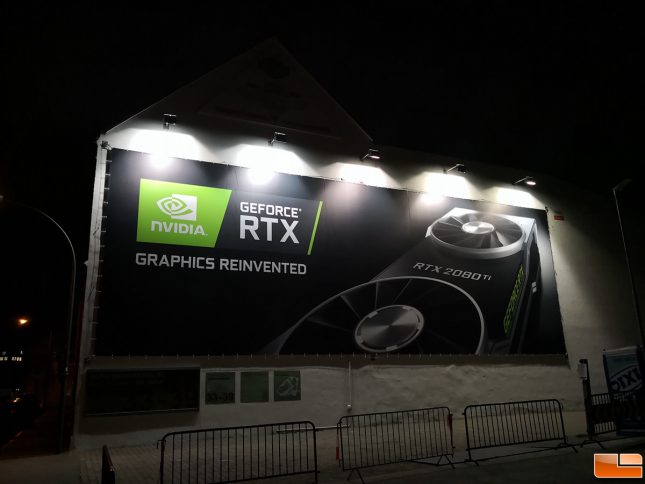 Here are the new game trailers that were shown at the RTX-20 series launch if you also wanted to check those out!