NVIDIA GeForce RTX 2080 Performance 50 Percent Faster Than GTX 1080
By
How does the new NVIDIA GeForce RTX 2080 compare to current GeForce GTX 1080 graphics cards in regular game titles? Many have been asking this question since the RTX-20 series cards were launched on Monday and we finally have something to share with you today!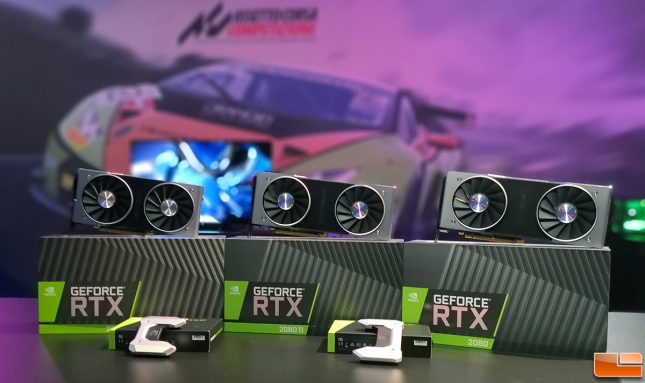 NVIDIA is allowing us to publish this one slide that shows performance of a GeForce GTX 1080 with reference clocks against the new GeForce RTX 2080 with reference clocks. The GeForce RTX 2080 is a Turing GPU based card that has a 1515MHz base, 1710MHz boost clock with 2944 CUDA cores and 8GB of GDDR6 memory running at 14 Gbps. NVIDIA shows that they are able to get around 50% more performance on average than the GTX 1080 and if you enable DLSS on a supporting game title they are showing twice the performance! This performance increase is on a 4K ( 3820 x 2160) screen resolution.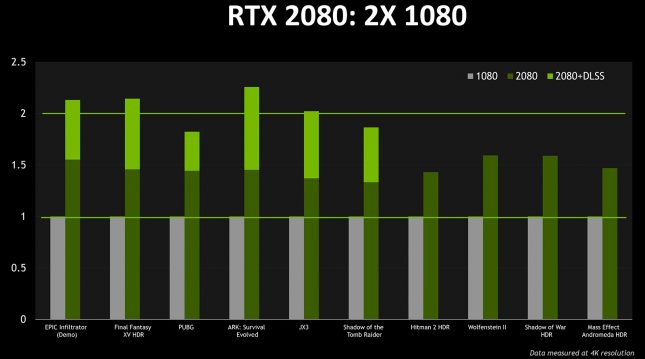 The game titles in the chart include PUBG, Final Fantast XV HDR, ARK: Survival Evolved, JX3, Shadow of the Tomb Raider, Hitman 2, Wolfenstein II, Shadow of War HDR and Mass Effect Andromeda HDR. The performance gains from enabling the machine-learning-based DLSS Anti-Aliasing is impressive and it just shows how AI is going to change the world. The end result here on game tiles with DLSS support n the drivers will be up to 2x faster than the GTX 1080 running traditional TAA. Unreal!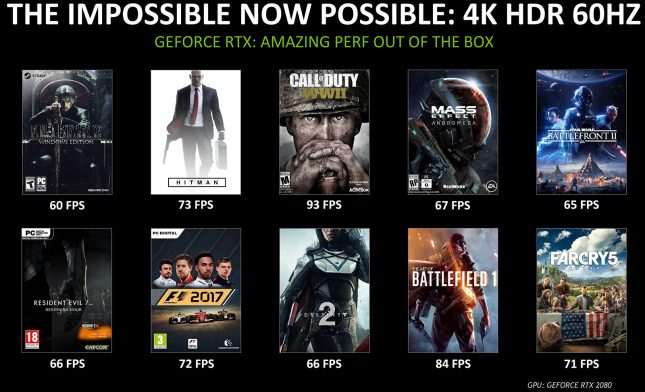 The NVIDIA GeForce RTX 2080 starts at $799 and should be able to offer amazing out of the box performance at 4K HDR 60Hz on most game titles. It seems like every new graphics card that comes out in recent years is 4K ready, but we are finally getting over 60 FPS on average on more than just one or two game titles now. Not to mention that HDR enabled!