NVIDIA GeForce LAN 6 – The LAN Party on an Aircraft Carrier
By
GeForce LAN 6 – I'm on a Boat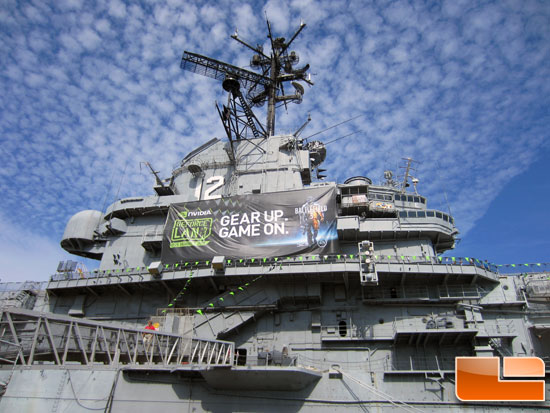 NVIDIA GeForce LAN 6 is well under way and the event is taking place on the retired USS Hornet Aircraft carrier in Alameda, CA. NVIDIA has come a long way since the original GeForce LAN that was held in downtown San Fransisco in 2004! This LAN party is huge and with 620 people that have registered for 48 hours of intense LAN gaming in the BYOC section. The event also has exclusive sneak peeks at the upcoming PC game title Battlefield 3, which is one of the most anticipated games and years!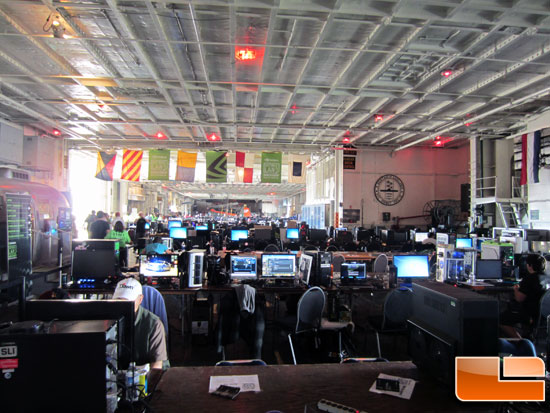 NVIDIA turned the main hangar of the USS Hornet into a huge BYOC LAN party big enough to house the 620 gamers and it alo has plenty of space for the exhibitors and sponsors who are are here at the event. NVIDIA is even giving gamers the option of sleeping overnight on the ship in what they are calling the "LAN CAMP," which is basically the hip living quarters.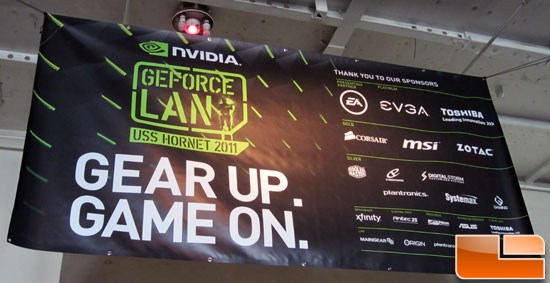 The exhibitors that are sponsoring the GeForce LAN 6 are EA, EVGA, Toshiba, Corsair, MSI, Zotac, Cooler Master, CyberPower, Digital Storm, Plantronics, TigerDirect/Systemax, Antec, Maingear, ASUS, Origin, Razer, Falcon Northwest and Xfinity.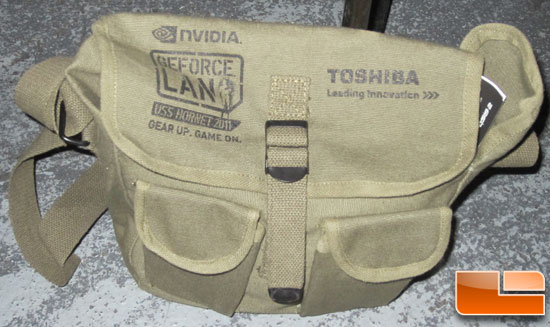 Each of the BYOC gamers that paid to be here got a military style swag bag that included a t-shirt, personal hygiene kit, water bottle and marketing material from some of the sponsors.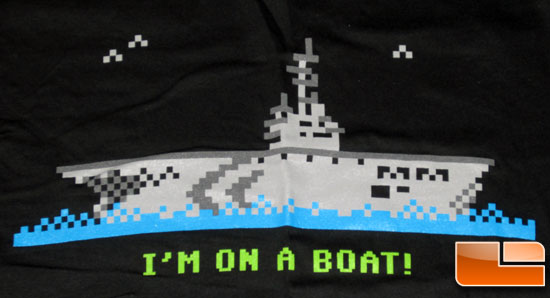 The front of the shirt has the tag line "I'm on a boat." This motto has become infamous here at the LAN party.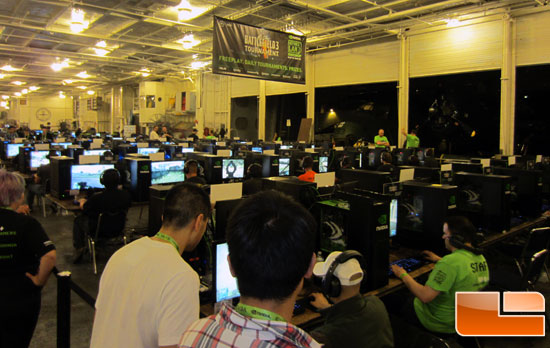 GeForce LAN 6 features a 64 PC Battlefield 3 Tournament and Freeplay area, which was sponsored by Maingear and Origin. This was a neat setup as the PC's are divided evenly, so it was Maingear versus Origin with each group of gamers. The Battlefield 3 maps beng used at GeForce LAN 6 are Operation Firestorm, Grand Bazaar, Caspian Border, Operation Metro and Damavand Peak. The main tournament for GeForce LAN is a 4v4 Deathmatch tournament that is being played on Operation Metro, Grand Bazaar and Damavand Peak that. Damavand Peak is a map that premiered here at the LAN event for the first time. Freeplay and casual tournaments in 32v32 Conquest and 4v4 Deathmatch formats will be played across all maps.
The opening ceremony was awesome as NVIDIA's Phil Eisler kicked of the event and Tom Peterson really got the crowd going. You can see the opening ceremony in the video above.
We have over 80 pictures of GeForce LAN 6 posted on our Facebook Fan Page, so be sure to check it out. We are going to conclude our coverage there as we are going to go and enjoy this event!