NVIDIA GeForce GTX 980 'Maxwell' Performance Numbers Leaked
By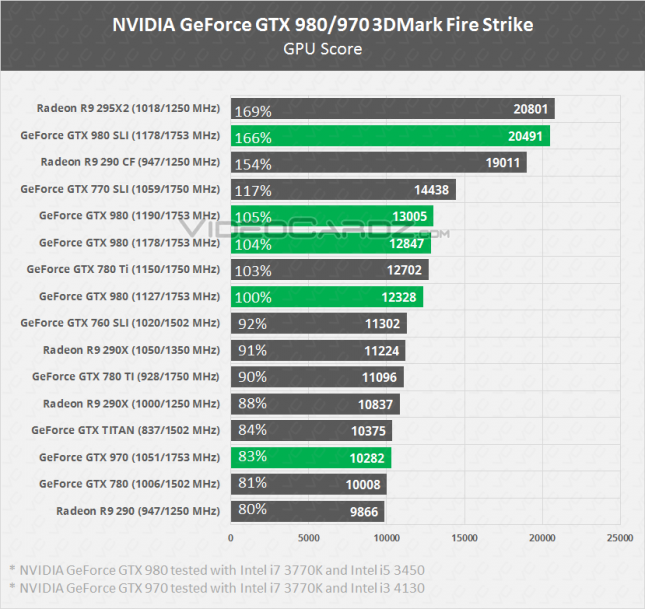 The rumors about the latest NVIDIA graphics cards code named Maxwell have been spinning for awhile now. Today though some of the performance numbers have leaked out. While I don't have the exact specifications of the cards being used, the chart above does give us some clues. The chart from VideoCardz.com lists the GeForce GTX 980 at a couple of different clock speeds as well as in an SLI configuration.
NVIDIA GeForce GTX 980 @ 1190/1753 MHz
NVIDIA GeForce GTX 980 @ 1178/1753 MHz
NVIDIA GeForce GTX 980 @ 1127/1753 MHz
NVIDIA GeForce GTX 970 @ 1051/1753 MHz
The single card performance of the GeForce GTX 980 has a GPU score of 13005 in 3DMark Firestrike! By comparison, the GeForce GTX Titan has a GPU score of 10375 while the GTX 780 Ti hit 11096. Running a pair of NVIDIA GeForce GTX 980's in SLIj yielded a GPU score of 20491, which is an impressive score but is only a scaling of 59.5% which is pretty average. If these numbers are accurate, it's going to be interesting to see what happens as the Radeon R9 295X2 is still a hair faster than a pair of GeForce GTX 980's.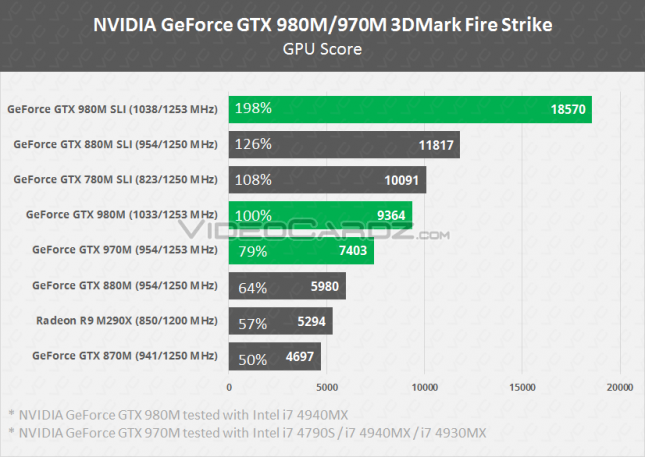 In addition to the desktop performance numbers being leaked out, the mobile side also seems to have a bit of a leak. The GeForce GTX 980M was able to hit a GPU score of 9364 in 3DMark Firestrike while the GeForce GTX 970M hit 7403! If you're able to run the NVIDIA GeForce GTX 980M in SLI, it looks like there will be considerably better scaling as the performance in SLI jumped to 18570, a gain of 98%!