NVIDIA GeForce GTX 1060 Founders Edition Video Card Pictured
By
We all knew the NVIDIA GeForce GTX 1060 graphics card was coming, but did anyone know it might be here next month? This would be great news as NVIDIA is facing supply issues on the GP104 Pascal GPU used on the GeForce GTX 1080 and GeForce GTX 1070. It is widely believed that the NVIDIA GeForce GTX 1060 will be using the GP106 Pascal GPU, so if there is any merit to TSMC issues it might not be impacting the GeForce GTX 1060.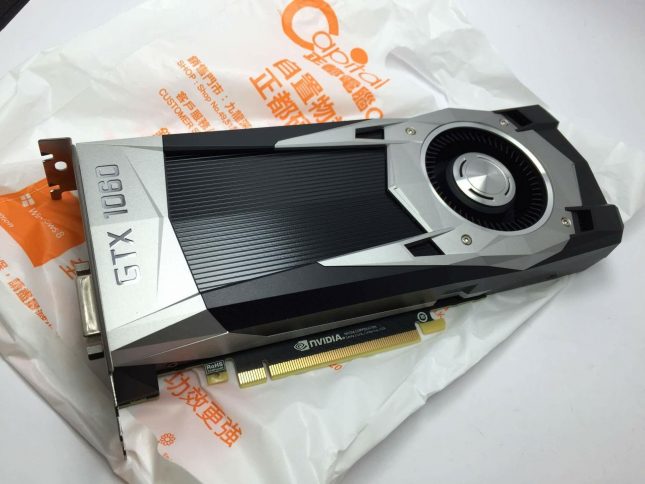 The picture of the NVIDIA GeForce GTX 1060 appears to be a Founders Edition, so it looks like the GeForce GTX 1060 will be launching like the GTX 1080/1070 with a Founders Edition card being made available for a premium and then the Add-In-Board (AIB) partners coming out with their own cards then or shortly after. The GeForce GTX 1060 is pictures on a Capital Computer Center bag from Hong Kong and from that we can take away that a launch is rather close.
No word on specifications, but we are expecting a card that has at least GeForce GTX 970 performance and that would be competitive with the AMD Radeon RX 480 that launches tomorrow. With only one image being shown and with the card angled with none of the video or power connectors shown it almost feels like this was a staged leak by the green PR team. What a better way to disrupt the AMD Radeon RX 480 Polaris launch tomorrow than showing off your solution that should be in the same price range (sub-$300).
If you've been waiting to upgrade your mainstream graphics card your wait is almost over. The AMD Radeon RX 480 is coming at $199 for 4GB and $239 for 8GB and now you have the GeForce GTX 1060 coming. If we had to take a wild guess on pricing it will be $239 for the GeForce GTX 1060 3GB and $279 for the GeForce GTX 1060 6GB, but that is just our uninformed guess and not even knowing if there will be two memory capacities made available. Gamers will be happy this summer as 'VR Ready' cards will soon be affordable to the masses and the performance gains over older cards will be great!