NVIDIA Announces New GeForce GTX Holiday Game Bundle!
By
NVIDIA hasn't said much about their The Way Its Meant To Be Played program in recent months, but that drastically changed today when NVIDIA announced the new GameWorks program. The new GameWorks promotion is a special holiday game bundle that targets gamers and enthusiasts buying discrete desktop graphics cards. Basically if you buy the NVIDIA GeForce GTX 660 ($179 SRP) or the GeForce GTX 760 a($249 SRP), you will get a voucher for a free copy of Assassins Creed IV Black Flag and Splinter Cell Blacklist. If you buy a GeForce GTX 770 ($399), GeForce GTX 780 ($659) or GeForce GTX Titan ($999), NVIDIA is tossing in a free copy of Batman: Arkham Origins.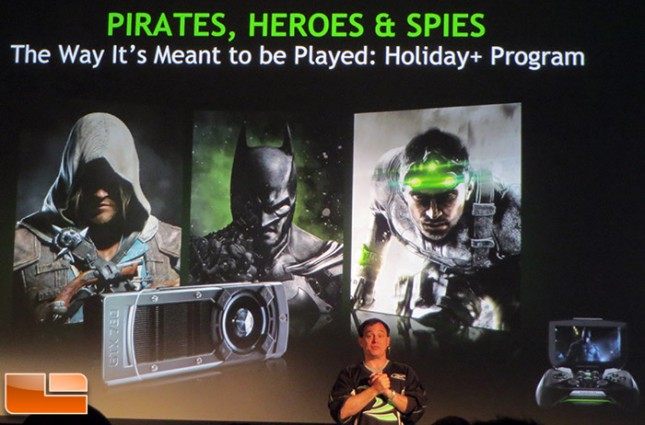 If you are wanting to pick up the NVIDIA SHILED there is also something good going on for you! NVIDIA will be offering $50-$100 off the purchase of an NVIDIA SHIELD with the purchase of one of the aforementioned GeForce GTX video cards! The NVIDIA SHIELD Android powered gaming device currently runs $299, so that would knock the price down to $249 or $199, depending on what video card you buy. Not a bad deal for the portable NVIDIA Tegra 4 powered device!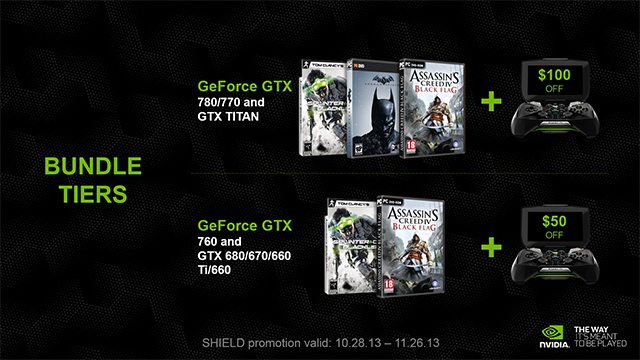 NVIDIA's special holiday game bundle will begin on October 28, so you might want to wait on that video card purchase for a bit in order to get two or three of these big name game titles! The NVIDIA GeForce GTX cards included in the bundle are all very good performing cards, so including these game titles certainly sweetens the deal! The promotion ends November 26th, 2013.