NVIDIA Announces 'Game24' Global PC Gaming Event on September 18th
By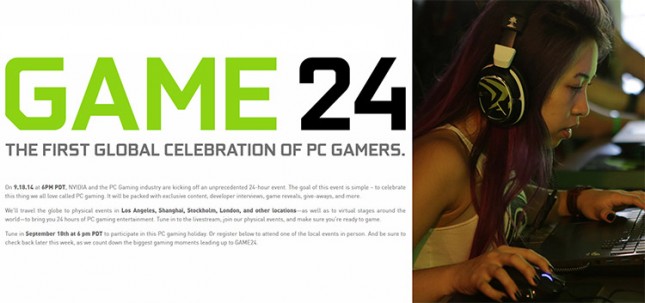 NVIDIA just announced their first ever global PC gaming celebration, GAME24! The 24-hour event starts on September 18th at 6PM PST and is headlined by NVIDIA with support from game developers and other PC gaming hardware companies. The goal of this event is to celebrate PC gaming, but there are also rumors that this event could be used to either launch or publicly unveil the NVIDIA GeForce 900 series graphics cards! Are you ready for the NVIDIA GeForce GTX 970 and GeForce GTX 980 to come out with all their Maxwell GPU goodness? If you are wanting to get a GeForce GTX 980 video card and live close to one of the Game24 locations we highly advise attending as usually the odds are pretty damn good that you'll come home with some pretty sweet swag!
GAME24 is a combination of many local events around the world, and it will all be broadcast live on the internet. The main events will take place in Los Angeles, London and Shanghai with smaller satellite events in Chicago, Mission Viejo, Indianapolis and Stockholm. If you can't make it to any of those physical locations you'll still be able to watch the live stream online at game24.nvidia.com. Gamers at home can interact with the livestream, win amazing prizes and share their own gaming experiences.
Who doesn't want 24 hours of pure PC gaming awesomeness?