New Mushkin Memory Heat Spreader
By
Innovation Finally Comes to Heat Spreaders
Starting next week Mushkin Memory will begin shipping all their performance memory modules with a newly designed heat spreader. The new heatsink provides a 58% increase in surface area and also allows for increased airflow to quickly remove heat. All this is being done without increasing the cost to consumers and at a time when innovation in the memory industry is lackluster to say the least. Below is an image of the new heat spreader on Mushkin's Redline XP memory series.
Taking a closer look at the heat spreaders it is noted that the modules have a partially open top section with the clamps built into the design. When looking at the image below the clamps blend in with the design of the heat spreader for a nice clean look for those using case windows in their systems.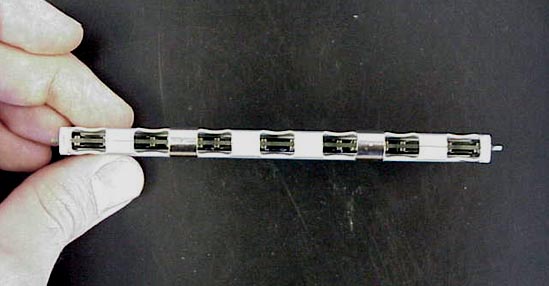 In addition to the new heat spreader design, Mushkin also made some changes inside the heat spreader and is now using advanced thermal adhesive with double the thermal conductivity of the previous material. Brian Flood, head of Mushkin's product development, claims the new thermal adhesive and heat spreader is far superior in performance and appearance to the old design.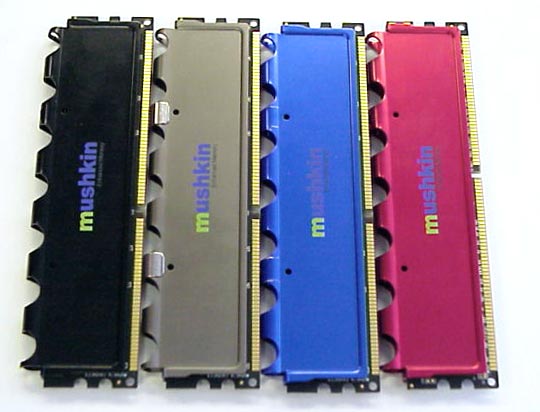 As you can tell the heat spreaders will cover all of Mushkin's performance modules and all the new heat spreaders have arrived to Mushkin and is being installed on their modules. Time will tell how well they work over the old modules and we are interested in seeing how easy or hard they are to remove. Some overclockers still swear that by removing the heat spreader they cool better, but all we know is that these heat spreaders are a nice visual change over the same ones we have seen from the memory companies now for almost three years.
I have a strong feeling that we are going to start to see many new designs and ideas from Mushkin Memory from here on out. On July 26th Ramtron announced the divestiture of Mushkin Subsidiary, which means that Mushkin was sold to a new owner and is no longer a part of a publicly traded company on the stock market. The new owner of Mushkin is no other than the Mushkin's current general manager for consideration of approximately $1.8 million. Soon after the purchase an employee spin out was led by george stathakis putting the company in the hands of the employees. Now Mushkin is 100% employee owned and run, which means some fires just got lit under some office seats out in Colorado. While some may not think twice about Mushkin releasing a new heat spreader, Legit Reviews sees it as the first step in a new direction for Mushkin. No longer controlled by a parent company it is our belief that Mushkin will soon be picking up speed and aiming for OCZ and Corsair's market share. Keep an eye on Mushkin over the next year as it may prove to be a come back year for a memory company that was falling beind in one of the most cut throat industries ever conceived.