Netgear Arlo Smart Home Security Camera Kit Review
By
Netgear Arlo Home Security Camera System Review
Having an indoor/outdoor high-definition home security system was once something reserved for rich people that had more money than they knew what to do with. In recent years the price on home security cameras and systems has greatly dropped and the average Joe can now afford and get the peace of mind that a security system brings. Even though you can afford to purchase a home security system do you really want to get up on a ladder and run all the data and power lines across your house? That has been one of the major road blocks for home security systems as theyve been a pain in the butt to install and people have been avoiding them altogether.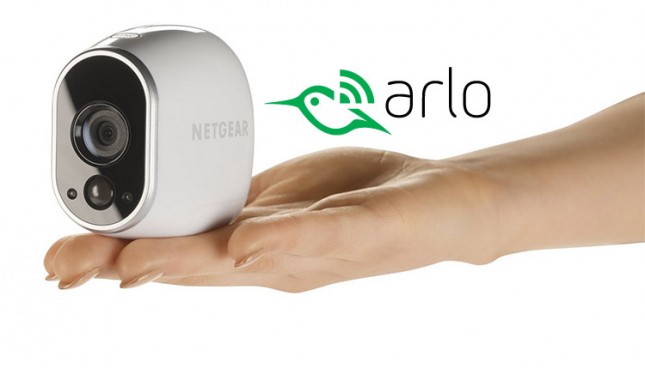 Netgear hopes to change all that with a new entirely wireless self-monitored home security system called Arlo (product website). The full name of the solution is the Arlo Smart Home Security Camera and it is the first fully wireless HD security camera solution. The indoor/outdoor cameras can be used during the day and at night with nightvision to record 1280×720 (720p HD) video content in the H.264 format. The HD camera is waterproof so it can stand up to four seasons of outdoor use, can detect motion up to 15 feet away and features a fairly wide 130-degree field of view. The wireless base station that comes with the kit uses 802.11n 2.4GHz wireless and has a range of 150 feet, so most homes in metropolitan areas can be fully covered. This means you just mount the cameras where you want them and after some wireless setup you are done minus the fact youll have to change the batteries about every 4-6 months.
How much will all this cost you? The Netgear Arlo Smart Home Security kit comes with two cameras and everything to get them up and running for $349.99. If you wanted a Netger Arlo home security kit with just one camera that is also offered for $199.99. Additional cameras can be added onto the kit and run $159.99 each. Not necessarily an impulse buy, but for a fully wireless kit the price is not that bad.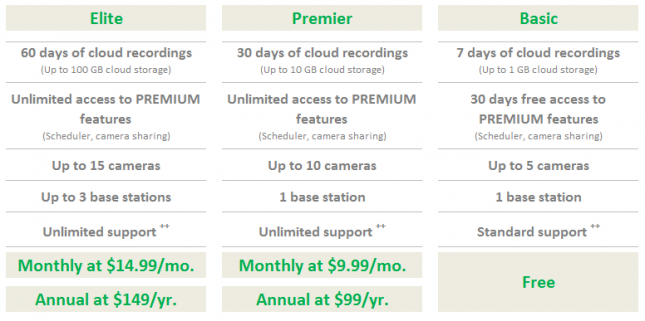 On top of the kit and camera costs there are also some subscription plans that you have the option of buying into. All of the Netgear Arlo kits come with a free Basic subscription plan that includes 7 days of cloud recordings and 1 GB of cloud storage. When a video reaches its 7-day expiration date, it is automatically deleted. Once you hit the 1 GB storage limit, no more videos are stored in your account until you manually delete older videos. There is no way to locally store your recorded video, so you have to rely on Netgear to store additional information. If you need to increase your cloud account limits you may do so by paying for optional premium plans. These plans also removes the 5 camera limit on Arlo as well as enables new features like scheduler and camera sharing for friends and family. You can move up to the Premier plan for $9.99 a month (or a one time fee of $99 per year) that offers 30 days of cloud recordings and 10 GB of cloud storage. If you still need more storage you can move to the Elite Plan at $14.99 per month ($149.99 per year if paying in advance) which includes 60 days of cloud recordings and 100 GB of cloud storage. The Elite plan allows customers to connect up to 15 camera and three base stations, which is odd. The base plan gives you five cameras for a single base station and the Elite Plan gives you the ability to run three base stations with five cameras each under each base station. We would have expected to have the ability to run more per base station as you could with the lesser plan. When you initially set up your Arlo account you get 30-day access to these premium features in an attempt to get you hooked on the service features so you'll want to subscribe. We highly suggest trying out some of the premium features the first month to really find out if you want to pay for them or not.
While we are on the topic of money we should probably let you know that each Arlo Camera (VMC3030) uses four Lithium CR123 3-Volt Photo batteries and they should last 4-6 months in a typical usage scenario. We looked around locally and they only store in our immediate area that carries this battery is Walmart and they run about $5 each. In a worst case scenario where the batteries die every four months that means you are spending $120 a year in batteries to keep the Netgear Arlo Smart Home Security kit up and running. The good news is that you can buy CR123 batteries online at major online retailers like Amazon for about half that price. Netgear also let us know that the Arlo cameras do support rechargeable versions of the CR123 batteries, which can be purchased from a number of retailers.
So, if you buy the Arlo Smart Home Security Camera Kit with two cameras for $349.99, along with the premier plan ($99 per year) and batteries three times a year ($120) you are looking at upwards of $569 for the initial year and then just over $200 a year thereafter. Going wireless with cloud storage capabilities is nice, but you need to factor in the batteries and additional storage space and features unlocked by the premium plans if that is something you need.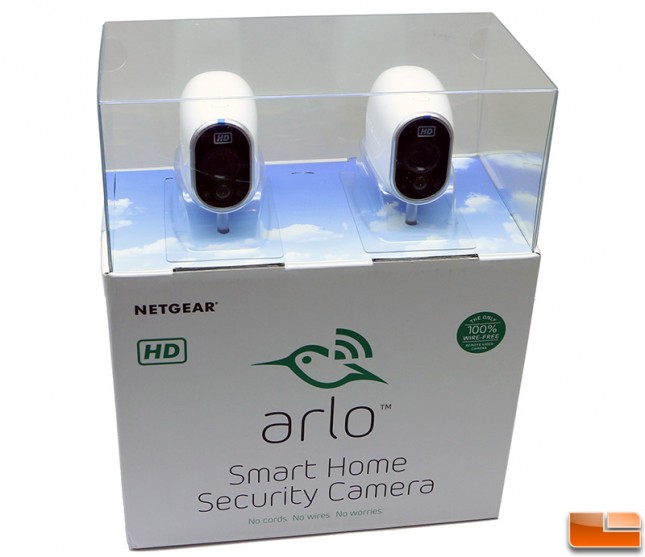 Now that weve covered what the Netgear Arlo is and how much everything costs we can take a closer look at the Arlo Smart Home Security Camera Kit that well be going over with you today. This is the dual camera kit that retails under part number VMS3230 for $349.99 shipped.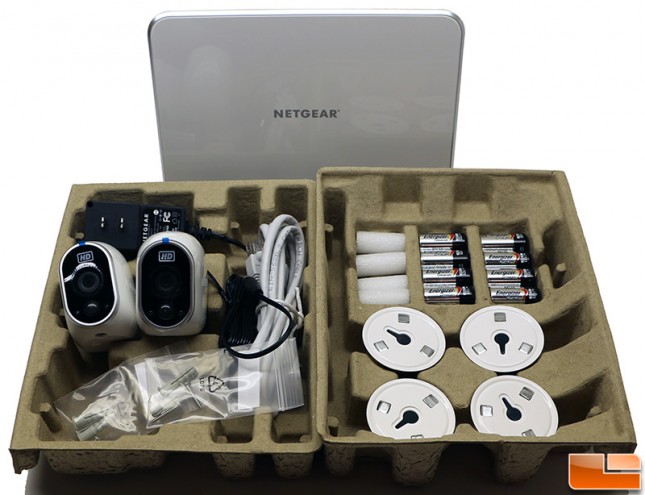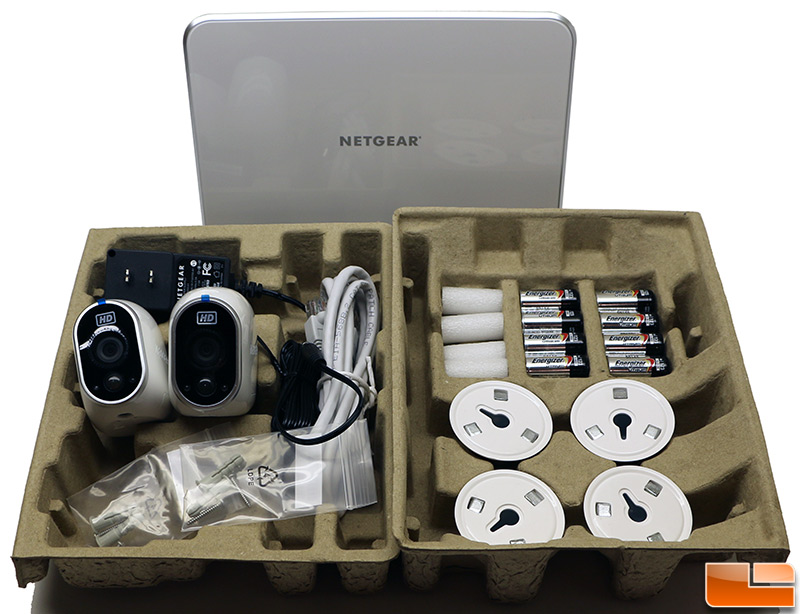 The Arlo Smart Home Security Camera Kit (VMS3230) includes:
Two HD outdoor cameras equipped with motion sensors and night vision capability
Smart home base station that can also talk to other connected devices (includes AC to DC power adapter & LAN cable)
Four magnetic dome mounts with mounting screws two for securing each camera wherever you need it, and two extra mounts to make moving the camera around the home super easy
200 MB of free cloud storage for videos
Free apps for displaying and managing the cameras and video from iOS or Android smartphones and tablets
Access via popular browsers on Mac computers and PCs
The security system requires the use of an 802.11n base station that has been optimized to use as little power as necessary for the WiFi cameras as Netgear wants the batteries to last as long as possible. How secure is your video feed that is going to the cloud? Netgear told Legit Reviews that all video is sent to the cloud using the https (Hypertext Transfer Protocol Secure) protocol, which is the same as your credit card or banking info. The netgear hub has a pair of USB 2.0 ports on it that aren't used with the Arlo system, but are there for future devices. Netgear told Legit Reviews that the USB ports will be used in the future to add USB adapters that support other smart home standards. This will allow the Arlo platform to support other smart home devices including lights, sensors and more. So, hopefully you'll be able to connect other smart home devices like Zigbee and Z-Wave antennas to the two USB ports located on the back. Netgear is also part of the AllSeen Alliance open source project, a group of companies working on interoperability between Internet of Things (IoT) devices.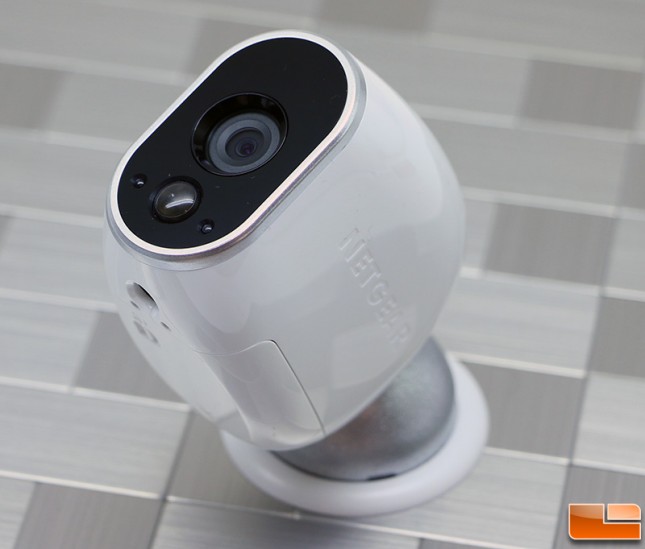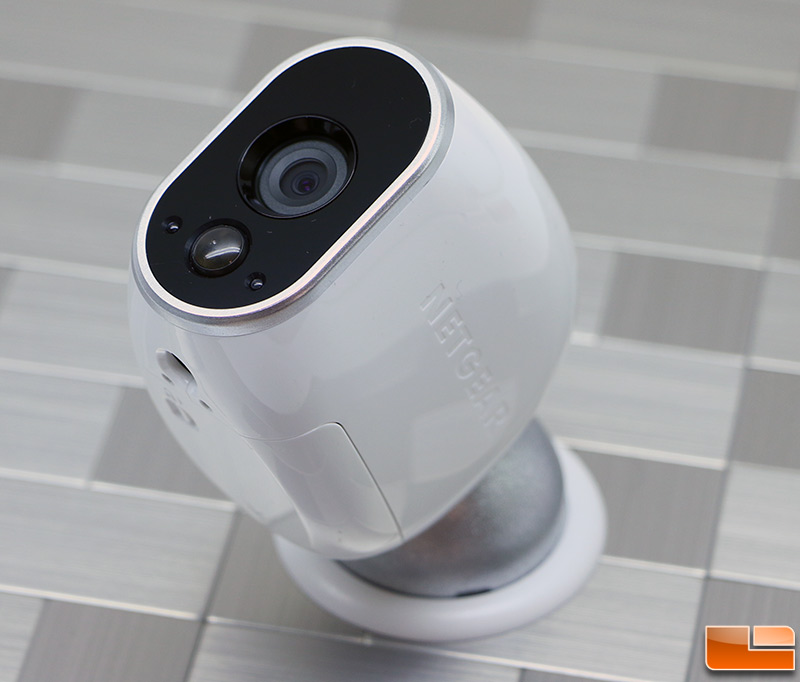 The Netgear Arlo cameras look good and depending on your decor, they should be able to blend into the surroundings. If they don't blend in to where you want to place them we suggest getting something to scuff up the housing and then taping off the front and spray painting them to best match the surroundings where they will be placed. We were told that the cameras use video compression algorithms and the video feed per camera is just 1.5Mbps. This is well below what most home broadband speeds support, so there should not be any issues watching the video stream on the cloud. Keep in mind that you will be able to view the cameras live video streams, watch recorded clips and change the camera settings from anywhere in the world! The Arlo cameras are also waterproof and should be able to stand up to use in all four seasons. We haven't had the time needed to see how the cameras stand up to rain, humidity, dust, sand and extreme heat, but we do know what happens to them when they are placed in extreme cold and we'll get to that in on the next page.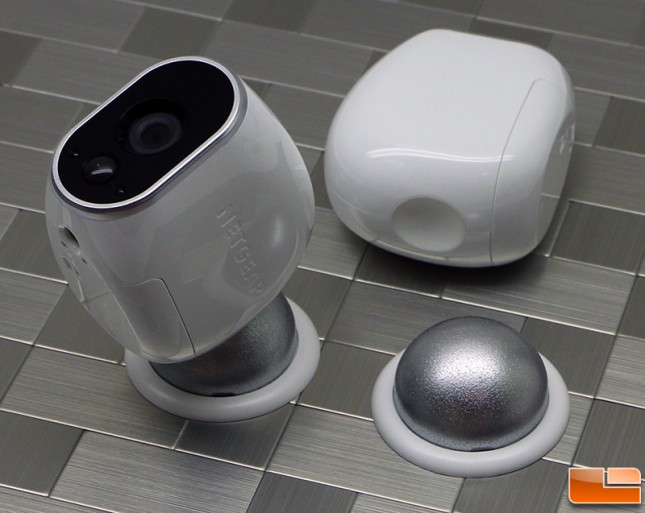 Each Arlo camera in the kit comes with two magnetized bases that allow you to pivot the camera to ensure you are recording what you need to be. You can use 6lb double sided tape (not provided) or a single screw to mount it to an object. This means that you just need a screwdriver or drill to install the mounts, which makes things super simple. The Arlo camera also has no ports on them whatsoever for power, so you must rely on batteries at all times as there is nothing to plug anything into.
Keep in mind when you are installing the bases that the Arlo camera is just held on by a magnet to the base, so they can be easily stolen when placed outside. At $159 a camera that adds up! We highly advise placing them higher than arms reach to keep someone from taking the camera. The Arlo camera also has a standard female 1/4 inch adapter on the bottom that allows it to be mounted on pretty much any camera or tripod mount. Camera placement is critical, so be sure to spend some time making sure the angle and motion detection works like you need it to!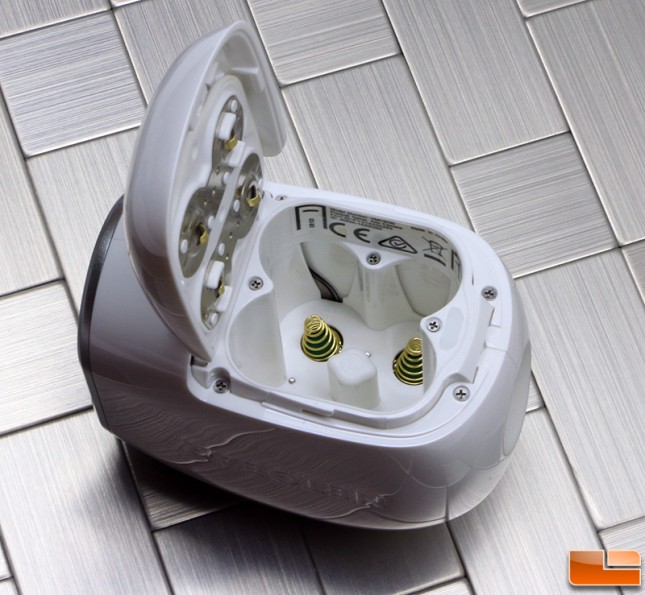 By opening the lock you can pop the cover on the camera and see where the four CR123A batteries are placed. Netgear claims the Arlo camera batteries can last for approximately 4-6 months. They based this claim off the assumption that an Arlo owner will only view each camera for four minutes per day. If you use the camera for longer than four minutes a day the battery life will obviously be less than what Netgear advised. The Netgear Arlo is not designed for 24/7 recording, so if you have significant video surveillance needs this camera system is not the solution for you. This system is designed to record when motion is detected for up to two minutes at a time.
Now that we have the basics covered let's get into the setup and look at the image quality of the Arlo kit!