MyDigitalSSD Pocket Vault eXpress Portable SSD Review
By
When our friends over at MyDigitalSSD asked if we wanted to review their Pocket Vault eXpress (PVX) Thunderbolt 3 Portable SSD we said send it on over! It boasts wicked fast transfer speeds up to 1,600 MB/s read and 1,000 MB/s write, so if you want blazing file transfer speeds on a super portable drive look no further. The MyDigitalSSD PVX is available in 256GB, 512GB and 1TB capacities for $189.99, $279.99 and $479.99, respectively.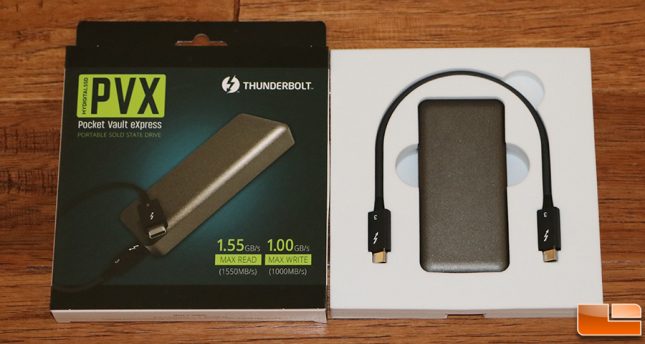 Once MyDigitalSSD Pocket Vault eXpress 1TB drive showed up for review we had a strange case of deja vu when we saw the retail packing and drive. We've seen this same packaging before and the drive itself was identical to one that we reviewed back in May 2018. Legit Reviews was the first site to review the Patriot EVLVR Thunderbolt 3 portable SSD and this drives looks to be pretty much identical besides the retail packaging and enclosure color.
Many companies re-brand a product made by an Original Design Manufacturer (ODM) and sell them under their own name. This process is called Own Brand Labeling (OBL) and a good deal of hardware companies do this. From what we gather, Phison is the ODM for this Thunderbolt 3 portable SSD and obviously scored a number of customers for this design. So, Patriot and MyDigitalSSD both hired Phison to make them personalized versions of their product. Since we've already tested and done an in-depth review on this exact drive under a different brand name we'll keep this quick and simple.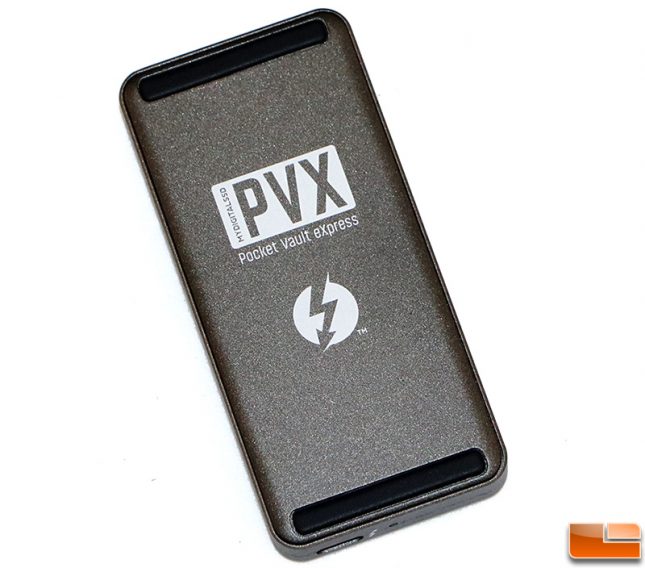 Inside the MyDigitalSSD Pocket Vault Express you'll find an M.2 PCIe NVMe SSD. This means you can take the drive out and use it on a desktop PC or laptop as a primary or secondary drive if you like. Or if it ever fails years down the road it can be easily swapped out for another M.2 drive. For the PVX, MyDigitalSSD is using their SBX 1TB M.2 2280 PCIe Gen3 x2 NVMe SSD inside. The SBX 1TB drive uses a Phison PS5008-E8 controller with Toshiba BiCS3 64-layer TLC NAND Flash memory. MyDigitalSSD backs the PVX with a 5-year warranty, so the hardware inside is solid.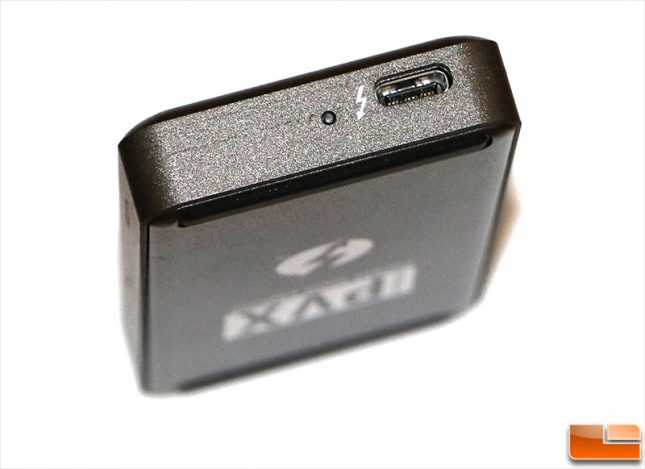 Along the bottom edge of the drive there is the Thunderbolt 3 port and blue LED that shows the drive has power and when it is being accessed. The Pocket Vault eXpress Portable SSDs are fully bus-powered through the Thunderbolt 3 port. A 8-inch Thunderbolt 3 (40Gbps) cable is included with the PVX. This drive can only be used with Thunderbolt enabled USB-C ports that feature the Thunderbolt lightning bolt icon, so only the latest higher-end systems will be able to use this drive. It will not work in a normal USB-C port as it has to have the Thunderbolt 3 controller to operate.
We tested the Patriot EVLVR on our Dell XPS 13 9360 laptop with an Intel 7th Gen Core i7-7500U processor. For the MyDigitalSSD PVX 1TB drive we'll be using a Dell XPS 13 9360 with a newer 8th Gen Intel Core i7-8550U Coffee Lake processor and then our Intel X299 desktop PC that is powered by the Intel Core i9-7980XE 18-core, 36-thread Skylake-X processor.
Dell XPS 13 9360 Laptop w/ Intel 8th Gen Core i7-8550U CPU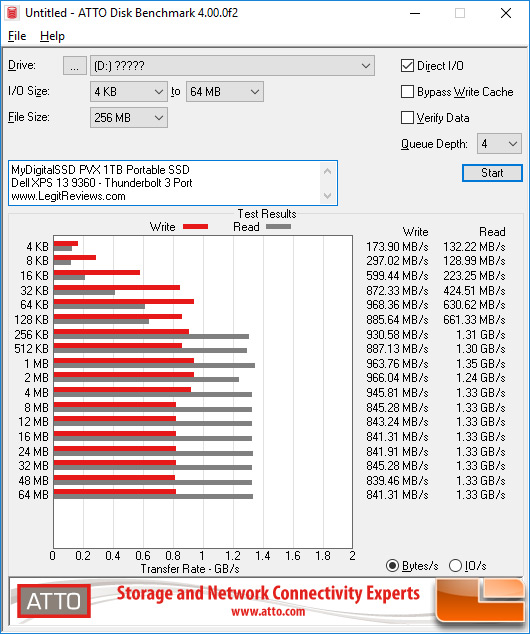 On the Dell XPS 13 9360 laptops Thunderbolt 3 port the MyDigitalSSD PVX 1TB Portable SSD topped out at 1.35 GB/s for sequential read and 968 MB/s for sequential writes. This is just below the drives rated speeds. PVX SSDs are rated to have a max sequential speed of 1.6 GB/s (1600 MB/s) read and 1 GB/s (1000 MB/s) write according to the MyDigitalSSD website, but the box says 1550 MB/s read and 1000 MB/s write.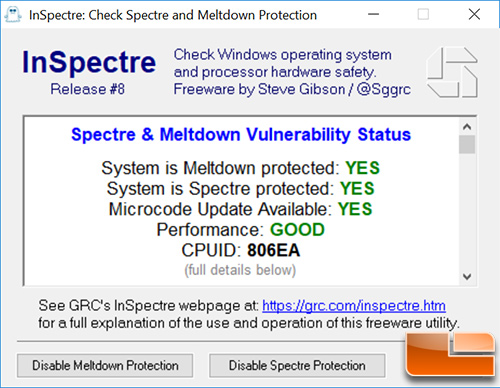 We should point out that all of our systems are fully patched for Spectre & Meltdown Vulnerabilities and are running Windows 10 64-bit version 1803. Being all patched up has been known to lower storage performance and we don't know what OS version and what patches the MyDigitalSSD PC used to get the rated speeds.
Desktop PC – ASUS X299 Deluxe Motherboard w/ Intel Core i9-7980XE CPU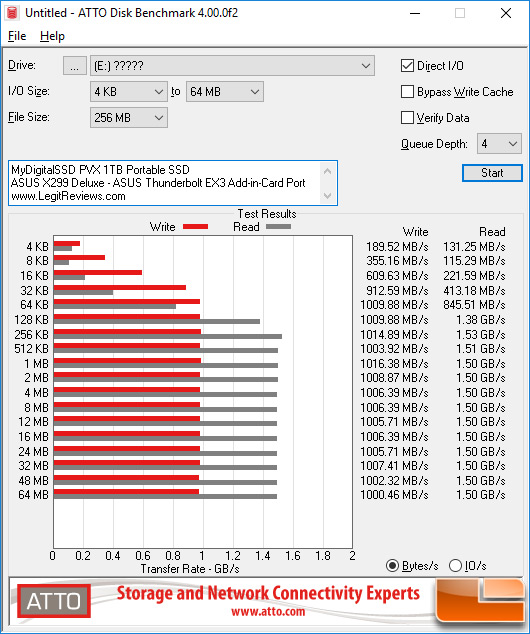 On the desktop system we managed to hit a more impressive 1.53 GB/s for sequential read and just over 1 GB/s for sequential write speeds. This means we were able to meet the drives advertised write speeds, but just missed the reads. MyDigitalSSD rates the PVX 1TB drive as having a 800 TBW endurance rating. The smaller 512GB drive is rated at 375 TBW and the 256GB drive is rated for 200 TBW.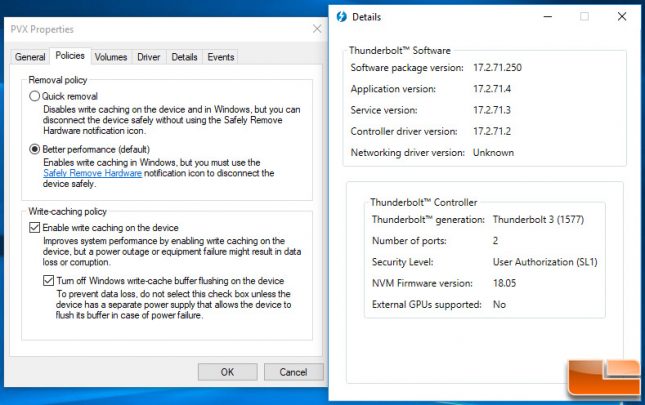 Our testing was done with Windows write-cache buffer flushing disabled and with Thunderbolt Software version 17.2.71.250 installed. This is a super high-end test platform that costs over $2,000, but it best highlights the performance one can get from a $479.99 portable SSD!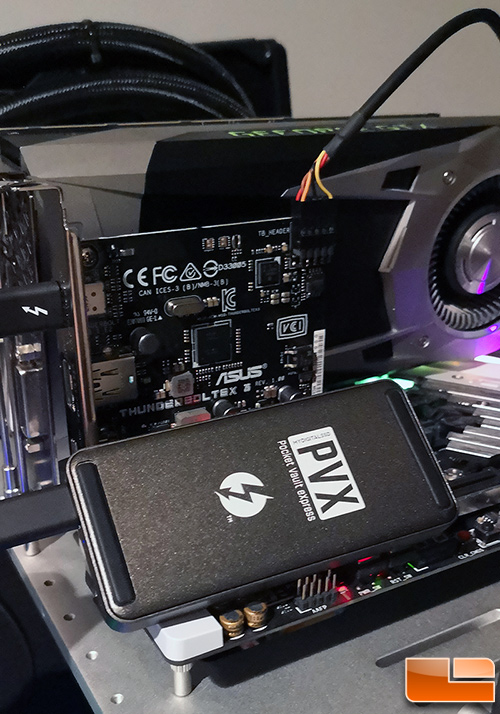 Final Thoughts and Conclusions
The MyDigitalSSD Pocket Vault eXpress 1TB portable SSD (part number MDTB3-PVX-1T) reached speeds of over 1.5 GB/s read and 1.0 GB/s write on our desktop PC and 1.3 GB/s read and 1.0 GB/s on our laptop. Those are wicked fast transfer speeds for those with a Thunderbolt 3 port. You can transfer Full HD movies in under 30 seconds if you are transferring between two NVMe SSDs. The drive does get pretty warm under heavy periods of load as we noted in the EVLVR review, but that is the price you pay for all that speed.
MyDigitalSSD backs the PVX with a 5-year warranty and offers them in 256GB, 512GB and 1TB capacities for $189.99, $279.99 and $479.99, respectively. That is 2-years longer than the warranty offered by Patriot on their EVLVR series and at lower price points. That makes the MyDigitalSSD PVX series the lowest priced with the longest warranty for this particular design. It's hard to beat that!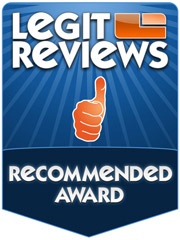 Legit Bottom Line: MyDigitalSSD's Pocket Vault eXpress is the fasted portable SSD that we have tested to date and we love that speed comes from a non-RAID drive solution!