MSI GeForce FX5200-TDR128
By
Introduction: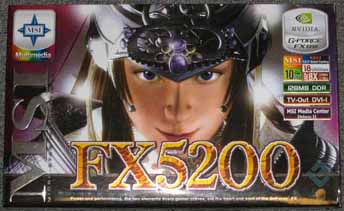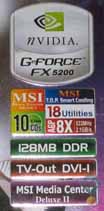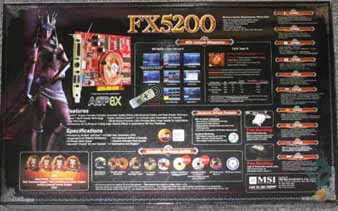 Legit Reviews has now gotten the chance to review our first GeForce FX video card! Today we are looking at MSI's GeForce FX5200-TDR128. The FX5200 is geared toward budget users who want all of today's newest technology including 8X AGP. The FX5200 has DirectX 9 support, so this video card will be able to perform all of the future's newest games that will soon require a video card with DirectX 9 support! And if you want to have a FX5200, then MSI should definitely be on the top of your list! MSI has been the top video card manufacturer for many years now, so you know you can depend on them for a quality product!

MSI has also added some nice visual appeal to the FX5200 with the incredible box that they have packaged this video card in. Now as usual, the box has no bearing on how we rate this video card, but it is always nice to have an awesome box to receive your new computer parts in!
MSI's GeForce FX5200-TDR128 has more than just the NV34 core on it with a pretty box; MSI has added numerous features and capabilities to this card. The TDR128 that is added to MSI's FX5200 name stands for TV-OUT, Dual VGA/DVI-I Port, and Remote Controller. Here is a chart explaining the rest of MSI's FX5200 cards.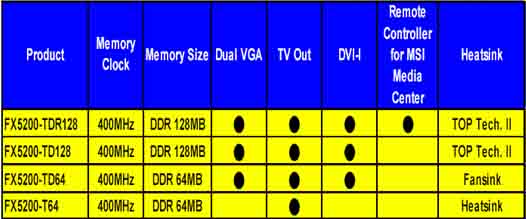 I would also like to present a chart that shows the standard core/memory speeds for all of the FX series cards. This way you can see that the FX5200 really is the least powerful FX card available – giving you all the newest graphics technology in a budget card.
| | |
| --- | --- |
| FX Name | Core/Memory Speeds |
| FX5200 | 250/400 |
| FX5200 Ultra | 325/650 |
| FX5600 | 325/700 |
| FX5600 Ultra | 350/700 |
| FX5800 | 400/800 |
| FX5800 Ultra | 500/1000 |
Now let's see what kind of package and features MSI has put with and on this FX5200!