Motorola XOOM Wi-Fi + Verizon Wireless Tablet PC Review
By
Motorola Xoom
The Motorola Xoom was the inaugural Android 3.0 "Honeycomb" tablet, but for some reason it didn't sell off the store shelves like it was supposed to. Motorola began selling its Xoom February 24, 2011 and CEO Sanjay Jha reported on April 28, 2011 that the company had sold 250,000 Xooms to date To put things into perspective Research in Motion sold over 250,000 Blackberry PlayBooks from April 19th to May 19th and thus matching the Motorola Xoom in unit shipments in half the time. Apple's iPad is still the company to beat as they sold 4.7 million in the first quarter alone. For some reason the Motorola Xoom has been given negative associations, but why? We got our hands on the Motorola Xoom and have been using it for the past month to see how it performs and if this tablet deserves a second chance. When the Motorola Xoom was originally released it was the very first tablet to use the Google Android 3.0 'Honeycomb' operating system designed from the ground up for tablets. Months later there was the Android 3.1 update that was released over the air (OTA), which includes support for the new Android movie rental service, full support of Adobe Flash Player 10.3, resizeable home screen widgets, USB-connected peripheral support, expanded Bluetooth accessory support and simplified photo sharing between the Xoom and PCs. Then came the Android 3.2 update, which included screen scaling compatibility mode, support of microSD cards up to 32GB in size, adaptive streaming support for movies and other minor improvements. As you can see the Motorola Xoom has gone through many changes since it was first released and is a much more capable tablet than when it was first released. The Motorola Xoom offers as close to a typical PC experience that you are going to get on a tablet, so we just had to get one in to review. If you've ever owned an Android powered device the user interface will be easy to learn and catch onto, so the learning curve of a tablet isn't as bad as one might think.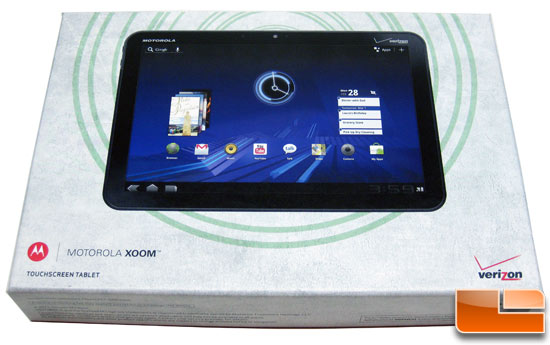 When it comes to buying a Motorola XOOM tablet PC there are three versions that you can buy right now.
Wi-Fi Only: $469.99
Wi-Fi + Verizon 3G w/ plan: $499
Wi-Fi + Verizon 3G w/o plan: $699
The main difference between the models is how you go about accessing the internet. All of the XOOM versions have Wi-Fi, but if you want the ability to use a Verizon 3G/4G data plan with the XOOM you need to spend another $200 or sign up for a data plan contract. This review is being done on the Wi-Fi + Verizon 3G version as we wanted the ability to access cellular services when traveling. For example, I was driving through rural Iowa over the holiday weekend and was able to use the Xoom in areas that my AT&T powered smartphone wouldn't get service. If you don't travel or live in a city with Wi-Fi access then you don't need to spend extra for the 3G data plans.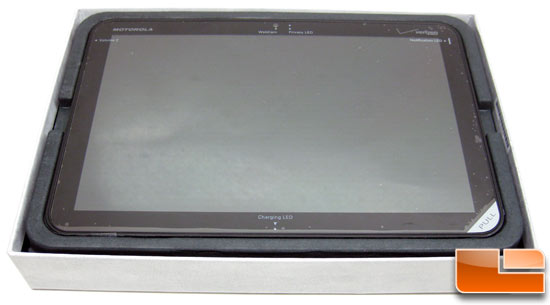 Lifting the cover off the retail box we find the Motorola XOOM sitting right before you! Motorola doesn't want to make you wait and gives you the goods the second you open the box!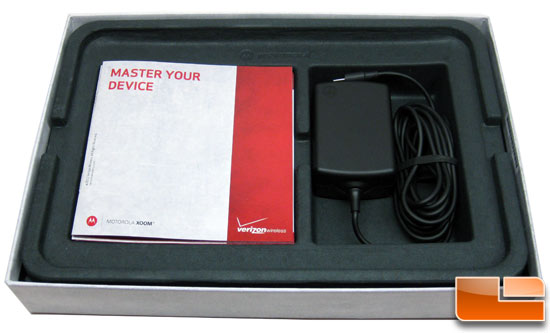 Under the XOOM we find the charger, USB data transfer cable and the users manual that goes along with the tablet. Motorola unfortunately decided to use a proprietary charger for the Xoom and not a standard mini-USB charger that is used on other devices like the Motorola Atrix 4G smartphone. This means you'll have to lug around multiple chargers and this is by far one of the biggest gripes about this tablet.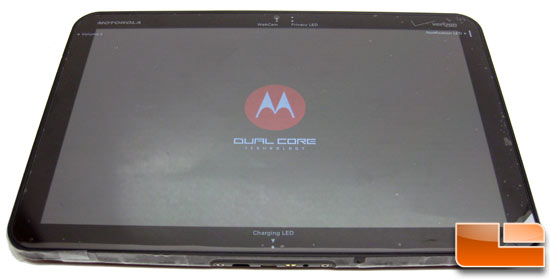 If you look closely the piece of plastic that covers the Xoom points out the basic features that you need to know when you use the tablet. This is a nice touch and good for those that don't like to read instructions. Our Xoom test sample came fully charged and was ready for use right away.