Motorola HT820 Bluetooth Stereo Headset Review
By
Motorola Brings Style To Bluetooth Stereo Headsets
We are constantly on the search for new and innovative products for the hardware enthusiast so we were quite excited when we found this Bluetooth headset from the geniuses at Motorola ? one of the premier leaders in integrated communications and electronics.
Typically, when we evaluate a Bluetooth headset, we look for a number of things including comfort level, and functionality with a variety of cell phones. Today, we not only look at a headset that can be used to keep you in touch with your office while you are out on the road, but it can double as a wireless stereo headset for your home-audio and even be used with your personal computer.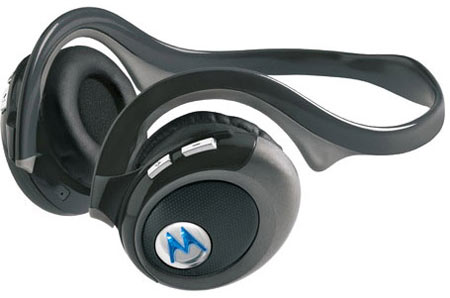 The Motorola HT820 is a Bluetooth Stereo Headset that is designed for use with either a Bluetooth 1.1 or higher enabled cell phone, or a Bluetooth-enabled personal computer. This is a set that wraps around your head ? which seems to be pretty popular these days. Unlike other Bluetooth headsets that we have reviewed in the past, the Motorola Bluetooth Stereo Headphones HT820 has a unique feature in that can simultaneously connect your cell phone with a separate music source via the Motorola DC800 (sold separately, of course), allowing you to listen to music without missing any of your phone calls.
For a street price of around $100, Motorola is clearly aiming this headset to those who want to kill two birds with one stone ? a headset to be used on the way to office or class and one that can be used after-hours listening to music. Is this the perfect headset for these road warriors? Has Motorola delivered the ultimate Bluetooth headset? Let?s take a closer look.
HT820 Features:
Specifications: Dimensions: 165 x 165 x 63.5mm
Weight: 100g
Wirelessly listen to music and never miss a call
Intuitive controls — music buttons on right earpiece, call buttons on left
Imbedded microphone
Lightweight and comfortable to wear
Talk time: approximately 17 hours
Standby time: approximately 500 hours
Music time: approximately 12 hours
Before using your HT820 for the first time, be sure to charge the headphones for 2 hours. To charge the Motorola HT820 headset plug the Motorola charger into the headphones. The indicator light turns on when the battery is charging. When the headphones' battery is fully charged, the indicator light turns off and disconnect the charger. The HT820 headset is ready to use now for the first time! Note that the headphones do not function while charging. The headset has basic controls for volume up, volume down, and a multifunction call button is on the left, while the music controls (back/forward, music on/off, and audio jack) are on the right. There is also a 3.5mm headset jack on the right side so you can use this headset on airplanes or your favorite non-Bluetooth device.