Motorola HS-810 Headset
By
Living Witout Wires
Ever get tired of all the cords in your digital life? On a recent trip to New York City I found myself stuffing over 6 corded devices into my laptop bag. No wonder when I walk through security they open my bags so carefully! It must look like I have mini-bomb factory in my shoulder bag. From the headphones on my MP3 player, my battery charger on the Centrino laptop, the USB cord to the multimedia card reader, to the cell phone headset cable… I have gone cable crazy! I've found myself living the digital lifestyle that I work in, but at the same time am becoming a hostage to the cabling! In my new found quest to cut the cables, while keeping pace with the newest technology I decided to get a Bluetooth headset for my wireless phone.
While not all cell phone users have the ability to use Bluetooth devices the technology is quickly being adapted across the product lineup. A year ago Bluetooth technology was only found in a handful of high end models, but that is no longer the case. Bluetooth enabled phones have finally reached the mainstream consumer market with models at decent prices. Bluetooth technology is best known by consumers for its ability to talk on a wireless headset. One of the nice features on bluetooth is that it is not manufacturer specific. Meaning that any brand Bluetooth headset should be able to work on your bluetooth device. I happen to own a Motorola V600 and the Motorola HS-810 headset had the look to go along with my phone and the functionality I craved. While many consumers could care less about the looks of their phones any owner of a Motorola V600 or RAZR V3 knows style was part of reasons that phone was purchased. High end phones have always been a style/status symbol, so why not get a headset to match!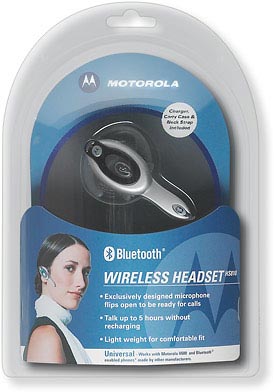 The Retail ClamShell Packaging
The Motorola HS-810 headset is designed to work with all Bluetooth enabled devices. This includes cellular phones and PDA's from many different manufacturers, so no matter what device you own you can use Motorla headsets.
Product Highlights
Small Size: 5cm x 3cm x 2cm when folded
Low Weight: Weighs 20 grams
Long Battery Life: talk time ~5 hours and standby ~100 hours
What You Get:
Motorola Wireless Headset HS810
Neck Strap
Travel Charger
Carry Case
Quick Start Guide
Now that you know what this headset can be used for and the benefits of having one lets move on.