Motormouse 2.4GHz Wireless Car Mouse Review
By
The Motormouse Sports Car Wireless Mouse
Fast cars and computer enthusiasts seem to go together quite nicely, so when we were given the chance to take a look at motor mouse we couldn't say no. How can you go wrong with a 2.4GHz wireless mouse that is based on an iconic sports car? The Motormouse was designed to be a classy, yet fully functional 2.4GHz 3-button wireless mouse. We'll jump right in and see what this mouse has to offer.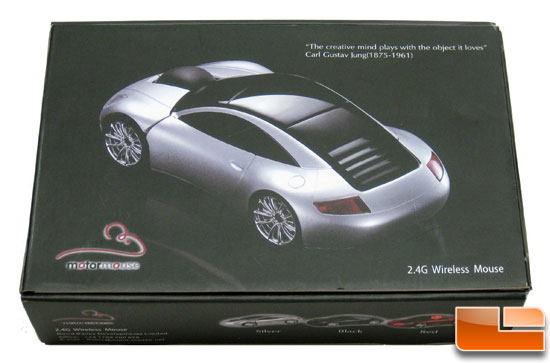 The Motormouse is available in Silver, Black, Pink and Red, but they also have a Blue version available by special order via telephone. Motormouse came to market in 2009 and the original version had three mouse sensitivities (400,800,1600 DPI) that you could change through on the fly. In order to do this you simply hold down the two click buttons for three seconds until the headlights flash, then let go. This moves to the next sensitivity setting and you can go though the settings and see which you like. Motormouse has done away with that model and on the new 2010 models the DPI setting is fixed at 1200 DPI, but sensitivity can be changed by going onto the settings on your computer through the control panel. When I found this bit of information out I knew that this mouse wasn't just a novelty gag gift and is something that was actually designed to look good and be functional.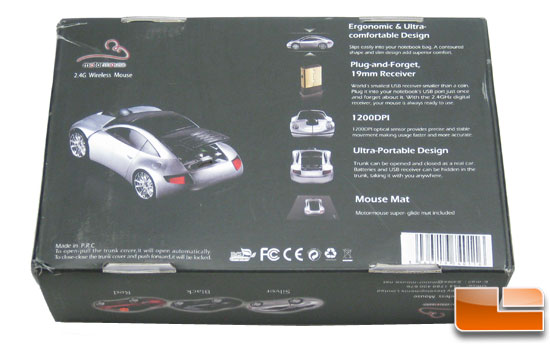 The Motormouse has superb full color packaging with clear images of the of the product and all the key features of the mouse itself. Our package looks rather beat up as it was sent through the post from the UK to the United States and looks like someone drop kicked it a few times.
Motormouse 2.4G Wireless Mouse Features:
Design
Motormouse is a superbly crafted classic sports car design with exquisite detail.
Motormouse is a slim, ergonomic design that fits comfortably in the palm of your hand with 3 sensitivity settings for all types of application.
Motormouse has a high quality paint finish with chrome alloy wheels
Unique features
Motormouse has the worlds smallest 2.4 GHz USB receiver at 19mm.
Motormouse has an opening trunk to store batteries and receiver.
Motormouse has real rubber tires!
Motormouse has an extra wide spare tire scroll wheel.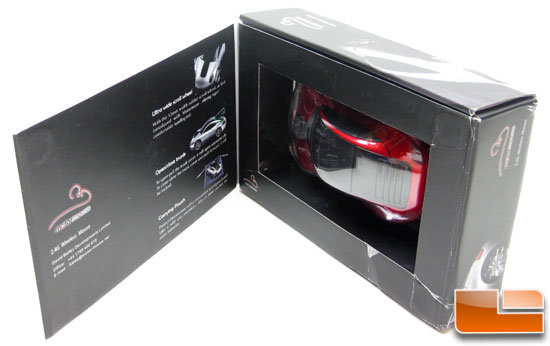 The retail package even had a magnetic cover on it that opens to to show off the Motormouse and a few more key features of the 2.4G wireless device. Without a doubt the retail box was designed to a retail store as a ton of thought and money was put into it. We can only hope the mouse performs as well as all the money they have sunk into the packaging!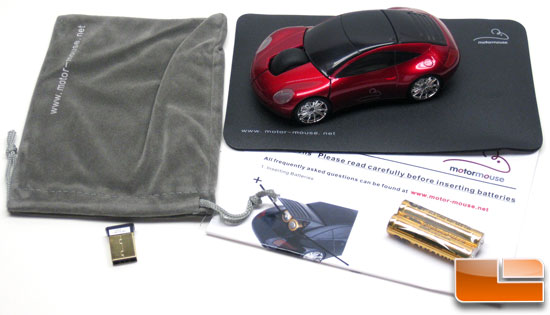 Inside the box you'll find that the Motormouse comes with a a soft carrying pouch, with spare battery section inside, the 2.4GHz 19mm USB 2.0 receiver, two
GP Alkaline AAA batteries, a basic owners manual, a 'Super-Glide mouse mat and of course the Motormouse. Motormouse claims that using the provided mouse pad will extend battery life since it is specially coated. This is all fine and dandy, but at 6.5″ x 4.125″ in diameter the pad is dainty and went straight to the trash can. After using a 17.25″ x 14″ Razer mouse pad we'd be hard pressed to move to anything smaller. If you want to get the best bang for your buck with the batteries go buy yourself a few sets of rechargeable AAA batteries and you'll be set for the long haul.
The Motormouse might sound familiar to some of our readers and that might be because the product was presented on Dragon's Lair on BBC TV over in the UK. Four of the five 'judges' were out basically saying that the market for the mouse was insurmountable and too small to bother with. James Caan echoes all the sentiments of his fellow Dragons but remains "inspired" by the pair and ended up paying 120,000 for a 40% stake in Motormouse.
Let's take a closer look at the Motormouse and see how it performs.