Misfit Shine Wearable Fitness Activity Monitor Review
By
Misfit Shine Activity Monitor Review
Wearable technology has taken off in recent years and wireless fitness trackers are leading the revolution. If you are looking to lose weight, increase your physical activity, or simply improve your overall health, a personal activity tracker can help you keep track of your routine and help you reach your goal. The pedometer that you saw your parents and grandparents wear over the years has been replaced by tiny wearable gadgets that are able to track everything from how much you walk/run, sleep cycle tracking, calorie consumption, heart rate, blood pressure, and more. By jumping onto the personal activity tracker bandwagon you can better understand your habits and get up and exercise more on days when you see your activity is lower than you'd like. There are literally hundreds of different products in the activity and sleep monitor market, so when you walk into Best Buy or get onto Amazon you'll see either an entire aisle or landing page dedicated to wearable tech.
Today, Legit Reviews will be taking a closer look at the Misfit Shine Activity Monitor that is available in Black, Grey, Champagne and topaz for around $85.60 shipped. Misfit was able to bring this product to market after a successful $100,000 Indiegogo campaign back in 2012. Actually, to call it successful is an understatement. They killed it! By the time the 2-month crowdsourcing campaign ended, the company raised $846,000 thanks to 7,957 people from 64 countries.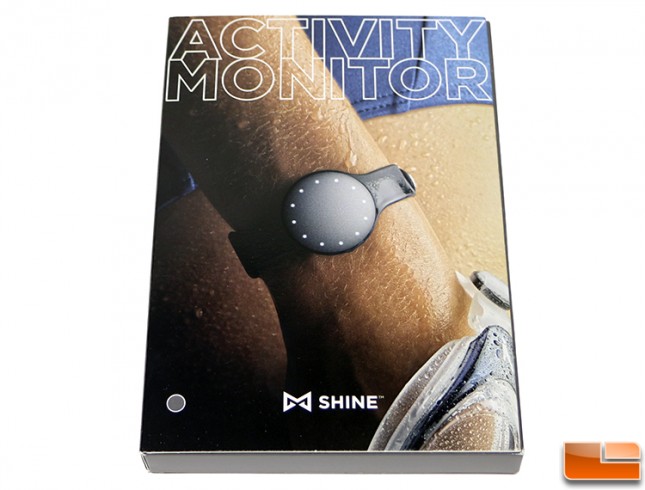 The Misfit Shine is one of the better looking activity monitors out there if you want something that looks stylish. In fact we'd dare to call the design Apple'ish and that is rare in the fitness gadget world as most wearable trackers aren't that stylish. The Misfit Shine is also completely waterproof and has a battery that only needs to be replaced ever six months. Those two features make the Shine rather unique as not all sport bands are waterproof and most need to be recharged.
The Shine was designed to be worn in a variety of ways and to be stylish. A magnetic clasp/clip and a silicon sport/watch band are included with the purchase of the Shine, but there are also optional accessories that you can purchase. For example, there is an optional leather watchband accessories ($49.95 shipped), a necklace with a pendant attachment ($49.95 shipped), and a bloom necklace coming out in the near future that you can pre-order for $79.99. You can also buy replacement silicone sport bands ($17.77) should the original ever get broken or damaged.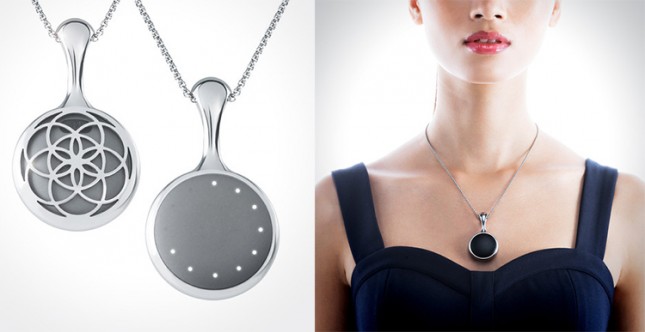 The Misfit Shine is hands down one of the best looking fitness trackers out there.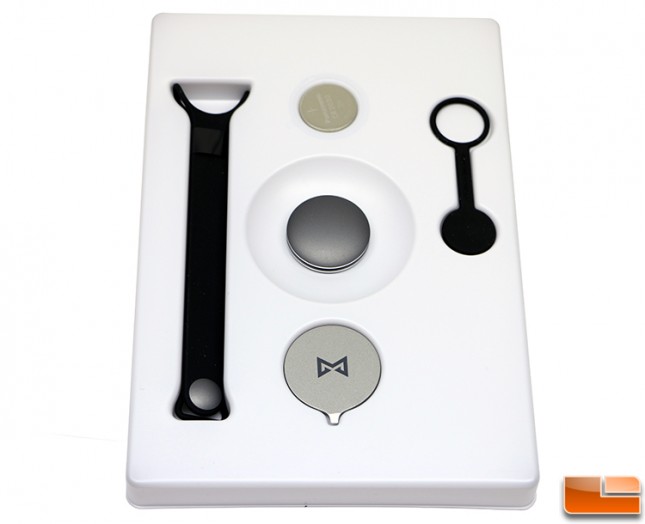 Included with the Shine is the battery, battery replacement tool, a black silicone wristband and a magnetic clip. Everything you need to get going is included.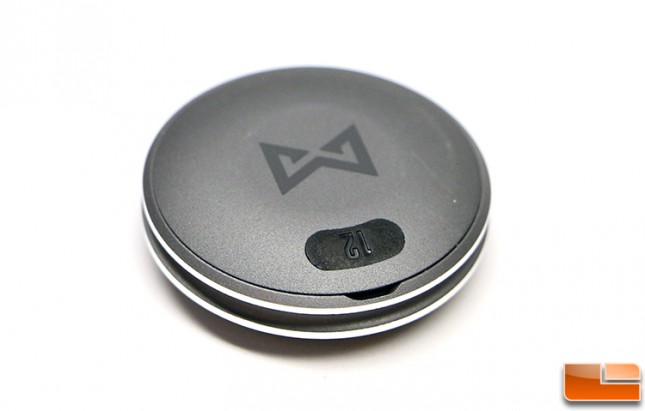 The Misfit Shine was carved out of a solid block of aircraft-grade aluminum, which is one of the reasons that it is super strong and has clean lines. The Shine itself is just 27.5 millimeters in diameter, 3.3 millimeters thick and weighs 9.4 grams. However, due to its solid aluminum housing, the range of the Bluetooth wireless connection used to sync the activity tracker with your smartphone or tablet is extremely limited.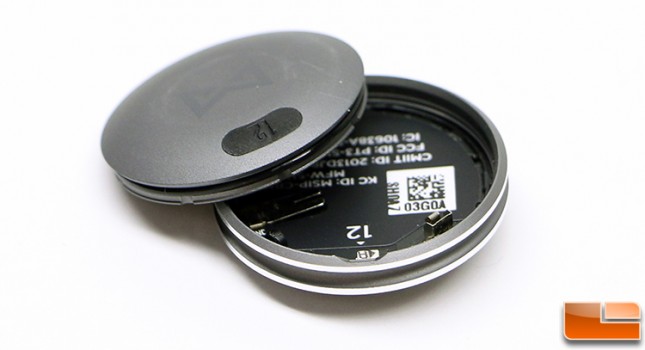 To begin using the shine you need to use the back cover removal tool to pop off the back cover to insert the included CR2032 battery. Going with a non-rechargeable battery means that you won't need to deal with charging it weekly, but you will have to buy batteries and replace it a couple times a year since it should last 4-6 months depending on how often it is used. The cover that comes off has a replaceable o-ring that keeps everything watertight. We've gone swimming and even ran the Shine through the wash machine on accident and it survived without any issues. Try that with the Fitbit One or Withings Pulse and you'll end up with a dead device! Misfit Wearables official states that he Shine is water resistant to 5 ATM. (That's 150 feet!)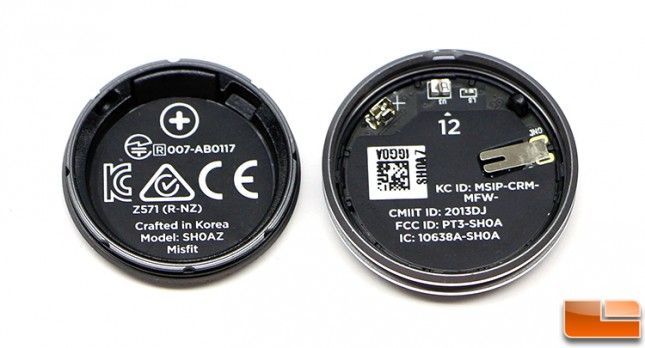 The good news is that the CR2032 Lithium 3V battery it uses is extremely common and you can pick up a five pack by Energizer for just $3.15 shipped. So, you are looking at under a couple bucks per year for replacement batteries. The Fitbit Zip also doesn't have a charger, so there are other fitness trackers out there that rely on a traditional battery.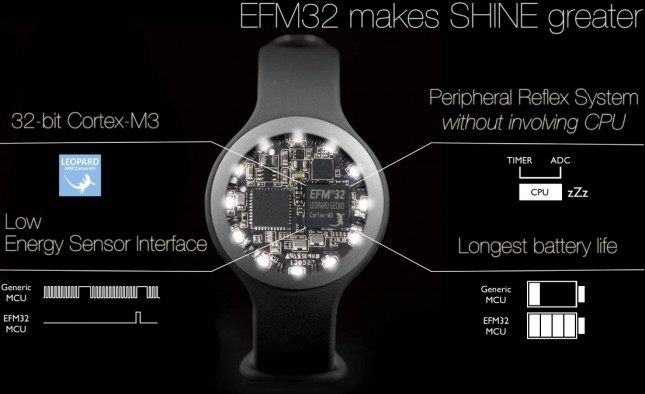 The Misfit Shine is powered by the Silicon Labs EFM32 Leopard Gecko 32-bit microcontroller (MCU). This processor utilizes ARM Cortex-M3 32-bit technology and is very energy-efficient and a widely used embedded processor that has a proven track record.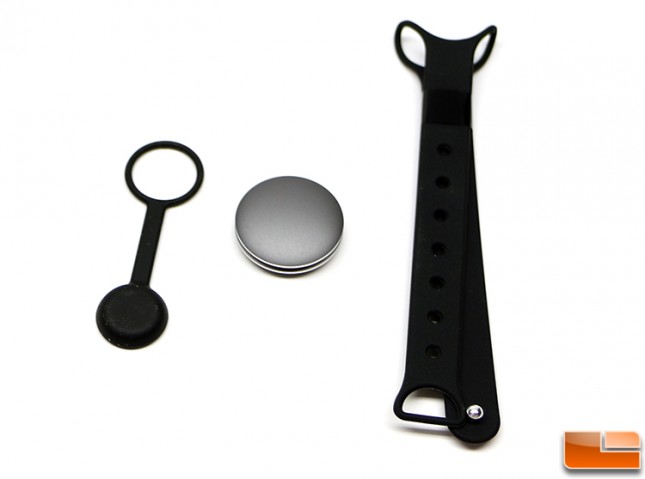 To wear the shine you'll need to pick from the included clasp or sport band and install the Shine. There is a stretchable silicone rings that snap around an outer groove in the Shine's aluminum edge.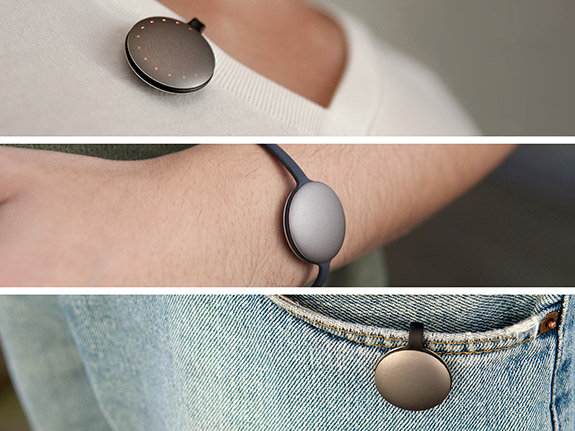 You can wear the Shine in a number of ways, but we don't suggest clipping it into your pocket our on your gym short waistband. We had some issues keeping our Shine where it should be when using the small magnetic clasp in our pocket as when we pulled our wallet or phone out, the shine would come out as well and fall to the ground. We also found that the slick nylon of our gym shorts and the thick waist band with draw cord was too thick for the Shine to safely stay put. If you are playing basketball or something like that you'd be better off with the sport band! The magnet clasp just cannot compete with the physical pounding it will receive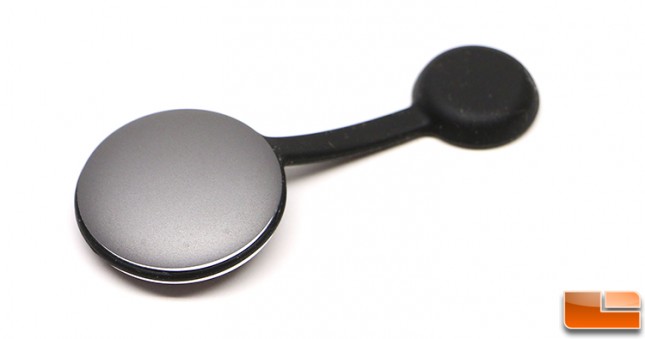 Here is a closer look at our Shine in the clip. If you look closely you'll see that there are 12 small circles around the outer casing of the Shine and this is where the LED lights are housed. Misfit used a laser to carefully thin the aluminum housing in these areas to let LED lights to shine through. These act as the devices interface by illustrating the time, how your daily activity progress is doing and what the activity mode the device is currently tracking in with various LED configurations that represent running, swimming, or biking.