Micron X100 Becomes The World's Fastest SSD
By
Legit Reviews is at the Micron Insight 2019 in San Francisco today and we just got a chance to see the Micron X100 drive in person. Micron claims that the X100 is the worlds fastest SSD with over 9 GB/s of sequential Read/Write bandwidth and up to 2.5 million IOPS. This is Microns first SSD to use 3D XPoint memory and appears to be using the PCIe 3.0 x16 interface. Micron is not talking about capacities or pricing today, but it will be in limited sampling with select customers this quarter. Micron believes that the X100 SSD will provide game-changing performance for big data applications and transactional workloads.
Micron X100 NVMe SSD Key Features
High-performance local storage offers up to 2.5 million input/output operations per second (IOPs), more than three times faster than todays competitive SSD offerings
Industrys highest bandwidth has more than 9GB/s bandwidth in read, write and mixed modes and is up to three times faster than todays competitive NAND offerings
Ultralow latency provides consistent read-write latency that is 11 times better than NAND SSDs
Application acceleration enables two to four times the improvements in end-user experience for various applications with prevalent data center workloads
High-performance in small size storage eliminates the need for overprovisioning storage for performance
Ease of adoption because the Micron X100 SSD uses the standard NVMe interface, requires no changes to software to receive the full benefits of the product
Looking at the end of the full-height card you can see a heatsink covering the pretty much the entire card. There is also an 8-pin auxiliary power connector at the end of the card.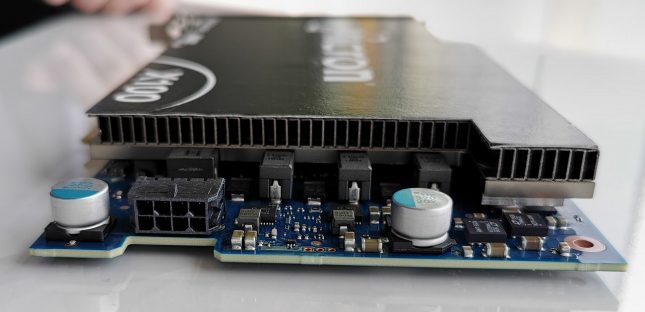 The back of the passively cooled X100 is bare, but you can clearly see where the controller resides and where the 3D Xpoint memory is located.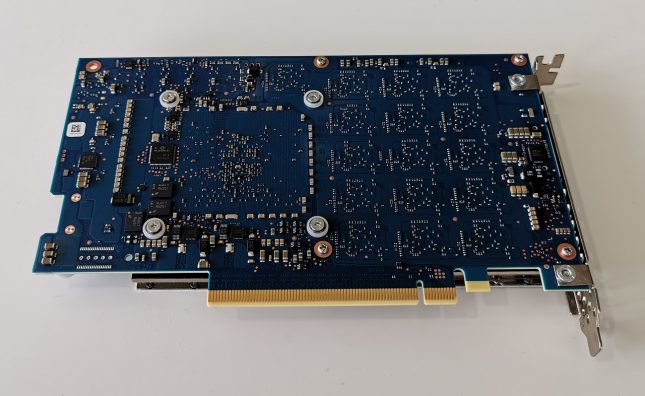 We have a few more pictures of the X100 available on Twitter:
The @MicronTech X100 is most sophisticated and complex product Micron has ever built. It is also the fastest. Over 9 GB/s of bandwidth and 2.5 million IOPs! Guess who is holding the X100 and a 9300 drive? This happy guy!#ssd #MicronInsight pic.twitter.com/VVpq1rrIV8

— Nathan Kirsch (@LegitReviews) October 24, 2019