Micron Announces 7.68TB SSD – Micron 5210 ION w/ 3D QLC NAND Flash
By
Today at Microns Analyst and Investors event, Micron unveiled that the industrys first QLC SSD is already shipping to select customers. The 5210 ION SSD harnesses Microns 3D QLC NAND to target read-intensive workloads in artificial intelligence and the cloud – achieving up to 33% higher density than previous generation TLC NAND. Broad market availability of the Micron 5210 ION SSD is expected in the fall of 2018.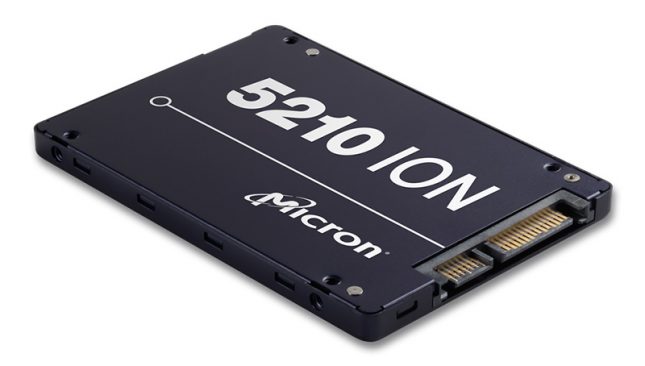 The Micron 5210 ION SSD was optimized for read-intensive cloud workloads, such as artificial intelligence (AI), machine learning, real-time analytics, big data and media streaming, so this is an enterprise drive and not something that will be seen in client systems. Micron 5210 ION SSDs are available in the 'standard' 2.5-inch (7mm) SATA form factor in capacities ranging from 1.92TB to 7.68TB. That means your typical 1U, 10-bay chassis can be filled with 10 Micron 5210 ION 7.68 TB drives with QLC NAND and have the ability to store 76.8TB of data! That is super impressive and will help data ceners build out to reach today's demands with room for tomorrow's growth. This was made possible to the new 96-layer 3D QLC NAND part that was just announced today by Intel and Micron.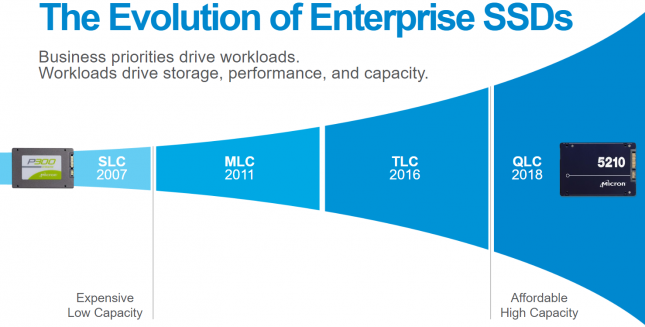 According to Sumit Sadana, Microns Executive Vice President and Chief Business Officer, "This breakthrough QLC SSD will usher in a new generation of storage products that allows enterprise and cloud customers to experience the benefits of NAND flash across an expanding array or workloads that were previously relegated to slow, power-hungry hard drives. This innovative solution is another example of Microns accelerating momentum in bringing high value solutions to market and creating true value for customers."
Legit Reviews asked Micron for pricing information and they declined to share further product details at this time. They did let us know that further product details including the speeds, endurance, etc will be announced later this fall when the Micron 5210 ION SSDs are made available to all. You can dig through Micron's technical briefs and for more QLC details here.