Mentor HSMT-UD Headphones
By
Specifications
| | |
| --- | --- |
| Model no. | HSMT-UD |
| Size: | Deluxe light weight compact portable |
| System Requirements: | Any personal computer with USB 1.0 or great connector. |
| | Windows (98SE ,ME ,2000 ,XP) or MAC (OS 10+) operating systems. |
| Drive unit | Front 40mm, Center 13mm, Surround 13mm |
| Impedance | Front 32ohm, Center 16ohm, Surround 8ohm |
| Frequency response | 20 hz – 20 Khz Sensitivity 103db |
| Cord length | 8 ft |
| Headphone weight | 5 ounce (deluxe) |
| Control module & USB cord weight | 5 ounce |
| Package weight | 14.8 ounce (420 g) |
| Packing size | 220 X 195 X 85 mm |
Product Testing
I first listened to music and then watched a couple of action DVD movies with the Mentor HSMT-UD headphones and thought they sounded great. I really noticed the difference when I used them to play games. I first tried them with Battlefield 1942 and found it much easier to tell which direction I was taking fire from. After several hours breaking them in, I decided to try them on my new favorite game: Far Cry.
Once again, I was immersed in the game with the help of the Mentor HSMT-UD headphones. They offered superb sound and I forgot I had them on at all. I was even able to hear the footsteps of my enemies around me as well as the other intricate sounds of the game. A nice feature is the Safebass technology I mentioned earlier. This came into effect several times while playing and having a rather large explosion that would normally shake the walls of my small home office, instead I heard the clear sounds of tanks exploding and all Hell breaking lose. Had the Safebass not kicked in I may have suffered more than just the humiliation of dying several times at the hands of a 10 year old game wizard on the other end of my Battlefield 1942 online excursion.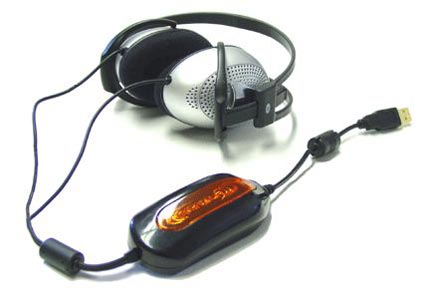 Final Thoughts
I would recommend the Mentor HSMT-UD headphones to anyone that wants to really immerse themselves in a great game or even kick back and watch a movie with a nice soundtrack. Be sure you set the volume on your PC prior to launching a game or watching a movie, because the Mentor HSMT-UD headphones will blow your socks off the first time you hear something with bass. The great part about these headphones was playing my favorite games in full surround sound and not hearing the wife yelling to turn it down!