Make your Rig a True 4K Gaming PC for the Holidays
By
The holiday shopping season is in full effect and thankfully Black Friday and Cyber Monday are both behind us. The vast majority of holiday season shopping will occur over the next four weeks and now that you've got your loved ones covered you can look around for some deals for yourself. There are a bunch of holiday sales on 4K monitors right now. For example you can pick up a 32″ 3840×2160 4K 60Hz HDR FreeSync IPS monitor that has a 2ms response time for $379.99 shipped right now.
If you are looking to your enhance computer experience by upgrading to a 4K monitor you can now do it without breaking the bank. These 4K displays (also known as UHD) boast a whopping 8.2 million pixels and all those extra pixels mean more graphical power is required. Most all 4K displays are capped at a 60Hz refresh rate (60 frames per second), but only the latest discrete graphics cards will let you have an enjoyable gaming experience at that resolution. The good news is that these 4K displays will deliver ultra-high-definition graphics that are crisp and lifelike in your favorite game or even if you are streaming Netflix. Many gamers might be wondering if the time is right to upgrade to a 4K monitor for the very first time, so we wanted to show you what you might be missing out on.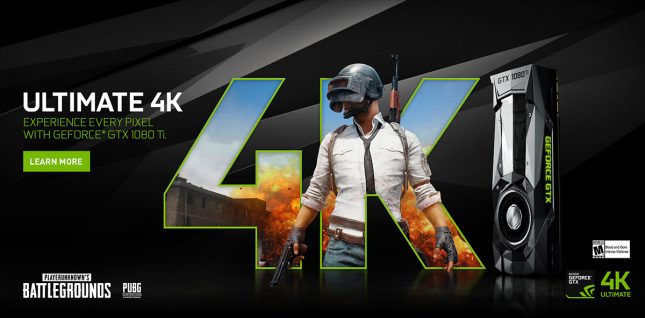 We moved over to a 4K monitor years ago and know many others did as well. That means there are likely a large number of people playing on 4K monitors on GPUs that are under delivering. If you are playing on a 4K monitor with a GeForce GTX 980, or even a GeForce GTX 1060, what are you leaving on the table? At 30 fps and/or low settings, youre not fulfilling the promise of a 4K experience and your gaming experience can be greatly improved by stepping up in GPUs. If you are gaming on a GeForce GTX 1080, GeForce GTX 1080 Ti or Titan Xp on a 1080P display, now might be the time to move up to 4K!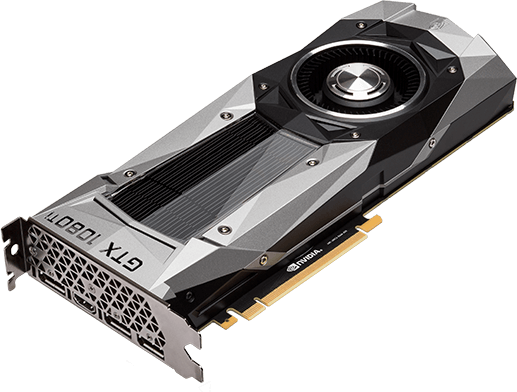 Many of today's largest and most popular game titles are coded to be experienced in hyper-realistic 4K resolution. They are optimized for 4K with enhanced graphics and textures that demand more horsepower from your GPU to experience games at 4K high settings at 60 FPS. The list below is provided by NVIDIA and it continues to grow. You can also see how sweet actual 4K gameplay is on GeForce GTX cards on YouTube here.
Battlefield 1
Destiny 2
Divinity Original Sin
Doom
FIFA 18
Fortnite
Forza Motorsport 7
Gears of War 4
GTA V
H1Z1
Halo Wars 2
Hellblade: Senuas Sacrifice
Law Breakers
Middle-earth: Shadow of War
Nex Machina
No Man's Sky
Overwatch
PLAYERUNKNOWN Battlegrounds
Prey
Pro Evolution Soccer 2018
Project Cars 2
Resident Evil 7
Sniper Elite 4
Tekken 7
Witcher 3
Wolfenstein 2
There are a lot people playing on 4K monitors on GPUs that are under delivering. If you are playing on a 4K monitor with a GeForce GTX 980 that was released in September 2014 you might find that it struggles to deliver on some of today's most popular game titles. The most popular PC game title right now is PLAYERUNKNOWN'S BATTLEGROUNDS (PUBG) with over 22 million copies sold since March 2017 and it is actually a very tough game title for graphics cards to handle.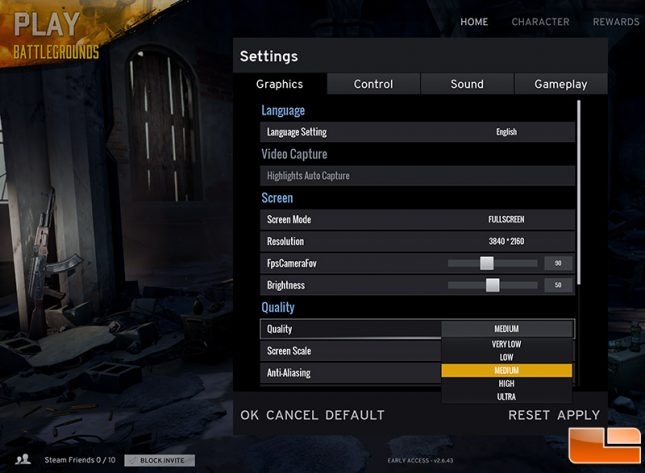 For example in PUBG our testing showed that a GeForce GTX 980 best plays PUBG at 4K on very low image quality settings with speeds dipping down into the low 30 FPS range. At 30 fps and very low settings, youre not fulfilling the promise of a 4K experience. To crank up the image quality and to get smooth 60 FPS gameplay you'll need to step up to the latest GPUs.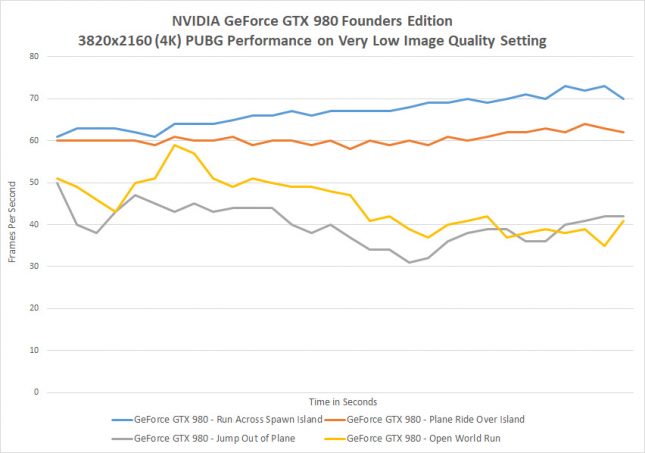 We played PUBG on the NVIDIA GeForce GTX 980 Founders Edition on our Intel X299 platform while recording the FPS in four different areas of the game. The GeForce GTX 980 did a pretty respectable job and never dipped below 30 FPS although it came close to doing so. When running around Erangel by school we noticed the frame rate was usually between 35-60 FPS with no one around. When other players came into view and needed to be rendered the performance did decrease a bit more than this, but this wasn't shown as it is tough to replicate what other players are doing when 99 people are on the server.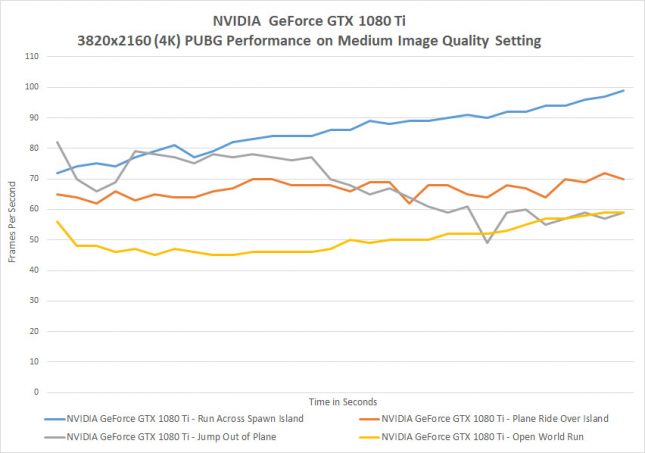 After swapping out the GeForce GTX 980 for the Pascal-powered NVIDIA GeForce GTX 1080 Ti ($759) that was released in March 2017, we discovered that this single-card solution is capable of a 4K medium settings between 45 to 100 FPS. Tweaking the default 'medium' image quality settings a little bit will easily get you in the 60 FPS range to enjoy PUBG at 4K. Playing PUBG with the newer GeForce GTX 1080 Ti not only gave us a smoother frame rate, but the image quality difference between very low and medium was huge.
In case you don't play PUBG we took screen shots of the five default image quality presets for you to compare.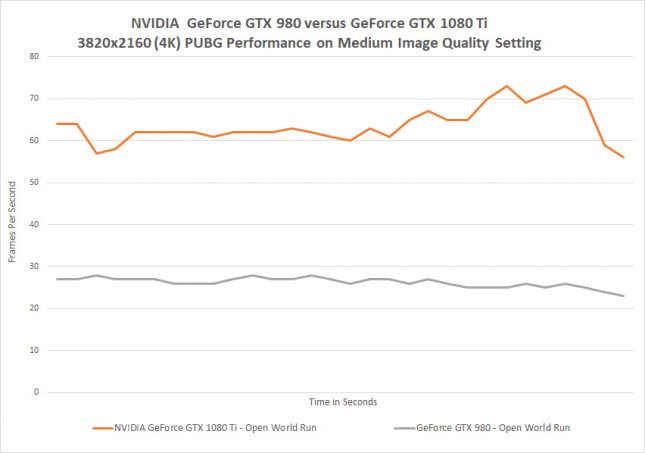 If you set both cards to the same image quality setting (medium) for an open world run on Erangel north of Rozhok on the other side of the river the difference between the two cards was night and day. The NVIDIA GeForce GTX 1080 Ti never barely dropped below 60 FPS and the GeForce GTX 980 was never able to run above 30 FPS. This area right in the middle of the map has a good mix of buildings, trees and hills. If you love to play PUBG and want the ultimate 4K gaming experience you'll need something like the NVIDIA GeForce GTX 1080 Ti to experience most any game title you can think of at 4K medium/high settings at 60 FPS!
You can search for a new 4K monitor and NVIDIA GeForce graphics card on Amazon or your favorite retailer!
This coverage was sponsored by NVIDIA.