MAINGEAR Unveils 18-core ALPHA 34 All-in-One PC
By
MAINGEAR Unveils ALPHA 34, the Worlds First AIO Armed with 8-core Intel Extreme Edition and 18-core Intel Xeon processors
Battle-ready All-in-One PC with stunning 34-inch curved ultra HD display, liquid cooled overclocked processors, and full-sized graphics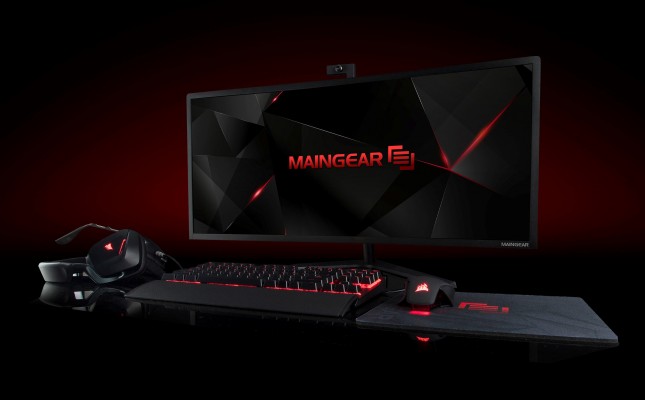 Kenilworth, New Jersey January 4, 2016 MAINGEAR, an award-winning PC system integrator of custom gaming solutions, unveils ALPHA 34, the worlds most powerful All-in-One PC and the first AIO armed with up to an 8 core Intel Extreme Edition, or an 18 core Intel Xeon processors.

MAINGEARs ALPHA 34 demolishes benchmarks and delivers a breathtaking experience out of the box with a combination of Intel 5960X processors; NVIDIA 980Ti, Titan X or AMD Radeon R9 390X; 32GB of premium Kingston DDR4 RAM; and Samsung 950 Pro M.2 NVME SSD hard drives. The ALPHA 34 also features a gorgeous 34-inch curved display capable of pumping out eye-opening graphics with a magnificent 3840×1440 resolution.

The superb combination of Intels blazing fast processors with state of the art graphic cards and an astounding screen, gives ALPHA 34 the muscle to handle any task while being the centerpiece in every room, says Wallace Santos, CEO and Founder of MAINGEAR. ALPHA 34 is a super stocked modern dream car with old fashioned muscle under the hood that is perfect for gaming, movie watching or even designing in Adobes Creative Suite.

ALPHA 34 is completely customizable and fully upgradable, assembled with standard desktop components, and can push performance limits with full-sized desktop gaming and workstation graphics cards. MAINGEARs ALPHA 34 also features maintenance-free closed looped liquid cooling to ensure quiet and cool operation under the most stressful situations, along with Intels future-proof and upgradable webcam.

We are confident that the ALPHA 34 will blow away traditional conceptions about AIOs and will be the new standard for years to come, adds Santos.

Gamers craving even more performance can get the most out of their system with MAINGEARs REDLINE, a factory tested overclocking service that safely pushes the system to its maximum potential. MAINGEARSs ALPHA 34 with up to Intels 8-core Extreme edition and 18-core Xeon processors is now available for customizing starting at $1999.

For more information about the ALPHA 34 or MAINGEARs entire selection of cutting-edge gaming solutions, please visit www.maingear.com/alpha.