MAINGEAR FORMA R Nero Gaming Chair Review
By
MAINGEAR is best known as a PC system builder that creates some of the best over-the-top gaming PCs on the market, but they have recently been expanding into new products lines. Seeing a company branch off their core business to launch PC gaming peripherals and accessories is nothing new. MAINGEAR expanding into gaming chairs seems like a natural evolution for a company that has been focused on gamers for over 15 years.
MAINGEAR designed its new "FORMA" chairs in-house after company founder and CEO Wallace Santos had a "poor experience" when he personally needed a gaming chair. The FORMA series is not just another rebadged gaming chair according to MAINGEAR and is backed by a lengthy 5-year warranty. The warranty doesn't cover wear and tear from normal use, but does cover the gas cylinder and frame.
There are three FORMA models available: FORMA R Nero in red and black, FORMA R Aspen limited edition in white and black, and FORMA GT Nero in red and black. Both Forma R models have a recommended weight limit of 330 pounds, while the Forma GT bumps that up to 350 pounds. The FORMA GT also has an "extra large" seat that is ideal for those with a large frame or just looking for a fat man friendly gaming chair. All three chairs are priced at $349.99 shipped on Amazon or picked up locally at a Micro Center store near you.
The seat that we were sent to try out was the MAINGEAR FORMA R Nero and it was shipped to us via Fedex Ground directly from MAINGEAR. The box is pretty massive and the shipping weight on the label was 66.60 pounds. It might be best to have a friend with you to help move the box around and it will also make assembly faster.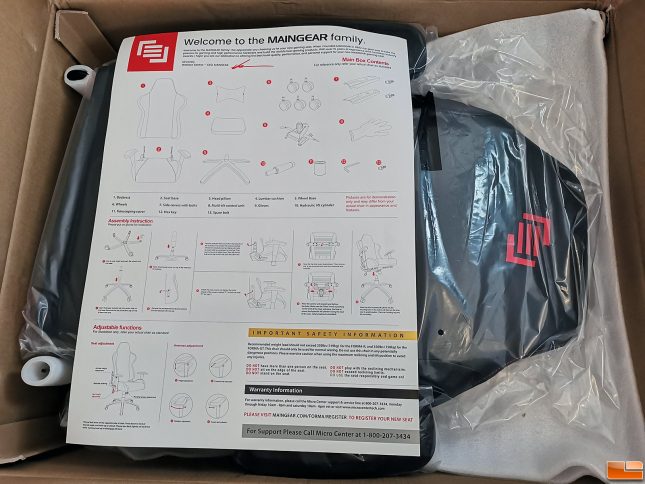 Inside the box you'll find super easy to follow instructions that includes a message from MAINGEAR along with safety and warranty information.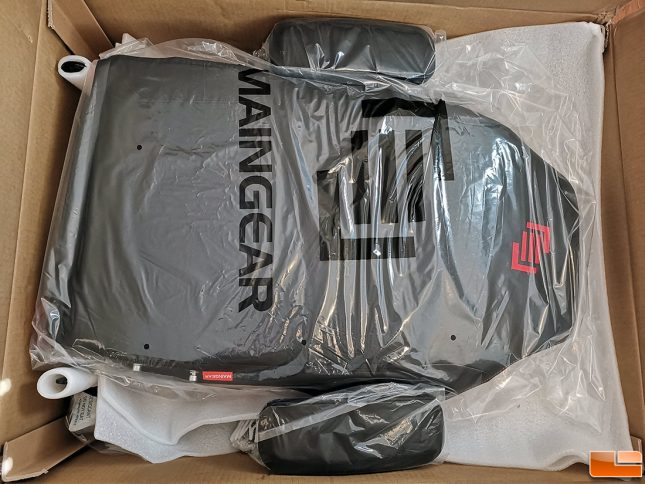 Everything is packed in clear plastic bags with packing material between each layer. We carefully took everything out of the box, but got nervous when saw a tiny 1/2″ piece of cracked plastic at the bottom of the box. Where does that piece go?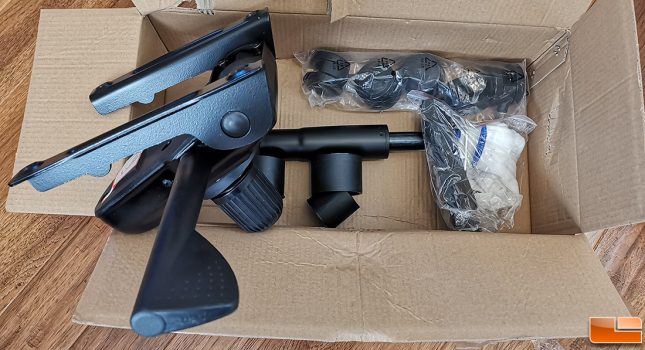 There is a box inside the box and that is where you'll find the wheels, multi-tilt control unit, telescoping cover pieces, wheel base, hydraulic lift cylinder, white gloves and a spare bolt.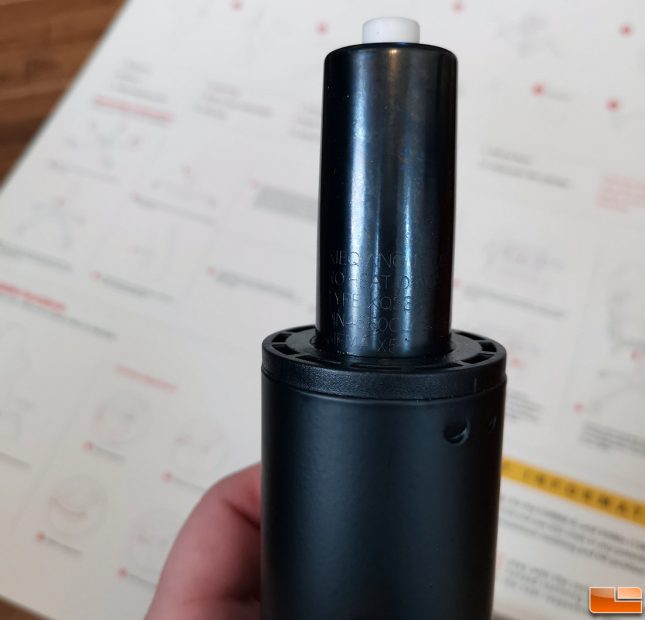 MAINGEAR went with a XIEQIANG Type XQ338 CLASS 4 office chair gas lift spring by Yue Qiang Gas Spring Manufacture CO., LTD. This is one of the more popular hydraulic gas lift cylinders for swivel chairs on the market, so it should be great for this application.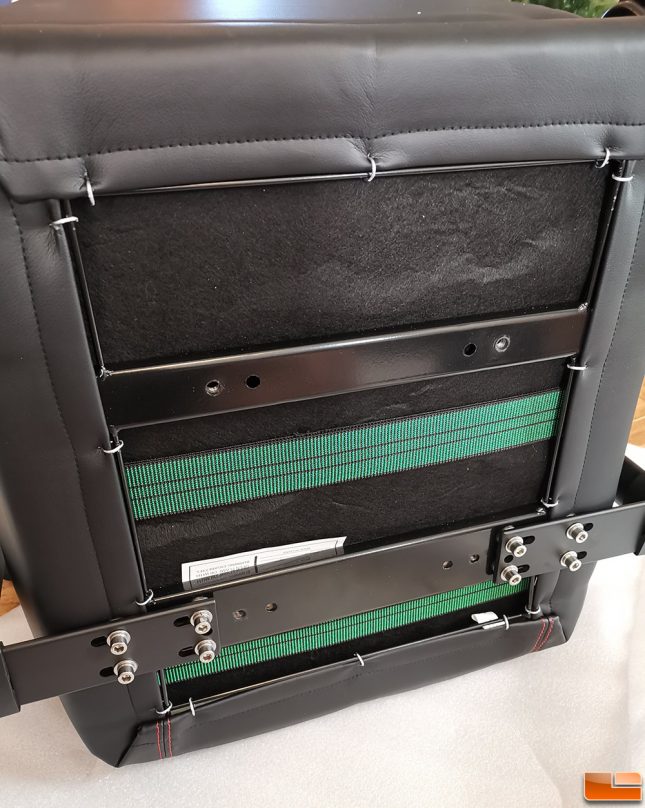 We won't be covering assembly for this review as it's similar to any other gaming chair. You have four bolts that hold the back of the chair to the base, two bolts for the plastic covers that hide those bolts and then there are four bolts that hold the bottom to the tilt mechanism. The instructions provided are easy to follow and assembly should take 15 minutes or less. All the tools that you need are included, so just open the box and get going! We should note that this chair does have a full steel frame with an aluminum alloy base.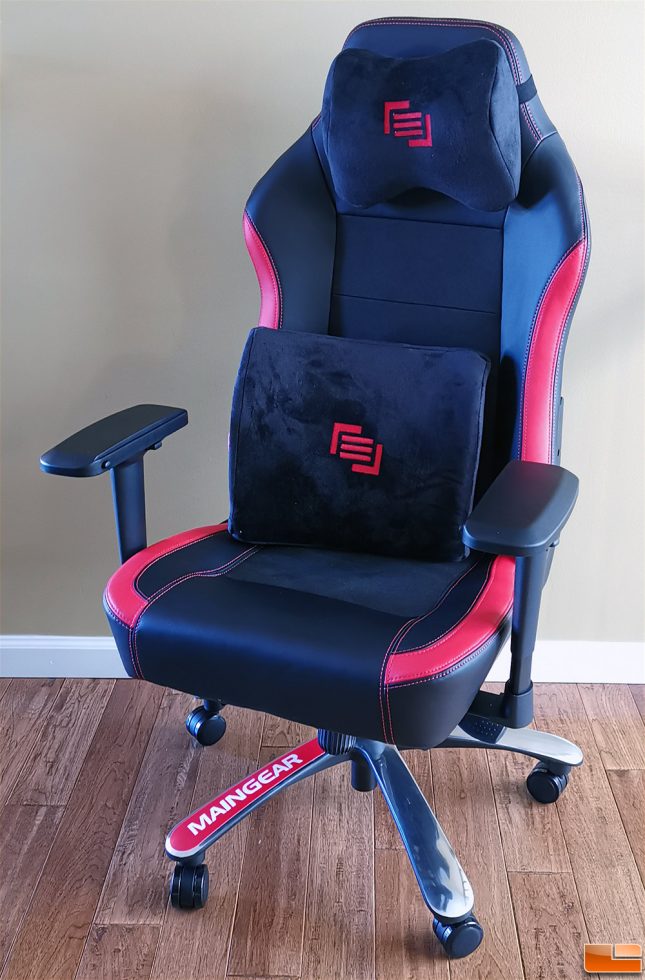 With the chair fully assembled it looks pretty damn good. The FORMA R Nero is made from really nice materials and everything you touch feels good. MAINGEAR selected soft leatherette, water-resistant synthetic suede and dyed thread. This means it not only looks good, but it something that is pleasurable to touch. MAINGEAR also includes a memory foam headrest and lumbar pillow that are covered in soft breathable micro fleece. If you sleep in your chair often you'll be happy to learn that this chair has a 165 degree recline angle, so it almost lies flat. The pillows feel amazing, but I don't sleep in or use pillows on my gaming chairs. That means I end up with a pillow free chair.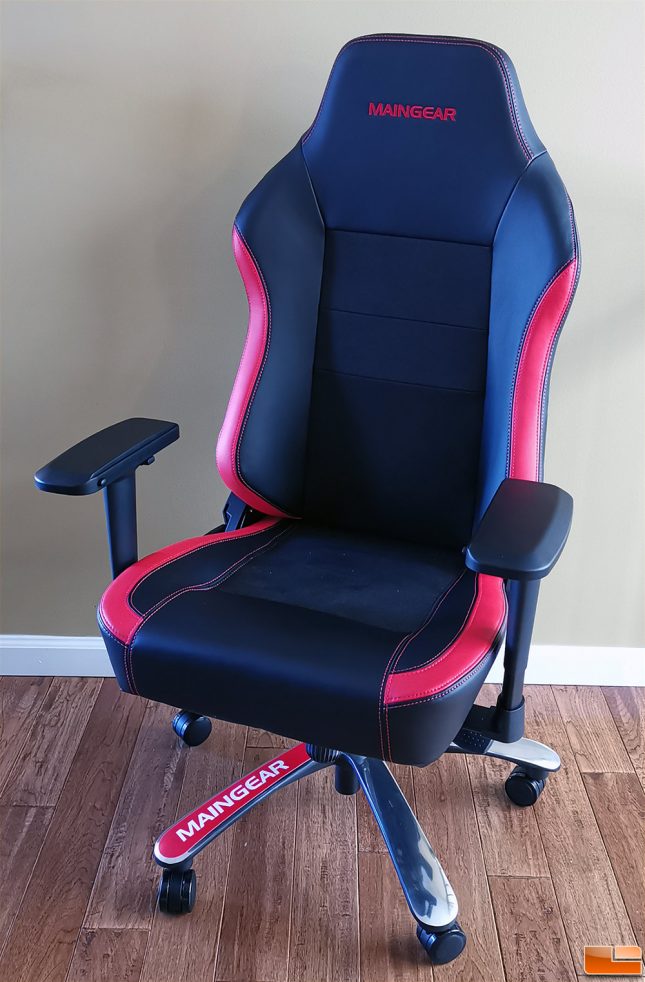 Now we have a chair that is very roomy and super comfortable thanks to the seat base having memory foam filling. MAINGEAR says that they used state-of-the-art full seat pressure mapping to ensure maximum comfort and even pressure distribution to develop the seat cushion. We had a good number of people try the chair and all thought that it was comfortable and had a fitting feel for a chair that is $350.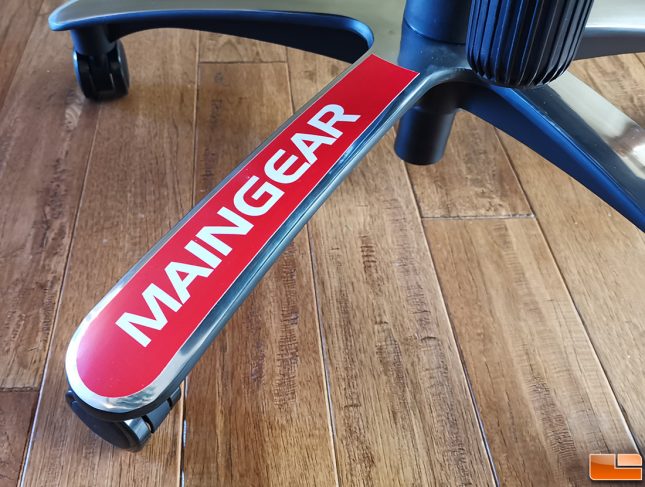 In fact, the only complaint that we heard from those that tried it was that the MAINGEAR sticker on the aluminum base was a bit too much branding for them. The good news is that with some time and elbow grease that you could remove that sticker if you really wanted. We should also point out that the entire base is metal, so this gaming chair base should last forever.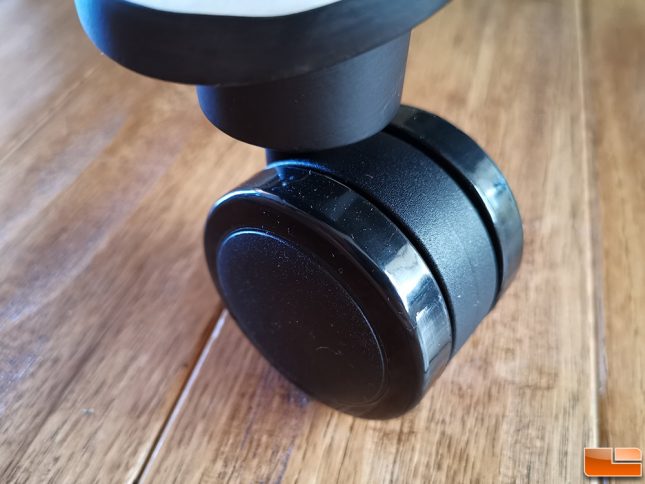 The nylon wheels on the MAINGEAR FORMA are super quiet on hardwood and won't scrape anything. We also like how the inner section of the wheel wasn't left open as at some point in time you'll run something over that you didn't mean to and it won't get stuck up in the wheel as easy with this design.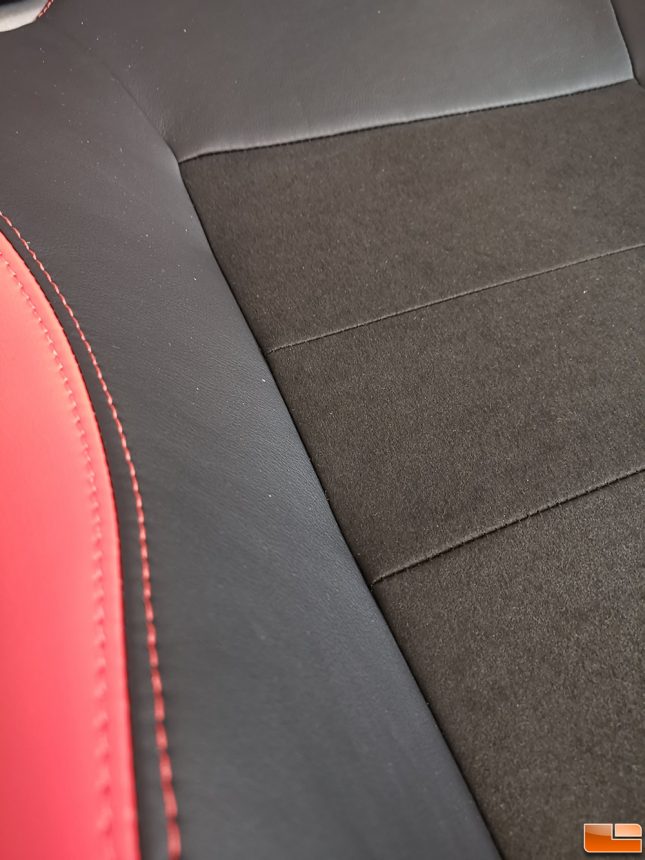 The stitching and material selection on the MAINGEAR FORMA were excellent. We've only been using the chair for 4-weeks, but it's held up good so far and we'll update this review if we have any wear issues that pop up over time.
Here is a closer look at the 4D adjustable soft armrest that allows you to position them for perfect comfort. The armrests on this chair get the job done, but could be improved. We've reviewed and owned about half a dozen gaming chairs and it seems like armrests are really hit or miss. It would be nice to have different tops available to allow for better customization.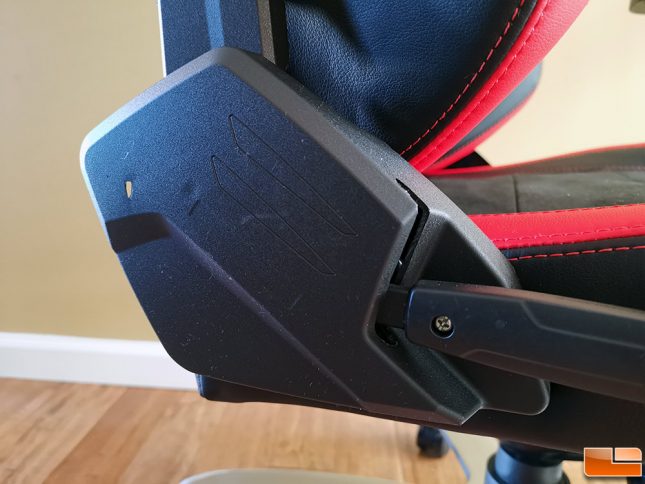 It was only at this point in time that we noticed a hole in the plastic cover that goes around the recliner handle. Remember the plastic piece that was at the bottom of the box? It was an internal gusset that went around the spring and it obviously broke off during shipping. Every gaming chair that we've reviewed thus far is very similar and all have arrived with varying degrees of damage. If you have a local Micro Center it might be worth going and picking one up to potentially avoid minor issues like this!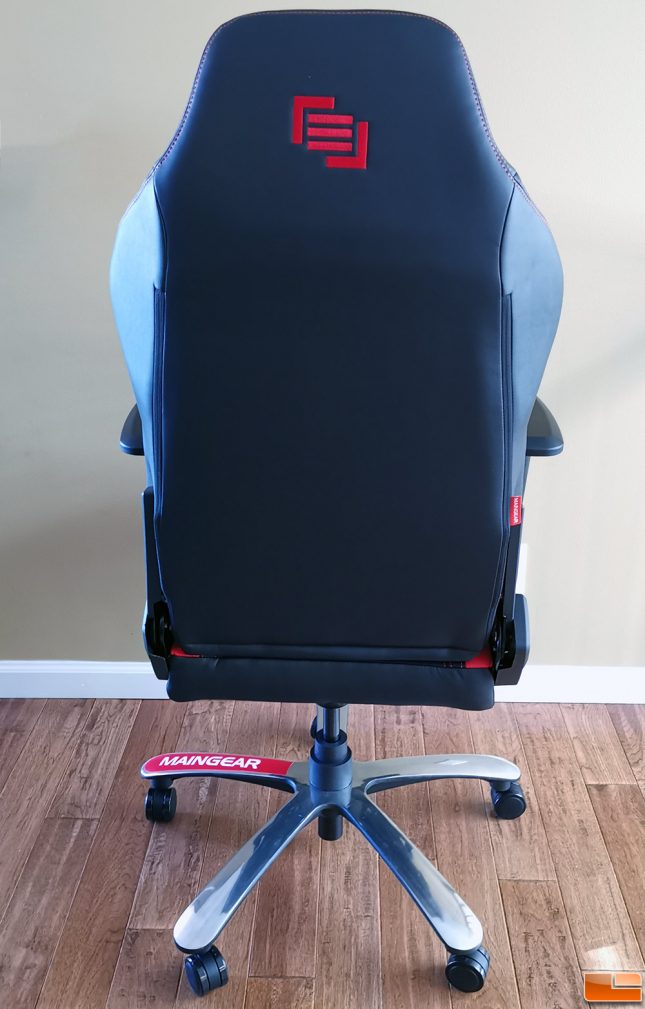 The back of the chair has the MAINGEAR logo in it that looks good. We've seen some companies put a really large and gaudy logo on the back of the chair, so we are glad MAINGEAR kept it classy on the back.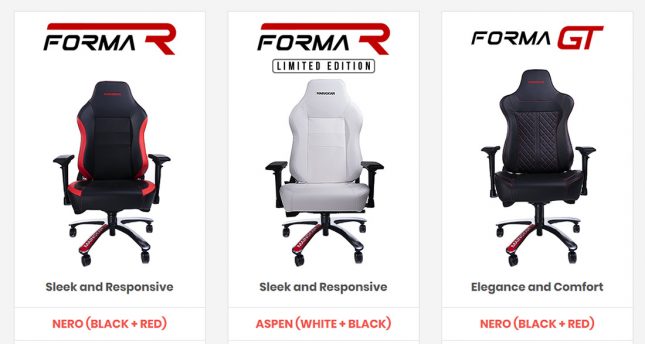 At the end of the day the MAINGEAR FORMA R Nero is a very comfortable gaming chair that is made from good materials. And that is something one should expect from a gaming chair that runs $349.99 shipped on Amazon. The included 5-year limited warranty is also a nice touch on a chair that you'll likely be using for many many years. That is good news for PC gamers that spend a ton of time in a chair streaming PUBG and/or Fortnite matches on services like Twitch and Youtube. Not to mention a gaming chair will make you look professional on your stream. Big name gamers usually get everything for free and some even get paid to use some products, but small streamers will likely need to buy a chair. (Always remember to support small streamers and independent publishers like Legit Reviews!)
Racing-style gaming chairs might not be for everyone, but they look great and are more comfortable than many office chairs that gamers are often using. Did MAINGEAR do enough on the FORMA series to make it stand out from what feels like a market flooded with gaming chairs? We'll let you decide that one!