Mad Catz Ships The R.A.T. PROs Tournament Grade Gaming Mouse
By
Mad Catz Ships The R.A.T. PROs Tournament Grade Gaming Mouse For PC
Newest Edition of R.A.T. PRO Series Designed For Competitive Gamers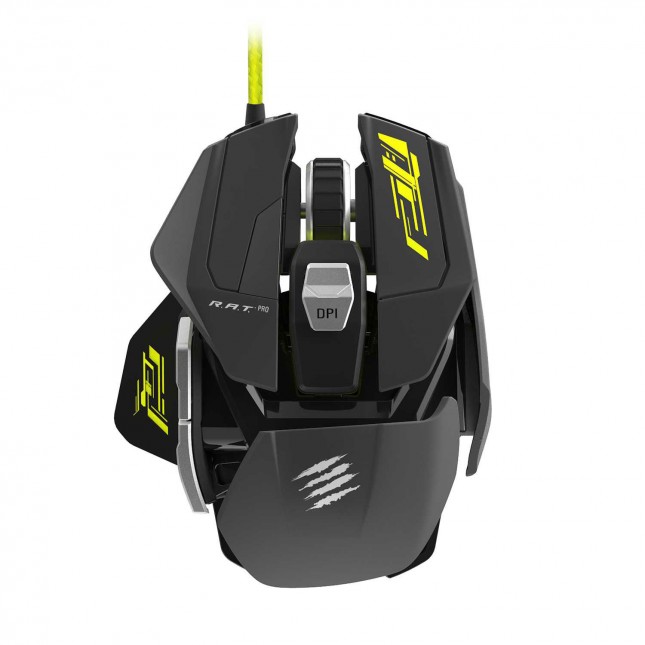 San Diego October 29, 2015 Mad Catz Interactive, Inc. (Mad Catz) (NYSE MKT/TSX: MCZ) announced today the shipping of the R.A.T. PROs, a high performance PC gaming mouse designed to give gamers a competitive edge during tournament play through a winning formula of speed and agility.

Following the critically acclaimed R.A.T. PROX as the latest entry in Mad Catz R.A.T. PRO series, the R.A.T. PROs combines aggressive looks with eSports focused performance features and user customization options.

A high-performance 5000 DPI Pixart PMW3310 infrared optical sensor powers this lightweight mouse (77 grams; 2.71 oz.) that glides effortlessly atop PTFE feet. As with all R.A.T. PRO series gaming mice, the R.A.T. PROs features Mad Catz signature Precision Aim button that temporarily slows the DPI speed of the mouse. A perfect aid for MOBA and FPS gamers alike, the R.A.T. PROs Precision Aim button features two standard DPI settings and enables players to further personalize the settings to match their style of play.

Based on input from eSports competitors, the R.A.T. PROs was designed for tournament play with three configurable on-board memory profiles and auto-profile recognition software that automatically switches the R.A.T. PROs settings to each gamers preferred profile upon detection of their chosen game.

Together with the R.A.T. PROX, the R.A.T. PROs illustrates Mad Catz next-generation of PC gaming and our commitment to designing high-performance products that enhance the experience of competitive gamers, said Darren Richardson, President and Chief Executive Officer of Mad Catz. The R.A.T. PROs combines blistering speed, lightweight design and user customization options, making it an ideal gaming mouse for tournament gamers and beyond, and we look forward to it contributing positively to our Holiday 2015 lineup of products.

For additional information on the R.A.T. PROs, please visit: http://store.madcatz.com/Mad-Catz-R-A-T-PRO-S-Gaming-Mouse-for-PC

About Mad Catz

Mad Catz Interactive, Inc. (Mad Catz) (NYSE MKT/TSX: MCZ) is a global provider of innovative interactive entertainment products marketed under its Mad Catz (gaming), Tritton (audio), and Saitek (simulation) brands. Mad Catz products cater to passionate gamers across multiple platforms including in-home gaming consoles, handheld gaming consoles, Windows PC and Mac computers, smart phones, tablets and other mobile devices. Mad Catz distributes its products through its online store as well as distribution via many leading retailers around the globe. Headquartered in San Diego, California, Mad Catz maintains offices in Europe and Asia.