Logitech Washable Keyboard K310 Review
By
Logitech K310 – The Keyboard That Likes Water
Most of us spend many hours every week typing at a computer, but when
was the last time you cleaned it? How dirty and nasty is your keyboard
that you are using right now? Last month, Logitech unveiled the Washable Keyboard K310 that grabbed our attention as you could easily wash it and the costs just $39.99 shipped.

One study from 2008 discovered that the average keyboard contains 150 times the recommended
limit for bacteria and was five times as filthy as a typical lavatory
seat. When you think about the how many keyboards that you use at public
places, it is easy to get grossed out. Many types of bacteria can
survive on a keyboard, so don't you wish there was an easier way to
clean it? Using disinfectant wipes gets expensive over the years, so a
washable keyboard like the Logitech K310 could make life easier for
germaphobes or anyone that hates dirty keyboards. The Logitech K310 is also ideal for those that are prone to spilling beverages as we all know how tough it is to get a soda and coffee spill cleaned up!
Logitech Washable Keyboard K310 Features:
Washable keyboard: Easy to clean and dry with hand-wash-safe design
Ultra-durable: Built to take a washing and pounding – durable keys with laser printing and UV coating
Comfortable typing: Familiar keyboard layout and clean contemporary design feels and looks great
Plug and play simplicity for Windows PCs: Plug the keyboard into your computer and start typing – no software to install
12 shortcut hot keys (F-keys): Instantly access email, launch a web search or pause music with one touch

The Logitech K310 Washable Keyboard measures in at roughly 17.25 x 5.5 x 0.75 inches and has a weight of 17.25 ounces. It
has a total of 103 keys and a
familiar full-size Windows key layout that is easy to learn. Twelve of the keys are F-keys and all of the keys are laser printed and UV coated.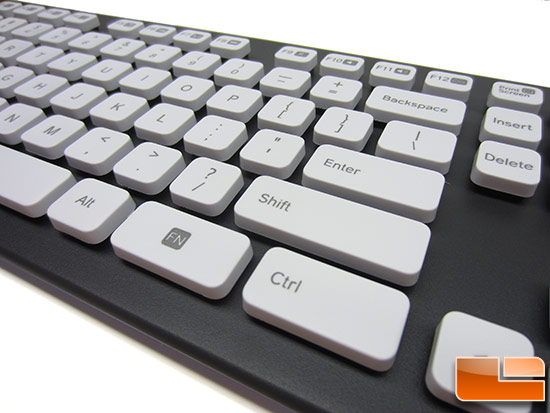 Also notice that the keys done sit down inside the keyboard, so dirt shouldn't get trapped under the keys and down into the keyboard. The keys are low-profile, so the keystrokes are short.

Flipping the keyboard over you can see that the Logitech K310 has drainage holes around the back of the keyboard for speedy drying and is has a blue color.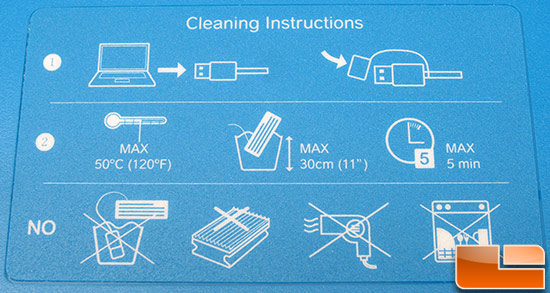 The back of the keyboard also has the cleaning instructions on it. They basically say to cap off the USB 2.0 header and to rinse it off in a sink or small bucket. The Logitech K310 is submersible in up to 30 cm (11.8 inches) of water and can withstand temperatures of up to 50C (120F) for up to five minutes. This washable keyboard looks like it would be easy to rinse off and dry, but don't put it into the dishwasher! We were told that the dishwasher gets too hot and the cycle takes too long. So, this keyboard is hand wash only with a soft cloth in warm water!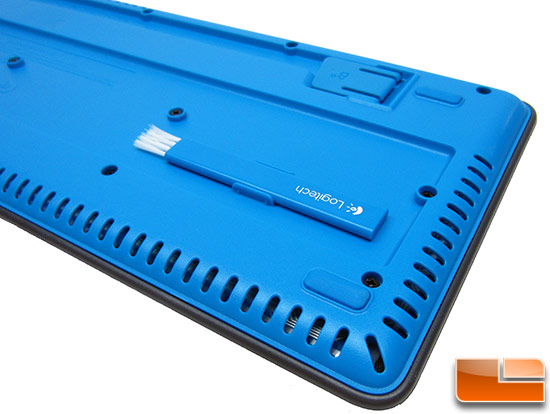 You can also see the cleaning brush that attaches to the back of the keyboard to clean around and under the keys when they get dirty. The back of the keyboard has five rubber pads to prevent your desk from getting scratched and a pair of tilt legs that put the keyboard at an 8 degree angle.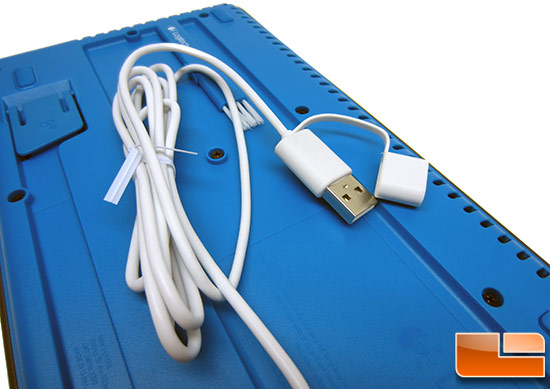 The Logitech Washable Keyboard K310 uses a USB connection and the cable is 5.9 ft. or 1.8 M long with a cap to help keep water out of it when being washed. This keyboard is plug and play, so there is no software to install and it works on Windows XP, Windows Vista, Windows 7 and Windows 8.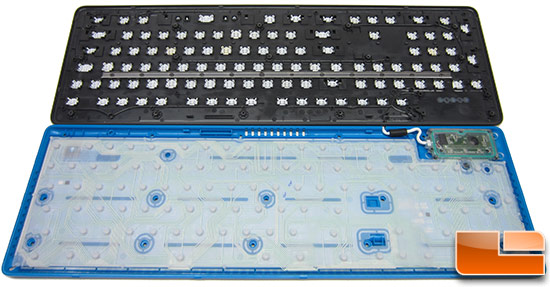 No review is truly complete without taking something apart, so we took the Logitech washable K310 keyboard apart to see what components are being used. Once we took it apart we found that Logitech is using a rubber dome-switch keyboard. A dome-switch keyboard works when a finger depresses the dome to complete the circuit. Rubber dome switches are commonly referred to as polydomes and have been around for a number of years. This type of key switch is very quiet since there is no metal or mechanical switch, but they also feel 'mushy' by many as they do not offer a good tactile feedback when pressed.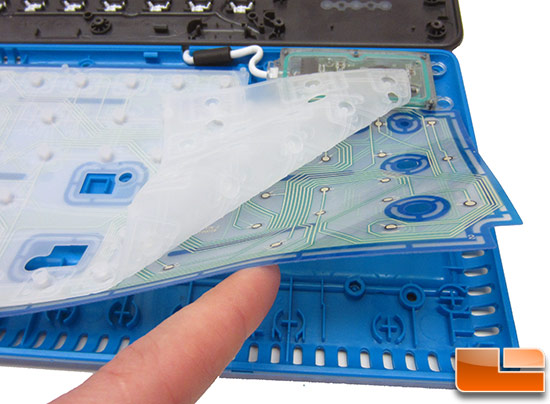 The picture above shows the flexible piece of silicone that contains the dome and then under that you have a thin piece of sealed plastic that actually contains the metal switch. When a key is pressed, it collapses the dome, which connects the two
circuit traces and completes the connection to enter the character. Logitech says that the K310 Washable Keyboard keys can last up to 5 million keystrokes.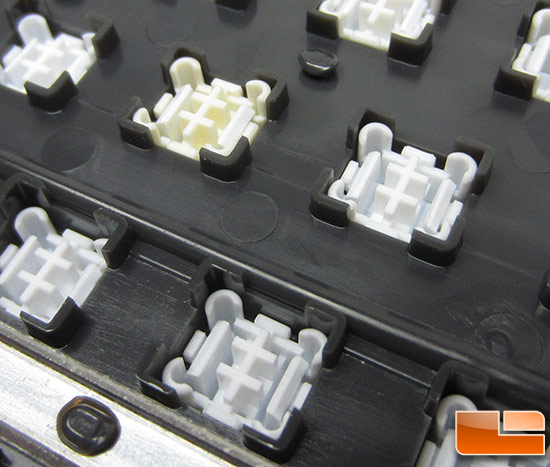 Here is a closer look underneath each key. You can remove them individually, so if one needs a good scrubbing you can always take the keyboard apart and clean it up even better.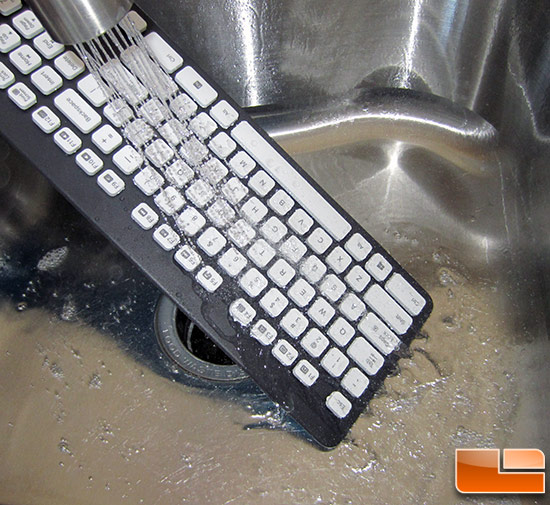 We have used the Logitech Washable Keyboard K310 for over a week now and found it to be easy to clean in our sink and has easily survived more than a dozen washes. The keyboard gets the job done, but is best suited for those that need a washable keyboard and are okay with the mushy dome-switch keys. We switched over to mechanical keyboards here in the Legit Reviews headquarters years ago and prefer the feel and quality of mechanical keys. That said, the Logitech Washable Keyboard K310 works as it was designed to and is priced right. You really can't complain with a washable keyboard that is $39.99 shipped and is backed by a 3-year warranty.
We will cross our fingers and hope that Logitech is working on a washable keyboard for the high-end enthusiast/gamer market that has mechanical keys, anti-ghosting technology, software programmable keys and some backlighting! That would likely increase the price to well over $100, but there is likely a market for such a keyboard as we all know die hard PC users often eat over their keyboard!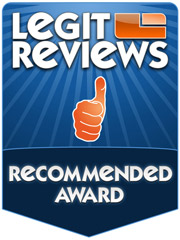 Legit Bottom Line: The Logitech Washable Keyboard K310 was built to be washable & affordable and it looks like Logitech did a great job on both fronts!