Legit Reviews Visits NAVER Data Center 'GAK' in South Korea
By
NAVER, founded in 1999, is South Korea's largest web search engine and is often referred to as "the Google of South Korea." The company offers NAVER, a search portal that provides various content topic boards; LINE, a messaging application; NAVER Clova, an AI platform; Papago, an automated interpretation application; WHALE, a Web browser; NAVER Maps, a navigation application; V LIVE that allows celebrities to broadcast themselves live; Webtoon, a mobile comics platform; SNOW, a photo and video messenger; BAND, a group communication application; and AudioClip, an audio content platform. NAVER also provides pretty much any online service that one could imagine.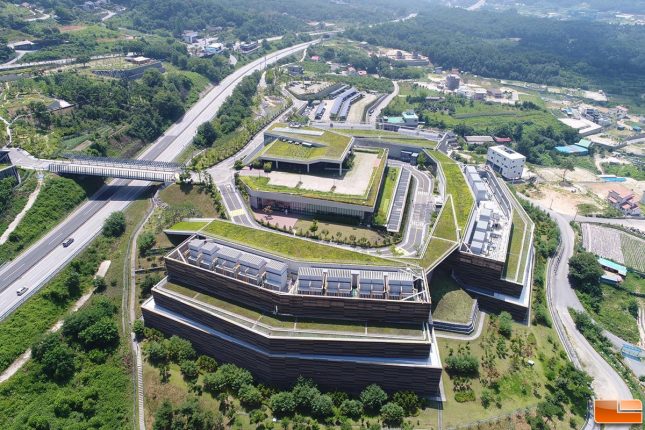 Legit Reviews was recently in South Korea and was invited by Intel to visit one of their local data centers. The destination was NAVER's Data Center 'GAK' in Chuncheon, Gangwon Province. We happily accepted the invitation as not too many people get a chance to go into such a secure site. The Data Center GAK was opened in June 2013 and consists of 4 server buildings on the side of a hill overlooking the city.
The data center campus is beautiful, but it also happens to be environmentally friendly. In fact, NAVER has received the top LEED platinum certification for how efficient the facility is. The facility was designed to save 73.84% of the annual energy cost and proudly displays their LEED Platinum Certification and an 'Energy Champion' certification from the Korea Energy Agency for being so energy-efficient.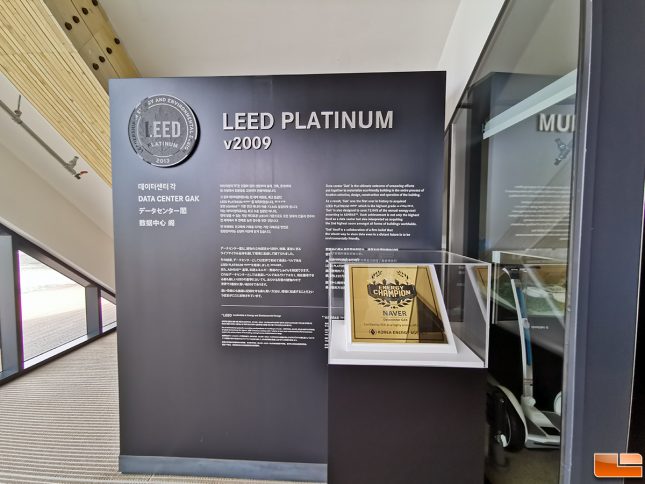 Once we made it past the foyer we headed to the front desk where we had to provide ID for the tour.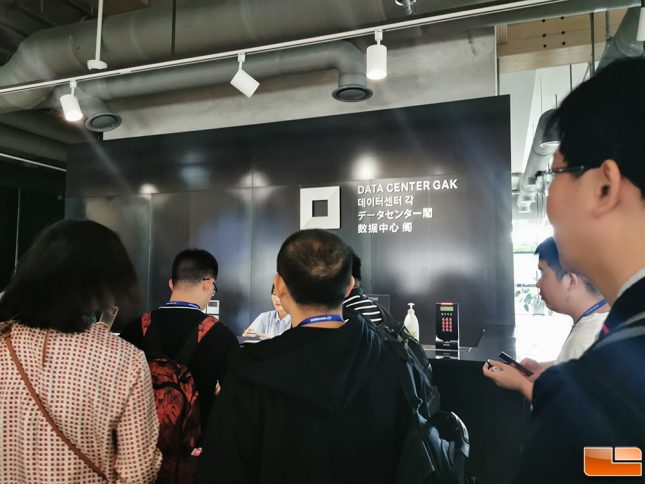 NAVER then placed security stickers over our phones front and rear facing cameras while informing us that no more photos could be taken. NAVER is trying to keep their unique data center layout as secret as possible as well as their proprietary cooling system and server racks.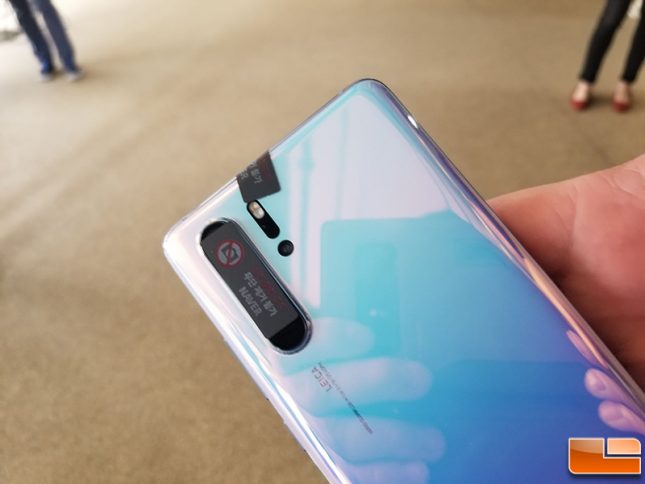 Before our tour, we got a chance to hear Kieun Park, NAVER Chief Technology Officer, speak about NAVER. NAVER is not a household name in America, but their service portfolio is expansive to say the least! NAVER handles about 75% of all web searches in South Korea and has about 30 million daily visitors. NAVER is currently transitioning from user service provider to a cloud service provider. The NAVER world cloud platform has 11 data centers countries such as Korea, Singapore, Hong Kong, Japan, Germany and the United States.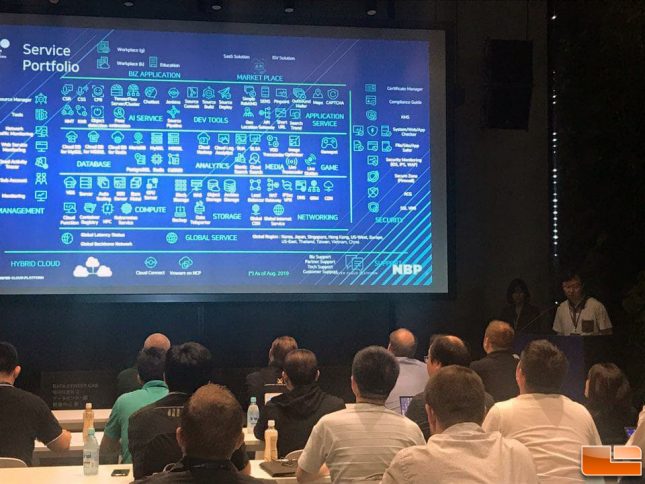 We were also shown a video about the data center that you can watch here (We removed the embed since it would auto-play and we hate that).
One of the collaborations between Intel and NAVER is a 5G (cloud-based) brainless robot that was shown off at CES 2019 earlier this year. NAVER explained during our briefing that what makes this 5G brainless robot so innovative is the fact that the robot does not contain a high-performance computer. The 'brain' is located in the cloud that the robot connects to via the 5G network. NAVER claims they have figured out an ultra-low latency way to control the robot using the 5G network and Intel hardware. They've managed to give commands to the motor in just 5ms (1ms for the 5G network and 4ms for the process to be computed in the cloud). Intel Xeon processors with Intel Optane DC Persistent Memory are powering the cloud computers and Intel Atom processors can be used on the edge server.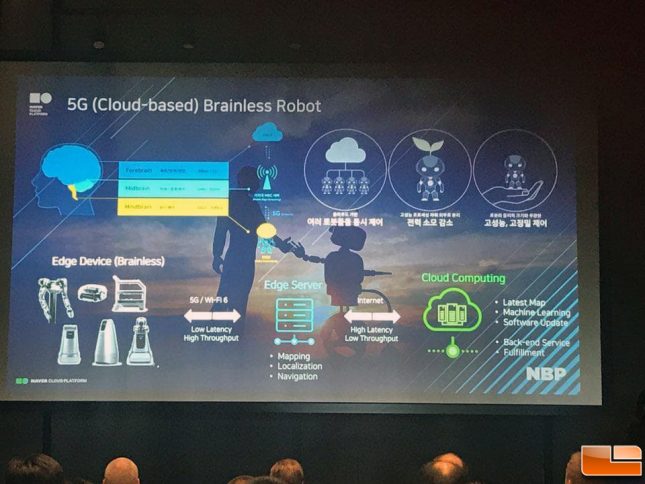 NAVER's most recent server room in Data Center 'GAK' uses 2nd Generation Intel Xeon Processors along with Intel Optane DC Persistent Memory with over a 1TB memory pool. NAVER is also starting to build a new $400+ million world class hyperscale data center in Yongin, just south of Seoul to keep up with growth over the next 10 years. NAVER is expecting that many of Intel's data center technologies will apply when they are ready to populate it servers.
Kristie Mann, Intel Senior Director of Product Management for Intel's Optane DC persistent memory products, then awarded the NAVER business platform for excellent collaboration in both technical and business partnership. This is only the second time this award has been given out!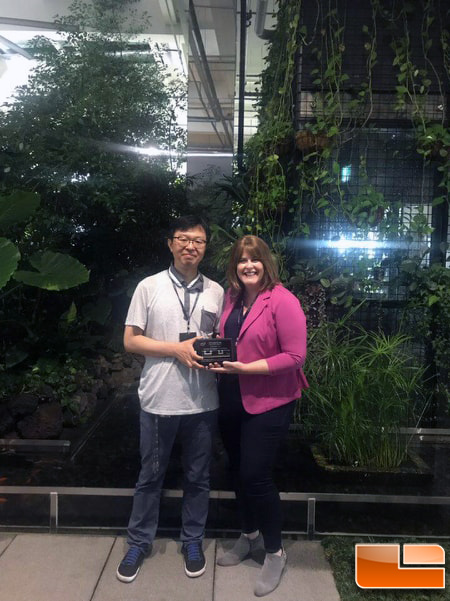 During the tour we weren't allowed to take any images, but we were given one photo from NAVER that we could show you. We aren't sure how much we can detail about what we saw, but it was clean and appeared to be well laid out.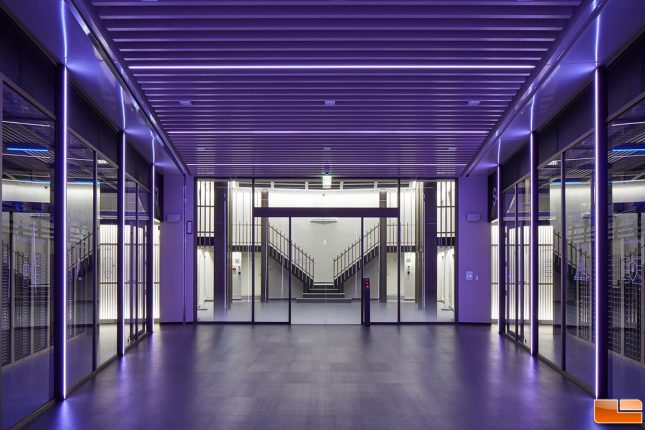 We'd like to thank both NAVER and Intel for the opportunity to visit Data Center 'DAK' on our trip to South Korea this week!