Lamptron FC-8 Fan Controller Review
By
Introduction – Lamptron's FC-8 Fan Controller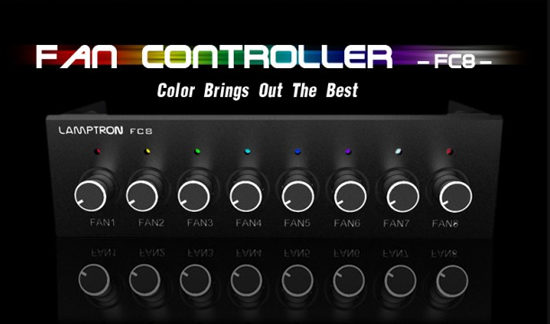 Lamptron is a new company to the Enthusiast world. Today we get to bring you a review of their brand new FC-8 Controller which offers 8 channels with independent LED selection with an almost unprecedented 30 watts of power per channel with a combined total of 240w available. This product also carries a standard 1 Year Parts & Labor warranty like all other controllers on the market. The FC-8 currently retails for
$69.99,
an apt price for its feature set.
The world of fan controllers is a small sub-domain of the cooling world. Fan controllers are a big hit with water coolers that run many higher powered fans and usually one or two pumps which also demand a large current in comparison to a fan. Fan controllers also have a spot in the heart of those who want silent PC's, giving them the ability to quiet their fans down by lowering the RPM levels.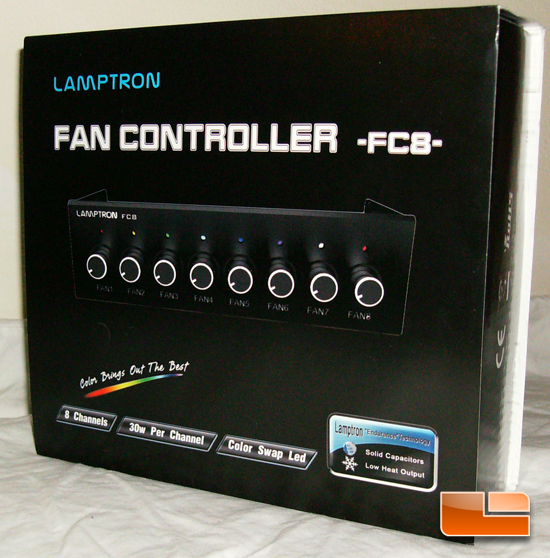 Here is our Lamptron FC-8 controller in its nice and pretty box. Here we get to see a 3D rendering of the FC-8 black model. As I find out later, we'll actually be doing a review of the silver model; though beyond color there is no difference between the two.
Lamptron also decides to let us know that "Color Brings Out The Best" in their controllers, which is a bit of a marketing point of this controller as each channel has 8 different settings for the LED color. There're a few bullet points on here that I shall outline for you.
8 Channel
30 Watts Per Channel
If you do the math, 30w/12v= 2.5 Amps per channel
Color Swap LED
This means that each channel offers 8 different LED colors. (White, Blue, Green, Cyan, Red, Purple, Yellow, & Off/No color)
No actual LED changing is needed. It is done by a combination of pushing in the 1st & 8th channels knobs. Instructions on how to do so are provided.
Lamptron "Endurance" Technology
This "technology" basically outlines that they use high efficiency MOSFETs that are only working at a fraction of their potential so that they do not over heat, even during full load. They combine this with all Japanese made solid capacitors for the reliability that they offer.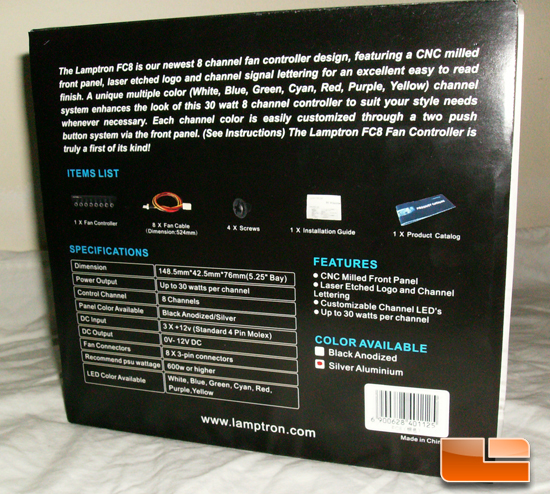 Here is the back of the box; it tells us a few more features along with letting us know what's going to be packaged in the box. I'll retype out that table for you to read, but the top paragraph you can read over if you want; all that information has been laid out before. Here you can also see a nice mark in the Silver Aluminum checkbox denoting that the version we got is the Silver version of the FC-8 controller.
| | |
| --- | --- |
| Dimensions | 148.5mm*42.5mm*76mm (5.25″ Bay) |
| Power Output | Up to 30 watts per channel |
| Control Channel | 8 Channels |
| Panel Color Available* | Anodized Black Aluminum / Silver Aluminum |
| DC Input ** | 3 x +12v Inputs (Standard 4pin Molex Connectors) |
| DC Output | 0V-12VDC |
| Fan Connectors | 8 x 3-pin Connectors |
| Recommended PSU Wattage*** | 600w or Higher |
| LED Color Available | White, Blue, Green, Cyan, Red, Purple, Yellow |
* Both panel styles are brushed aluminum. This should be detailed as aluminum can have various finishes. So it's important to note what kind is available as most aluminum computer cases use a brushed finish.
** DC Input is talking about the connectors "required" for this controller to operate. You can use only 1 molex connector if you do not plan to push this controller to its limit (as in a full 2.5A/30w draw on each channel). If you are using only a single 120mm fan on each channel, or even a single pump, then hooking up all three molex connectors is not needed.
Because of the high potential output of this controller, if you do plan to put a heavy load on it, connecting all three molex connectors is recommended to keep a pin or wire from over heating on your PSU or the controller's input.
*** Recommended PSU Wattage is talking about the size of PSU they want you to pair with this controller; though it is important to note that 600w is not an accurate number to use as this controller is going to pull all but a small portion of its current from the 12v rail of your PSU. A small draw is placed on the 5v rail for the LED's but it is less than a 1Amp draw and miniscule at best. For this reason, I would like to point out that you should pick the right PSU for the job.
This controller will use 240w from the 12v rail if you are maxing out each channel. So that means you should be looking for a PSU with an extra 20 amps available to dedicate to this controller if you plan to max it out.
Alright, that was a bit long winded so we'll move onto an unboxing on the next page and then we shall get to testing and a wrap up.