Lamptron Fan-Atic 5-Channel Fan Controller Review
By
Introduction – Lamptron Fan-Atic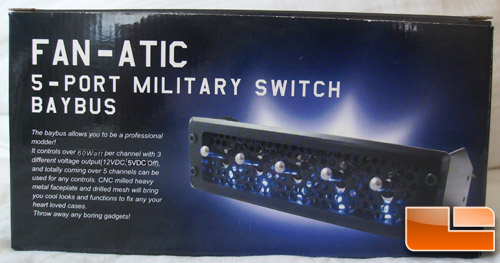 A little while back Legit Reviews had a look at the Lamptron FC-8, a brand new 8 channel controller from Lamptron that did well to color me impressed enough to earn itself the innovation award. Lamptron has another product for us to look at today which has been out longer. The Lamptron Fan-Atic is a controller with more than enough power to tackle any job you could throw at it. Offering an impressive 60watts of power per channel, you will most likely run out of Y cables before you run out of fans to hook up to this guy.
The version of the Fan-Atic controller we are looking at today is a revised model offering 60w per channel and has 3 modes per switch: 12v, 5v, & 0ff. 5v is your "low speed" or "silent mode" for the channel. 12v is your "full on" or "high speed" option, letting the fan run at its rated specifications at its max speed. Right now, at the price of $26, no other controller offers this much power and DIY methods do not come with the 1 Year Warranty this controller does.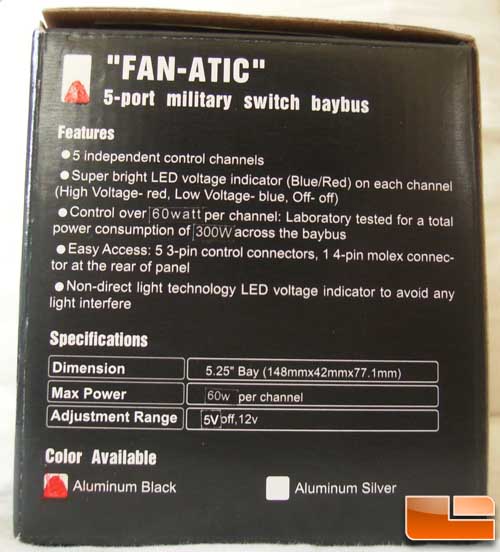 The back of the box here gives us a bit of info on the controller itself. You'll notice some edits to the specifications on the box. They appear to be using the old boxes and simply updating them for the new revision.
Everything back here is easy to read and pretty basic, though I do have a small concern. The FC-8 wanted me to use 3 Molex Connectors to push 240w across the controller; this one only wants me to use 1 Molex Connector to push 300w across the whole controller. Though most users, even with high end water cooling setups will not draw that much power from this controller, it is still possibly unsafe and thus something I think Lamptron should address if they revise this controller.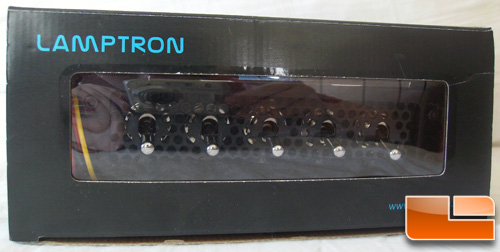 Here's the top of the box for this fan controller. Inside we can already see the military switches, what looks like to be a cable, and the Lamptron logo up top. The "ww" in the bottom corner is the URL to the Lamptron Website.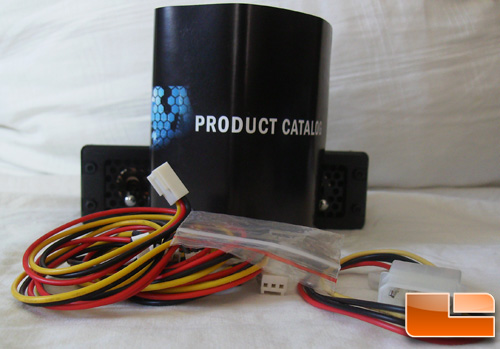 Here are the accessories of the box: a Bag with 4 mounting screws, five 20″ fan extension cables and 1 molex connector for hooking this controller up to your PSU. A product catalog is also included.
We'll move onto the next page to see some action shots of this controller working.