LaCie Ships Industrys First 5TB External Hard Drive
By
LaCie Ships Industrys First 5TB External Hard Drive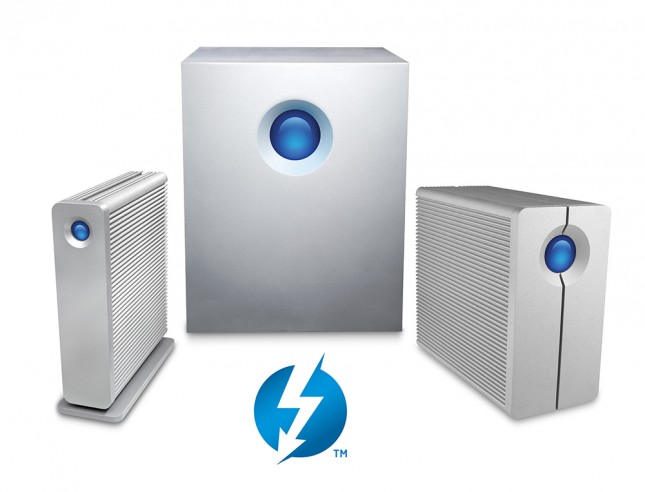 CUPERTINO, Calif.- Today, LaCie announced the availability of 5TB, 7200 rpm hard-drive capacities in its 5big Thunderbolt Series, 2big Thunderbolt Series and d2 Thunderbolt Series. Delivering external storage products that range from 5TB single drive systems to 25TB RAID solutions boosts storage capacity by 20 percent. This increase showcases the companys commitment to provide the fastest, highest capacity storage solutions on the market.
Increasingly larger file formats for film and photography have driven the demand for more storage capacity. The availability of 5TB hard drives enables LaCie to deliver significantly more storage capacity in its same compact desktop designs. This saves professionals valuable desktop space.
LaCies 5big Thunderbolt now features a capacity of up to 25TB, which makes it the largest 5-bay storage solution on the market. Combined with industry-leading speeds up to 785 MB/s*, it is the ideal product for video professionals to pair with a Thunderbolt-enabled computer, like the new Mac Pro, to drive 4K workflows. Photography professionals will appreciate the larger capacities of the d2 Thunderbolt and 2big Thunderbolt, with the same fast transfer speeds and responsive photo browsing that they depend on from these products.
The new capacities are also available on the LaCie 2big Quadra and d2 Quadra storage solutions. All products can be purchased at the LaCie Online Store and LaCie Resellers.
LaCie professional storage solutions are protected by a three-year limited warranty. It includes comprehensive, complimentary web-based resources, expert in-house technical support, and worldwide repair/replacement coverage. Warranty extensions and Advance Care Option can also be purchased.
ABOUT LACIE
LaCie, the premium brand of Seagate Technology plc (NASDAQ: STX), designs world-class external storage products for Apple, Linux and PC users. LaCie differentiates itself with sleek design and unmatched technical performance. Find out more at www.lacie.com.