Kingston Updates Encrypted Flash Drive With Alphanumeric PIN at CES 2016
By
Kingston's DataTraveler 2000 Encrypted Flash Drive
Flash drives that are encrypted isn't a new concept, Kingston has had them for many years. Also, flash drives with an Alphanumeric keypad for unlocking the flash drive isn't a new concept. However, Kingston has combined both the AES 256 hardware encrypted flash drive with the Alphanumeric keypad in the DataTraveler 2000.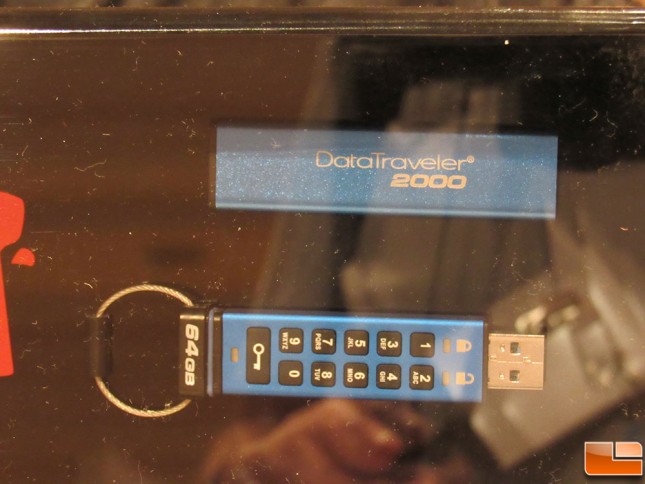 We don't want to give a lot of information away on this new flash drive, however you do need to know the basics. Being AES 256 encrypted, it also includes a data wipe function if the passcode isn't entered correctly 10 times. In addition, when it is locked your data is 100% encrypted using the hardware based encryption protocol. Using the Alphanumeric keypad, means there is no software needed to unlock the drive so it won't matter what your OS is, as long as it can utilize USB flash drives you should be able to use this drive.
The DataTraveler 2000 will be available in three sizes 16GB, 32GB and 64GB. With a USB 3.0 connection, Kingston has rated the two larger models for 135MB/s Read and 40MB/s write. If you go with the smallest version the speeds will be slightly slower at 120MB/s Read and 20MB/s Write.
The DataTraveler 2000 will be available for purchase sometime near the end of 1st Quarter 2016. Legit Reviews will be taking a closer look at the DataTraveler 2000 soon.