Kingston Offers Intel Validated Server Memory
By
Kingston Introduces
This morning Kingston released a PR on the wire announcing a new series of memory. As of today Kingston Technology will start shipping Intel validated ValueRAM modules for Intel based motherboards. Kingston has always participated in Intel's memory validation program since it first started in 1999, but now makes it easier for customers to identify validated ValueRAM modules with an Intel specific part number. In order to keep things simple, Kingston will be using the letter "I" after the ValueRAM part number to easily identify what modules are Intel validated.
Kingston's "I" module Features:
Built with Intel validated components
Tested by Intel's approved validation lab to ensure functionality and compatibility
Fully endorsed and supported by Intel technical support as an authorized hardware partner
Now that we know that Kingston is adding the "I" series oto the ValueRAM server line, let's take a closer look at what Intel Validation is. Here is a quote from Intel's site explaining what it means:
The objective of the Intel validation program for DDR and DDR2 is to verify DDR SDRAM compliance to the Intel specifications for DDR/DDR2 and performance of DDR/DDR2 DIMM modules in Intel reference systems, so as to provide a guideline for memory compatibility with Intel chipsets. This validation will be performed by an approved lab on a small sample of components and modules and is intended to demonstrate supplier design and manufacturing capability. The validation process uses standardized procedures and methodologies documented in the Intel validation procedures for DDR and DDR2. For a copy of the specification, contact the approved test lab. The procedure is not intended to replace the normal product qualification process.
Basically, the Intel Memory Validation listing shows memory companies with memory that has passed internal testing unique to each memory supplier and also goes a step further to be 100% Intel chipset compatible. Let's take a look at the testing process.
The Testing Process:
Memory suppliers wishing to validate their memory modules must submit them to Intel's authorized validation lab to complete a suite of rigorous tests while undergoing changes in voltage and temperature. Upon passing all tests, Intel will post the validated part number along with details about the module including the specific DRAM used. A flow chart of the testing/approval procedure can be seen below.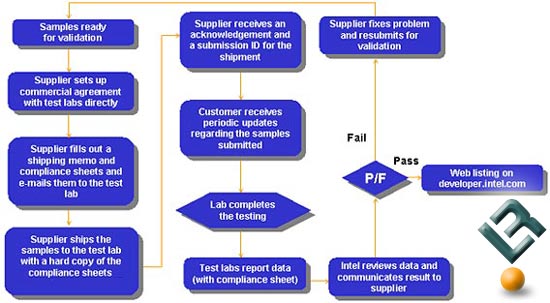 Intel's DDR Validation Process
The main problem with this testing system is that memory suppliers can change the build of a module a week later. By changing the build the modules is no longer Intel Validated, but the consumer will never know this. Kingston is seeking to change this by introducing the "I" line. Since testing a series of memory modules at approved test labs costs tens of thousands consumers should expect to pay a slight premium on Intel Validated memory modules.
Which Modules Are Validated & Ready To Purchase?
ValueRAM | Part Numbers | Description | MSRP
KVR266S4R25/512I 512-MB DDR266 Reg x4 single rank Intel validated $109

KVR266D4R25/1GI 1-GB DDR266 Reg x4 dual rank Intel validated $250

KVR266S4R25/1GI 1-GB DDR266 Reg x4 single rank Intel validated $295

KVR266D4R25/2GI 2-GB DDR266 Reg x4 dual rank Intel validated $708

KVR333D4R25/1GI 1-GB DDR333 Reg x4 dual rank Intel validated $226

KVR333D4R25/2GI 2-GB DDR333 Reg x4 dual rank Intel validated $605

KVR400D2S8R3/512I 512-GB DDR2-400 Reg x4 single rank Intel validated $105

KVR400D2S4R3/1GI 1-GB DDR2-400 Reg x4 single rank Intel validated $270

KVR400D2D4R3/2GI 2-GB DDR2-400 Reg. x4 dual rank Intel validated $550
Nathan Kirsch's Thoughts:
At first I was a little shocked when I heard that Kingston was getting ready to release this new "I" memory line as they did it a number of years ago (back around 2001) and stopped doing it. Kingston dropped their old named schema because their was a lack of demand for Intel validated parts. Another reason they ceased production back then was because other memory companies would pass testing and then change their modules, but remain listed as validated by Intel. These "updated" modules were technically no longer validated and consumers were buying the wrong parts. Kingston now feels that the timing is right to again offer specific part numbers for Intel validated parts.
In recent years the system builder area has become very large and the demand for Intel validate parts has again made Kingston reconsider their approach towards Intel validated server memory. Hopefully Kingston's Intel Validated memory program goes better for them the second time around! Right now Kingston has several DDR1 and DDR2 modules in both single rank and dual rank ready for sale. Additional modules will be added as time goes on, but having nine modules for sale on PR day is not bad.
Legit Bottom Line:
Kingston offers consumers, system builders, and vendors a simple and easy way to locate and purchase Intel validated memory. Now if I could only find the listings easily on Intel's developer site! (hint-hint)