Kingston microDuo 3C Type-C Flash Drive Review
By
Kingston DataTraveler microDuo 3C Type-C Flash Drive Review
With the release of the Intel Z170 chipset, Intel is now officially supporting the latest revision of the USB specifications, 3.1. USB 3.1 and Type-C are commonly linked together, they are in fact two different parts of the USB specification; Type-C is for the physical connector, but doesn't specify that it must include the increased bandwidth that USB 3.1 provides; several announced products include Type-C, but is limited to USB 2.0. So what exactly is USB Type-C? It is specifically a small oval shaped reversible plug that is capable of transmitting data, video, audio, network and power.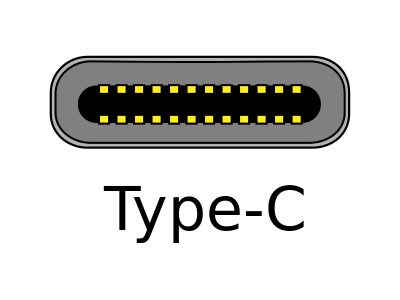 With a new USB connector, we will be seeing many new devices that include the Type-C connector. Kingston has already released an updated version of their DataTraveler microDuo flash drive that has both USB 3.1 and Type-C ports called the DataTraveler microDuo 3C. It is currently available in three sizes, 16GB, 32GB and 64GB starting at around $12 for the smallest, up to around $28 for the 64GB version with free shipping; of course that also includes Kingston's 5 year warranty.
Note that the all of the Kingston DataTraceler microDuo 3C drives have transfer speeds up to 100MB/s read, but the 32GB and 64GB capacity drives have 15MB/s write while the 16GB is rated at up to just 10MB/s. If write performance is important for your computing needs you'll want to go with the 32GB drive for an extra $5 as you'll get 50% more write performance performance!
Kingston Digital 64GB Data Traveler Micro Duo USB 3C Flash Drive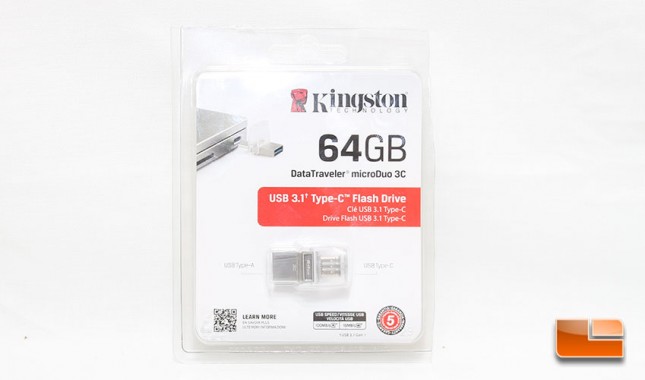 Packaging for the Kingston microDuo 3C is pretty typical for retail packaging. it is secured in a plastic blister pack, which of course requires something sharp to open. The front of the package lists the capacity in big bold print, with the 5 year warranty listed in the lower corner.
The drive itself uses the metal housing that we have seen from Kingston on many of it's small flash drives. The bottom of the drive has a little slot for a small lanyard connector or keyring. The top of the drive lists the model and capacity.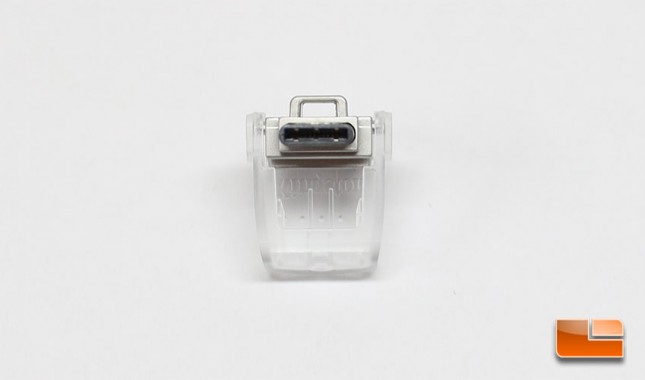 The new Type-C connector is protected by a plastic cover that swings out of the way when you want to use the connector.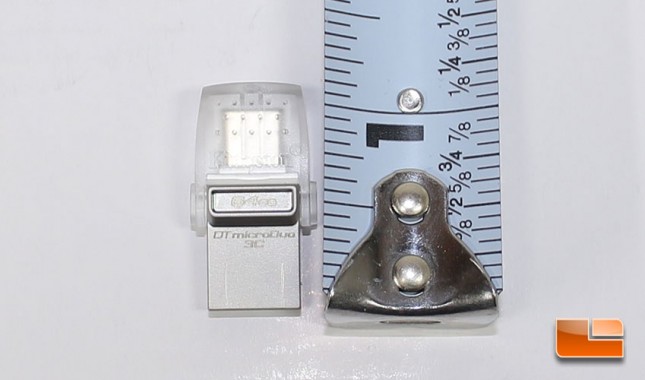 If size is a concern, the microDuo 3C is just under 1 1/8 inch. Pretty small for a flash drive; especially considering the USB 3 connector is close to 0.5in, and the Type-C is approximately 0.22in, leaving about 0.4in for the rest of the flash drive and the cap.